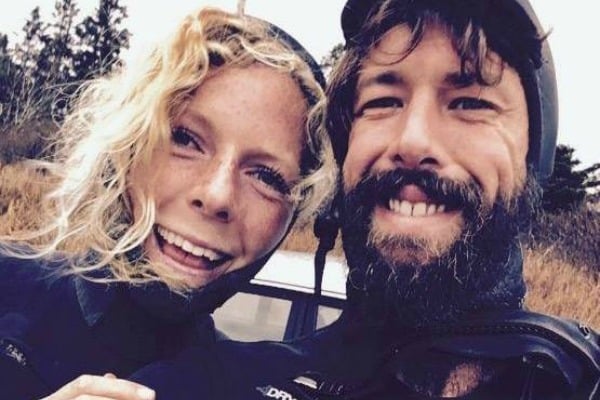 Australian tourist Sean McKinnon and his fiancé Bianca were fast asleep in their rented campervan.
Both keen surfers, they'd been soaking up the sights of the popular surf town of Raglan on their New Zealand holiday. They'd parked their Apollo van in the Te Toto track carpark mere meters from the water's edge, no doubt to give themselves easy access to the notoriously good swell.
But in the early hours of Friday morning, the couple awoke to a gunman knocking on their window.
Sean McKinnon's friends are struggling to deal with his death. Post continues after video.
He demanded the keys to their vehicle before letting off a few shots, killing McKinnon – a 33-year-old surfer and musician from Victoria.
His terrified fiancé managed to escape, the ABC reports she ran for more than six kilometres in the darkness through rugged bush in search of help. Eventually she stumbled on a farm house who heard her screams. The couple who lived there invited her in and sat with her while she called police.
"She heard creaks and thought they were car noises of the guy coming back to try and get her," the homeowner recalled.
"In the light of the situation — yeah of such a heinous act, she was brave, man, real brave," he told the publication.
The gunman drove the campervan with her boyfriend's body inside it for an hour, dumping it near Hamilton which is more than 80km away.
Cold, grey and utterly isolated. This is where Sean McKinnon and Bianca Buckley we're ambushed in the dead of the night. Such a cowardly and revolting attack @9NewsAUS pic.twitter.com/bCIMg4ej3C

— Ruth Wynn-Williams (@RuthWW) August 17, 2019