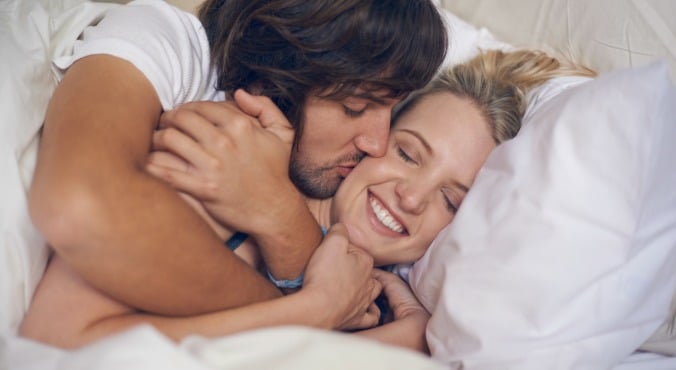 Image via iStock.
Many people spend their lives looking for Mr or Mrs Right. Even those of us in relationships can wonder if we've made the right decision.
And when we're not searching ourselves, we're talking about other peoples' or watching fictional characters in the hunt for theirs (I'm looking at you, Carrie Bradshaw.)
So what if there was an easier way to know whether you'd found the partner worth sticking with, rather than spending hours listing pros and cons in your diary or posing philosophical relationship questions on your laptop?
Well, now there is. And it's science backed too.
RELATED: Couples who do this one thing are happier and have better relationships.
Research suggests that the sign you've found the perfect partner is if they make you a better person.
A study published in the journal Personal Relationships looked into how being in a relationship can affect a person and their perception of themselves.
It found that our partners can encourage us to "realise aspects of our ideal self" which pushes us to grow in the areas we want to. The process is actually called "self-expansion", which the study explains means not just recognising positive traits in our partner, but also taking them on ourselves. (Post continues after gallery.)
Dax Shepard and Kristen Bell are one of our favourite celebrity couples.
In turn, this change positively affects how we view ourselves as people. According to the study authors: "A person who acquires an appreciation for the ballet or becomes a better painter from being with a romantic partner would experience an increase or augmentation of his or her 'self concept."
However relationship and body language expert Katia Loisel, believes that love should be about finding someone who supports you in your journey to being the best version of yourself.
"No one but yourself can make you a better person. However, 'the one' can provide a positive environment based on unconditional love, understanding, support, belief, learning and honest, challenging communication that inspires and motivates you to be the best you can be," she says.
RELATED: Kristen Bell and Dax Shepard just admitted to something celeb couples never do
Loisel believes that the right partner should believe in you, motivate you to achieve your dreams by offering support and encouragement without pressure or judgement, challenge you, inspire you to step outside your comfort zone and are happy and secure within themselves.
"If they are a positive role model that also strives to be the best version of themselves, then this allows them to love you unconditionally without expecting you to sacrifice who you are, your interests and goals," she says.