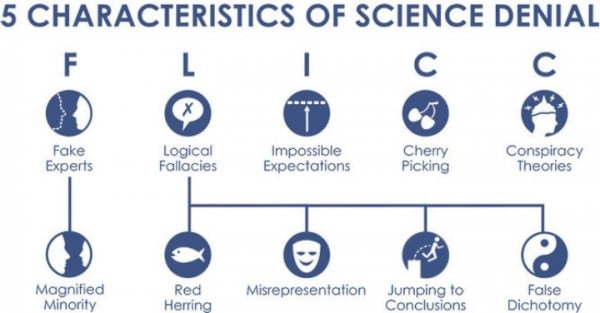 By John Cook, The University of Queensland.
Science denial has real, societal consequences. Denial of the link between HIV and AIDS led to more than 330,000 premature deaths in South Africa. Denial of the link between smoking and cancer has caused millions of premature deaths. Thanks to vaccination denial, preventable diseases are making a comeback.
Denial is not something we can ignore or, well, deny. So what does scientific research say is the most effective response? Common wisdom says that communicating more science should be the solution. But a growing body of evidence indicates that this approach can actually backfire, reinforcing people's prior beliefs.
When you present evidence that threatens a person's worldview, it can actually strengthen their beliefs. This is called the "worldview backfire effect". One of the first scientific experiments that observed this effect dates back to 1975.
A psychologist from the University of Kansas presented evidence to teenage Christians that Jesus Christ did not come back from the dead. Now, the evidence wasn't genuine; it was created for the experiment to see how the participants would react.
What happened was their faith actually strengthened in response to evidence challenging their faith. This type of reaction happens across a range of issues. When US Republicans are given evidence of no weapons of mass destruction in Iraq, they believe more strongly that there were weapons of mass destruction in Iraq. When you debunk the myth linking vaccination to autism, anti-vaxxers respond by opposing vaccination more strongly.
In my own research, when I've informed strong political conservatives that there's a scientific consensus that humans are causing global warming, they become less accepting that humans are causing climate change.
Brute force meets resistance
Ironically, the practice of throwing more science at science denial ignores the social science research into denial. You can't adequately address this issue without considering the root cause: personal beliefs and ideology driving the rejection of scientific evidence. Attempts at science communication that ignore the potent influence effect of worldview can be futile or even counterproductive.
How then should scientists respond to science denial? The answer lies in a branch of psychology dating back to the 1960s known as "inoculation theory". Inoculation is an idea that changed history: stop a virus from spreading by exposing people to a weak form of the virus. This simple concept has saved millions of lives.