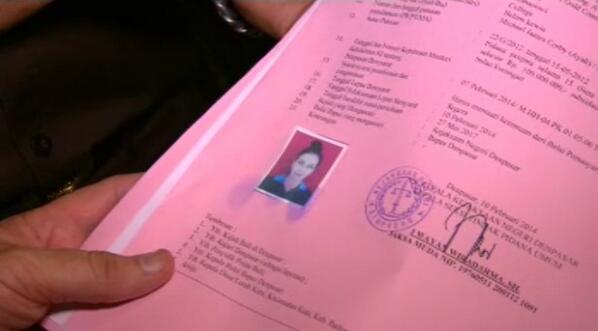 Convicted drug smuggler Schapelle Corby has left Bali's Kerobokan prison today, after being granted parole last week.
Schapelle Corby has left Bali's Kerobokan prison today, after spending nine years behind bars for smuggling marijuana.
The 36-year-old, who was originally sentenced to 20 years in jail, had her parole application signed off by Indonesia's justice minister on Friday.
Today, the former Gold Coast beauty therapist was greeted by a media scrum as she left the prison. With her head completely covered by a scarf and hat, she was escorted by police to a van headed for the Prosecutors Office and Correction Office to sign her parole documents. According to reports, an emotional Schapelle was in tears as she put pen to paper.
A Bali-based friend of the Corby family says her release will be celebrated with a big welcome home party in her honour. Back home on the Gold Coast, mum Rosleigh Rose has popped open a bottle of champagne in celebration.
Schapelle is required to treat the Kuta house owned by sister Mercedes and her Balinese husband Wayan Widyartha as her home base until her parole ends in 2017. However, her conditions are less strict than expected.
Fairfax reports Schapelle is under no obligation to admit responsibility for the 4.2kg of marijuana airport customs officials found in her boogie board bag in 2004. She will report monthly to the Bali corrections board for guidance and counselling, and has revealed she will be locally employed as a bikini designer for her brother-in-law's surf shop. She has also promised not to use or distribute drugs.
Schapelle can travel and even move to other parts of Indonesia, and even leave the country for short periods, with permission from the Justice Ministry. However, she must live in Indonesia until 2017.
Schapelle's parole approval has sparked debate in Indonesia over whether she is getting off lightly because she's a foreigner, with some demanding she receive the death penalty.