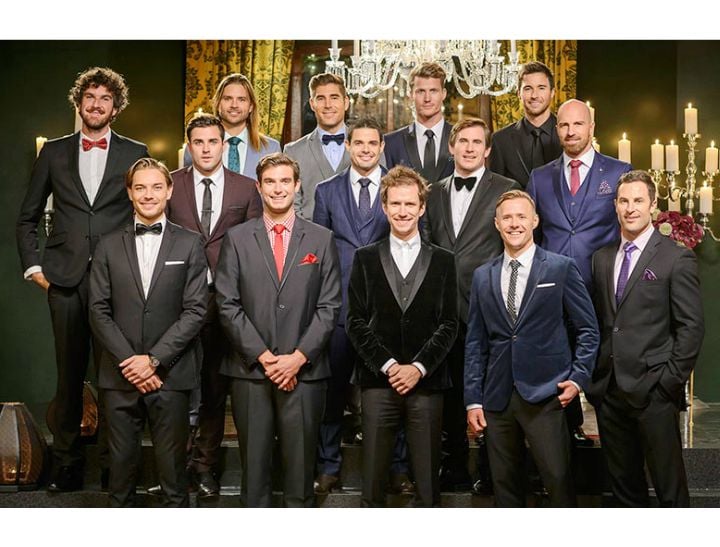 Sasha Mielczarek is best known to Australian TV addicts as the hunky construction manager who's caught Sam Frost's eye on The Bachelorette.
But the reality TV favourite has another glorious-looking woman in his past — and she's related to one of Australia's best-known beauty queens.
Daily Mail Australia reports that Sasha was once engaged to Canberra-based Martina Males, the first cousin of former Miss Universe Australia Laura Dundovic.
Sasha, 31, and marketing manager Martina were together for two years and were planning to marry — but they split before the wedding, and the pair no longer speak.
Sasha says he still thinks fondly of Martina, who — just casually — is a University of Canberra graduate and marketing manager. Oh, and she can speak Croatian proficiently (not just a pretty face, then.)
"I still have nice things to say about her… but, I don't speak to her anymore," Sasha told TV Week. "When two people don't end up being compatible, you've got to figure out when to call it a day."
He also told 26-year-old bachelorette Sam Frost about his ex-fiancée on the show, and the two bonded over their broken engagements.
"I've been engaged before… We were together for about two years," he told Frost early in the season.
"I've basically only had one girlfriend since then and it's hard, you know, you meet heaps of people but it's hard to meet people on the same page as you."
Frost's own engagement with last year's Bachelor, Blake Garvey, ended soon after the show wrapped last year.
Martina has also spoken to the media of her relationship with Sasha, suggesting her handsome NSW-based ex may be hungry for fame.
"I'm happy that Sasha's dream of becoming famous has finally become a reality," she told Daily Mail Australia — perhaps hinting at the fact Sasha auditioned for a segment on travel show Getaway back in 2009.
In a strange coincedence, Dundovic is not only linked to Sasha's ex; she's also reportedly close friends with The Bachelor runner-up Lana Jeavons Fellows, 27.
She can be spotted in BFF-style Instagram selfies with Jeavons Fellows, who was ultimately dumped by this year's bachelor Sam Wood, 34, for 35-year-old mother-of-one Snezana Markoski.
The world of reality television must be smaller than we thought.