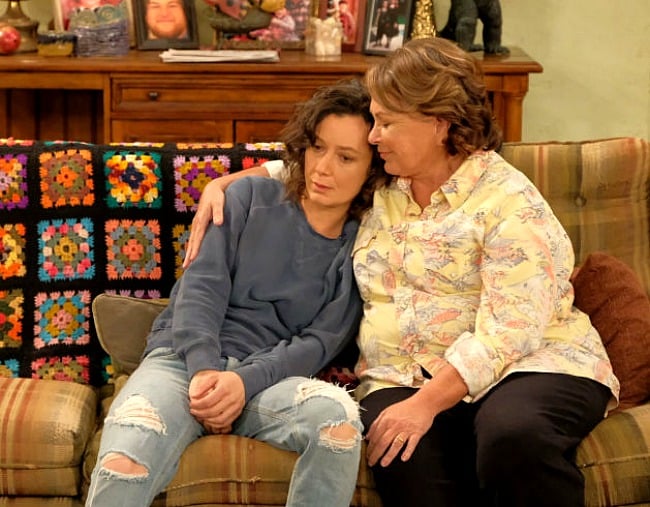 Sara Gilbert, the actress who audiences first came to love as Darlene Conner on Roseanne and the driving force behind the show's 2018 reboot has spoken on-air about the show's cancellation for the first time.
The 43-year-old actress, who also co-hosts the panel current affairs show The Talk, appeared to be holding back tears on Monday as she faced the camera and spoke about how proud she still is of the show she helped bring back to life, while also backing the decision that was made to see it come to an abrupt end.
The Roseanne reboot was swiftly cancelled after its star and namesake, actress and comedian Roseanne Barr, tweeted a racist and offensive comment about former President Obama's aide Valerie Jarrett.
Barr deleted the tweet not long after posting it to the social media platform and quickly followed it up with an apology, but the damage was already very much done.
Her behaviour ended the show, despite the fact that it was already renewed for a second rebooted season, and left both Barr and Gilbert without their lucrative sitcom jobs, along with fellow Roseanne cast-mates John Goodman (who played Dan Conner), Laurie Metcalf (who played Jackie Harris), Michael Fishman (who played D.J. Conner), Alicia Goranson  (who played Becky Conner) and Johnny Galecki (who had just reprised his role as David Healy).
"In addition to my statement, I would like to say this has been a very difficult week," Gilbert said on The Talk while sitting beside her fellow panelists. " A lot of people have been hurt by this.
Sara Gilbert has spoken about the brutal ending of her TV show Roseanne. 
 Her on-air comments back up the statement she made on Twitter shorty after news broke about the show's cancellation, where she quickly distanced herself from her longtime co-star Roseanne Barr, who replied to her comment with a brief "wow! Unreal."
The episodes of The Talk that aired last week while the news around Roseanne was breaking were pre-taped, so this was the first opportunity Gilbert has had to discuss the topic on air on her own show.
Her
The Talk
 co-host, Sheryl Underwood added in "As a black woman who is a comedian, I'm very, very proud of 
Channing Dungey
, the president of ABC Entertainment. And as Spike Lee said, a lot of people came together to do the right thing and I'm happy to see it was done so swiftly."
The finality of Gilbert's statement about Roseanne also appears to have put a nail in the coffin of the show's potential to be carried on via a spin-off series.
Although unconfirmed, there has been talk around a possible spin-off series of the show that would star her, and some of her now unemployed cast-mates.
According
to TMZ, Gilbert has reportedly
 been "calling cast members to gauge their interest in the event ABC gives the reboot the green light. We're told John Goodman is very interested."
And although fans have voiced their support for a reboot on Twitter, judging form the sadness and finality in Gilbert's first on-air statement it does not look like the wheels of that plan are even vaguely in motion, and that she would like fans to remember the show as it was, and not by its controversial demise.
Would you like to watch a spin-off series of Roseanne?