When The Binge hosts were teased with the list of Netflix's 2017 releases late last year, there was one that caught their attention – but not necessarily for a good reason.
Marking Drew Barrymore's return to the (small) screen, Santa Clarita Diet sounded like a relatively bland show set in suburban America.
"It is the vaguest premise ever. It's Drew Barrymore as a married real estate agent and then "something amazing" happens to her and her life makes a dramatic turn," said The Binge host Laura Brodnik.
Listen to The Binge to hear the best new TV shows dropping on Netflix in 2017. 
Then a little more information was released, saying it had something to with "death and disaster" but it was also a romantic comedy.
"Do you feel like they haven't actually written it yet, and they're just like 'We've got Drew Barrymore attached to the show, let's just tell people it's a show where something happens'," joked Rosie Waterland on The Binge.
Now, the trailer has finally dropped revealing all – and let's just say the show looks like it's going to be a bloody good watch.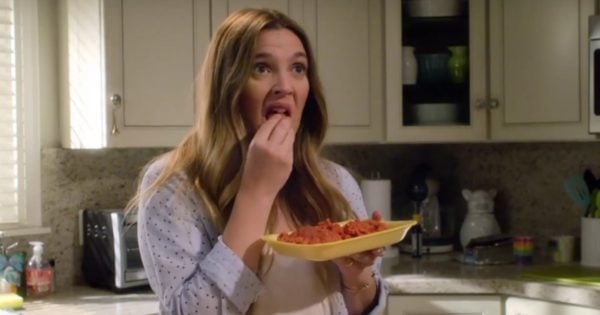 Image: Netflix