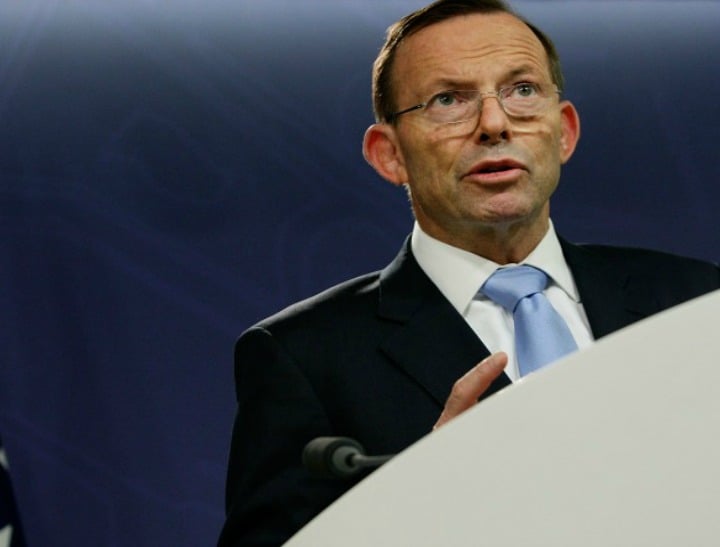 We've rounded up all the latest stories from Australia and around the world – so you don't have to go searching.

1.MPs work together on same-sex marriage bill.
Liberal backbencher Warren Entsch and Labor MP Graham Perrett will team up to work on a bipartisan same-sex marriage bill that will be brought on after the budget has passed in Parliament.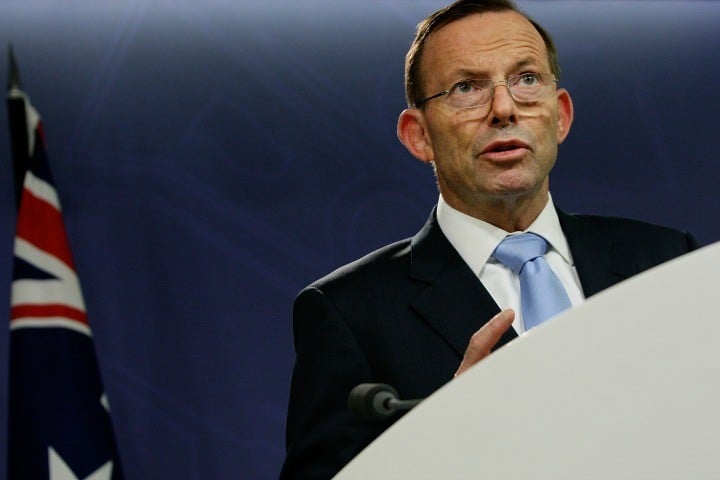 Mr Entsch, who earlier this week criticised Opposition Leader Bill Shorten for bringing on a Labor bill on the issue, said he was willing to work with several MPs on the issue, including Greens senator Sarah Hanson-Young on a compromise bill.
Fairfax Media reports that Mr Perrett confirmed he was one of the Labor MPs prepared to work with Mr Entsch on the issue but only if the bill brought forward by Mr Shorten and deputy Labor leader Tanya Plibersek failed.
"The boss has something before the House now. Let's see how that goes, if the [Liberal senator] Simon Birmingham and Warren can win the party room over."
Bill Shorten said yesterday he hoped the matter could be bipartisan. "It is the only way it can succeed. Tony Abbott's right in that but the only way that it can succeed is if Tony Abbott allows a free vote. That is the question which is before the Parliament."
He indicated that he will continue with his same-sex marriage bill to the Parliament on Monday.
Fairfax Media reports that Cabinet ministers have told Fairfax Media is almost inconceivable that Mr Abbott will not, eventually, grant a conscience vote.
2. Tony Abbott's sister says gay marriage will be law by the year's end.
The sister of the Prime Minister, Liberal Councillor for the City of Sydney Christine Forster, says gay marriage will be legal in Australia by the end of the year — and she thinks her brother knows it is inevitable.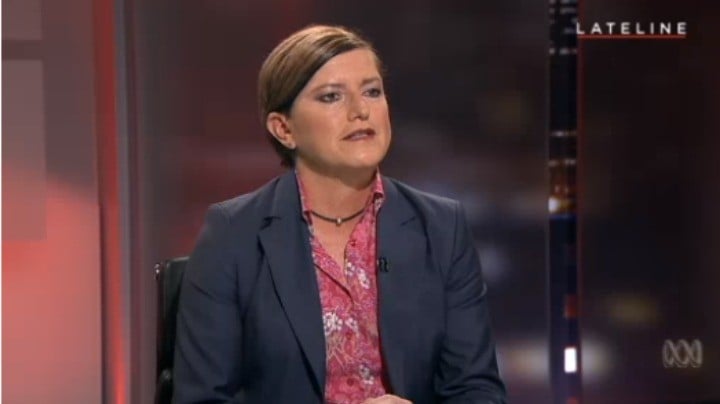 Ms Forster appearing on the ABC's Lateline said it is "wonderful that the change to marriage laws will come under a conservative, deeply religious Prime Minister."
"That will be for me one of the proudest moments of my life," she said.
"To think that this reform comes under the prime ministership of Tony Abbott … I think it's entirely appropriate that it would come under the prime ministership of Tony Abbott.
"At the end of the day I'm sure he will understand that this is good and fair for everybody and it will be great for Australia."
She said she did not think her brother would actively would campaign against gay marriage in his party room.
For more read this post here.

3. Young women turning to IS to become Jihadi brides.
The Herald Sun reports that at least 12 young women have fled Melbourne's suburbs to join Islamic State.
A Victoria Police Taskforce has revealed that of the 12 five have been successful and are living with Islamic State militants.
Four of the women reached Turkey before being turned back; one was stopped by Customs in Australia; and two are unaccounted for.
Most of the 12 women are 18 to 20, and one is 29.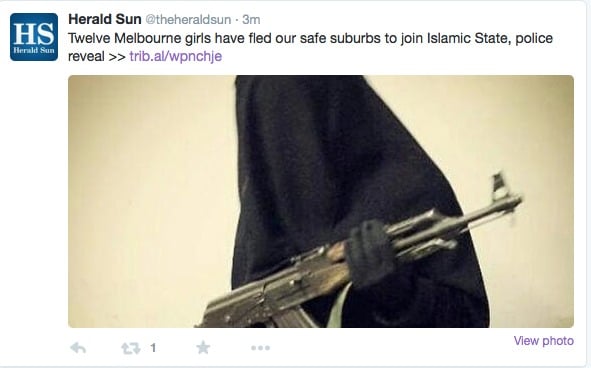 4. Gina Rineheart loses legal battle.
After a three-and-a-half-year legal battle the NSW Supreme Court has awarded 38-year-old Bianca Rinehart, the eldest daughter of Gina Rinehart, control of the family's $4 billion trust.
The Hope Margaret Hancock Trust was set up by her late grandfather Lang Hancock.
Bianca, her brother John Hancock and sister Hope Welker launched legal action against their mother, seeking to oust her as trustee of the trust.
In his judgment Justice Brereton said "Mrs Rinehart has demonstrated that she is prepared to go to extraordinary lengths to retain control, directly or indirectly, of the Trust, and that she is capable of exerting enormous pressure and great influence to do so".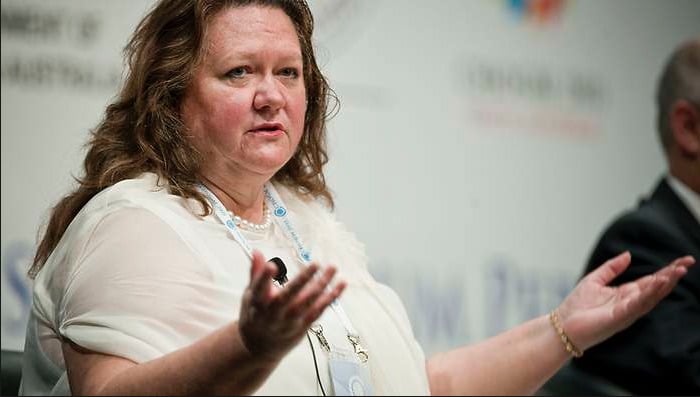 Rinehart was this week ranked the 37th most powerful woman in the world by Forbes with her fortune totalling $US12.2 billion ($15.8 billion), down from $US17.4 billion last year.

5. "Brelfie" trend putting pressure on new mothers.
The social media trend for new mothers to post images of themselves breastfeeding is leading to mothers who bottlefeed their babies to feel inadequate, according to new research by a leading British mothers web site.
The Telegraph reports that the "brelfie" fad has created a "culture of judgment" with seven in 10 bottle-feeding mothers say they have been judged negatively, while four in 10 feel they have "failed as a mum and failed their child" because they do not breastfeed.
The report, by website Mumsnet.co.uk says that four in 10 mothers who breastfeed say they have received negative looks and comments from strangers when they bottlefeed their babies, while one in five say they have been criticised on social media.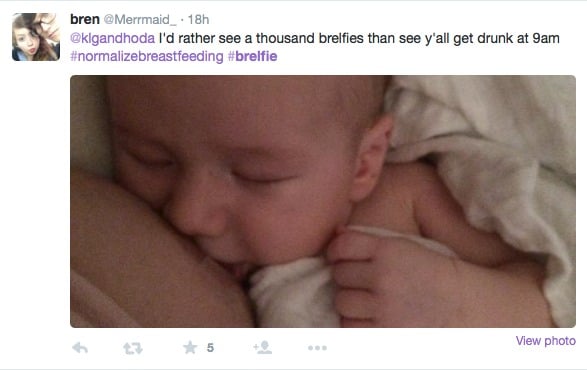 6. FIFA boss defies calls to quit.
The current FIFA President, Sepp Blatter, has addressed the 65th FIFA Congress in Zurich in the midst of a scandal that saw fourteen FIFA officials arrested on suspicion of corruption charges.
President Sepp Blatter has said he will not quit, amid growing political pressure over the scandal. The head of Uefa, the European football governing body, had asked Mr Blatter to resign.
Football Federal Australia has said that they will back Jordan's Prince Ali bin al-Hussein in the FIFA presidential election.
The conference will vote on the President's future later today.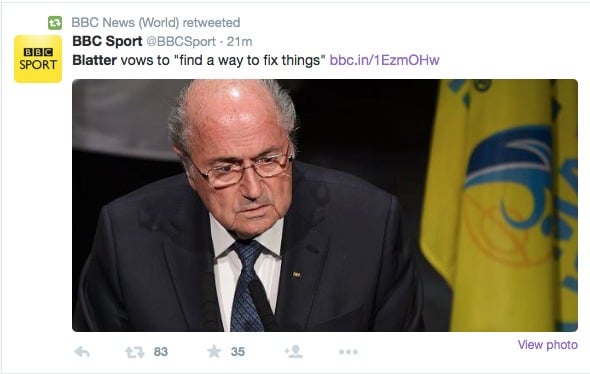 7. Woman's body found in Adelaide.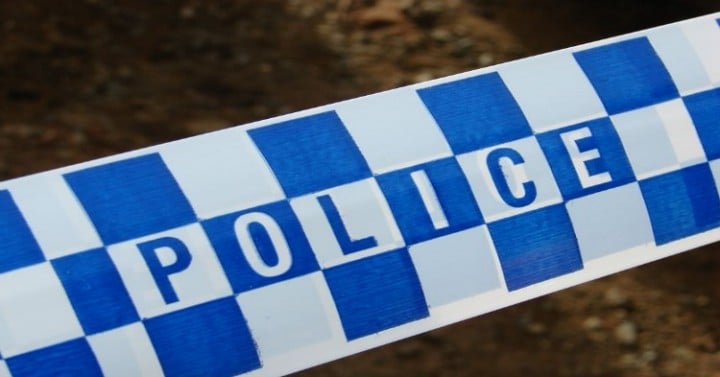 South Australian police have said they are as yet unable to identify a woman found dead in a car park in Business SA's Unley headquarters as her body is severely decomposed after she lay there for up to a fortnight.
The woman who suffered "significant and obvious trauma" was found in a basement storage on Wednesday by two Business SA workers.
Major Crime detective Superintendent Des Bray said, "We don't know the person's name because the body is in an advanced state of decomposition."
"The cause of death is physical trauma to the body but I'm unable to tell you what those injuries were caused with other than they were significant injuries and we are satisfied those injuries caused the death of the person."
Anyone with information about this incident should contact Crime Stoppers on 1800 333 000 or at www.sa.crimestoppers.com.au.
8. Race hate campaign targets Sydney's north shore.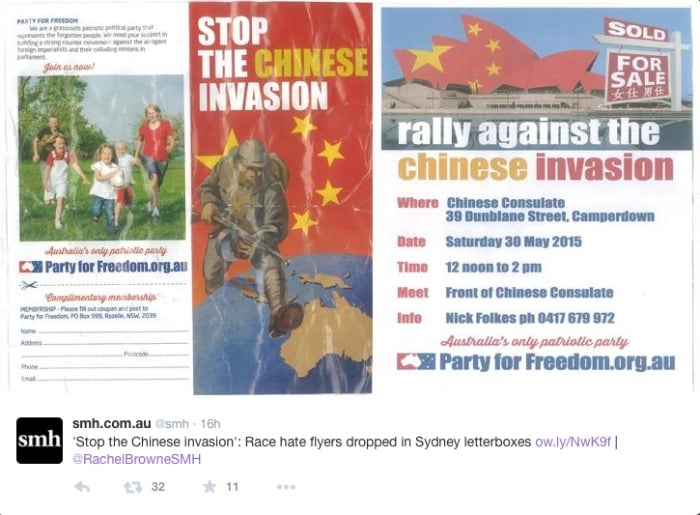 A flyer that states "greedy foreign invaders" are "pricing locals out of the market" so that "Australians will become a minority in their own land within the next 30 years if present invasion figures continue" has been distributed to residents on Sydney's north shore.
The racist brochure titled "Stop the Chinese invasion" and printed by Party for Freedom chairman Nick Folkes, have been put in 5000 letterboxes.
Claiming Chinese property buyers were pushing up home prices, "ethnically cleansing" Australian families from their suburbs and creating a new "stolen generation" it called for residents to attend a rally on Saturday.
The mayor of Lane Cove told Fairfax Media he was shocked by the tone of the brochure.
"I am shocked by reports that members of our community have received such inflammatory material in their home letterboxes," he said.
9. Don't wait for your dream job.
Social Services Minister Scott Morrison has told young people not to wait for their dream jobs reports the ABC.
"That's your choice, but the taxpayer shouldn't have to pay for that," he said after introducing draft laws to parliament that will require under-25s to wait four weeks before accessing welfare in a change from last year's budget attempt to introduce a six-month wait period, which did not gain Senate support.
"We want to send a very clear message that we want you in work when you are job-ready, that you don't have the option of walking from the school gate to the front door of the Centrelink office," Mr Morrison told reporters.
"This document is not an Ikea catalogue to go shopping for benefits," he said.
"That's not what it is. What this is is a schedule of benefits and payments that are there to help people in need and who need that help from the Australian taxpayer."

10. Man Haron Monis social media use.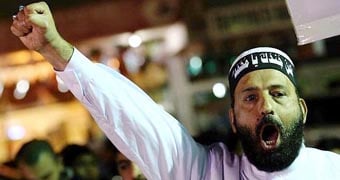 An inquest into the Sydney siege examining the social media use of gunman Man Haron Monis has heard that before the siege Monis had only 12 twitter followers, by the end of the month, after the siege, he had over 800 followers.
The inquest also heard that Monis had his Facebook account banned for posting offensive material three days before the December 2014 siege. Monis had violated policies banning hateful, threatening or obscene material reports Nine News. 
Cybercrime investigators told the inquest there are no signs of any contact between Monis and terrorist group Islamic State.
11. Another Mum who wants to breastfeed till her kids are ten, but hubby is not so pleased.
A British mother has come forward to say that she, much like Aussie mum Maha Al Musa, is breastfeeding her school aged daughter and has no plans to stop.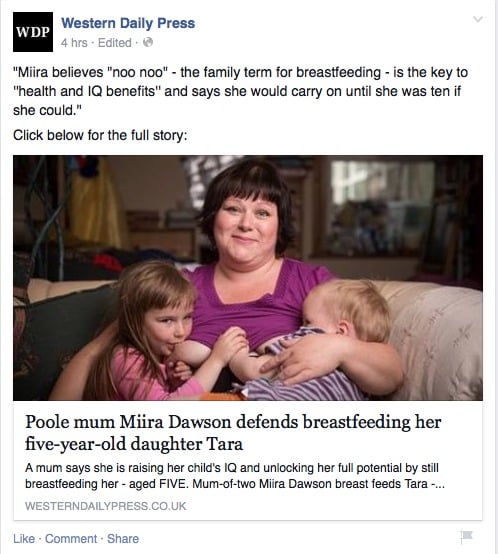 UK mum-of-two Miira Dawson is still breastfeeding her five-year old daughter Tara three times a day even though Tara goes to primary school.
Miira, who is originally from Finland, believes "noo noo" is the key to "health and IQ benefits"— and says she'll continue until Tara is 10 if she can.
36-year old Miira Tara is also feeding two-year-old Ray Lee.
She said, "I think it is a lovely thing for a baby to grow up and remember being breastfed, as not many people would be able to say this. Plus there are all the health and IQ benefits."
Tara has her 'noo noo' every morning when they wake up, when she comes home from school and when they go to bed together at night – they three sleep in the same bed, with husband Jim sleeping in another room.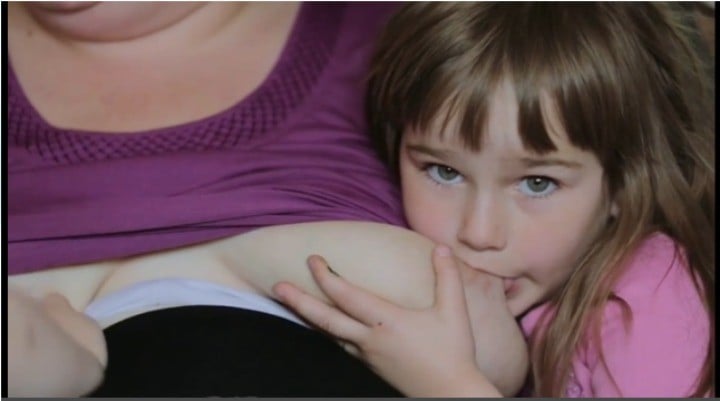 "I think it's unnatural for children to sleep on their own. They are not biologically suited to sleeping on their own." she told Western Daily Press. 
"There's a lot of research saying breastfeeding and bed sharing protects them from sudden death syndrome."
Her husband Jim, 56, says the breastfeeding has put a strain on their relationship.
Jim spends every night sleeping on his own and says he feels left out.
He said "I had little choice in the matter of encouraging Miira to breastfeed as there was never an alternative other than to support her.
"I don't think we discussed it before Tara's arrival and I definitely did not expect her to still be breastfeeding at five years old," said Jim.
"Naturally I feel left out when it comes to the sleeping situation."
"Tara is an extremely bright girl, and is very grown up for her age. So for now I will continue to allow it."
Miira says it will stop when one day she will lose the ability to produce milk.
"Every time I mention it to her she looks so sad.  She said the other day she was going to have noo noo forever."

12. George Brandis received an alarming letter from the Sydney Siege gunman.
The Sydney Siege gunman, Man Haron Monis, wrote to Attorney General George Brandis about getting in touch with the head of the Islamic State, an inquiry has heard.
"I would like to send a letter to Caliph Ibrahim, the leader of the Islamic State, in which making some comments and asking some questions," Monis wrote in a letter to the attorney general.
"Please advise me whether the communication is legal or illegal."
Members of the Labor party are questioning why Senator Brandis failed to alert security forces.
According to The Australian, Labor legal affairs spokesman Mark Dreyfus should have referred the letter to the AFP or ASIO, due to Monis' mention of IS.

Watch today's news headlines:
Do you have a story to share with Mamamia? Email us [email protected]
[post_snippet id=324408]