1. Sam Frost just took the piss out of Blake Garvey for Halloween. Is forever our queen.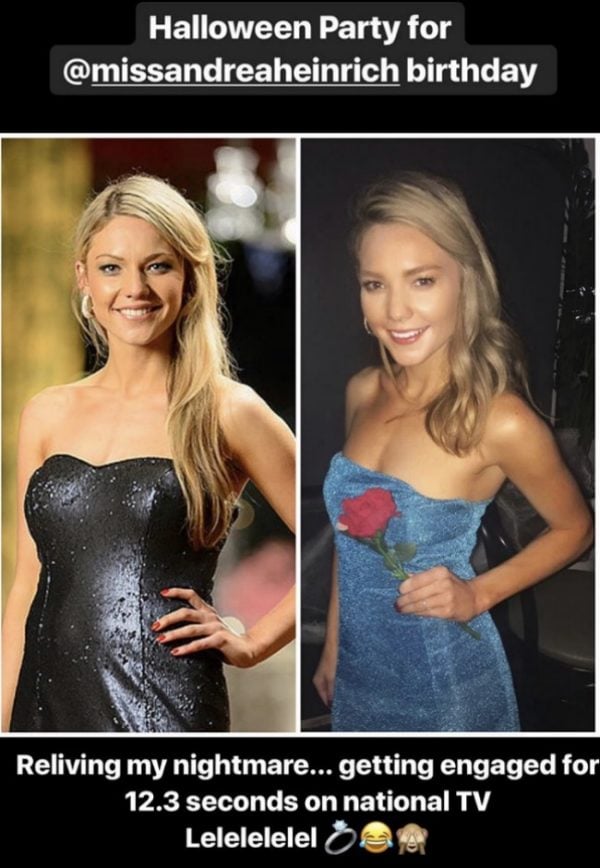 Although we really had no clue that Halloween was a legitimate thing Australians do, all props go to Sam Frost for taking out the country's best Halloween costume overnight for dressing as... herself.
"Reliving my nightmare.. getting engaged for 12.3 seconds on national TV Lelelelel (sic)," she wrote on Instagram story, posing with a rose and flashing right back to when she first starred on The Bachelor.
Of course, Frost is referring to the time he-who-shall-not-be-named-but-he-who-we-shall-call-Glake-Bervey proposed to her on national TV, only to turn around a few days later and say, "Whoopsie! I meant the other blonde one!"
While we're here, can we take a minute to acknowledge the fact Frost was at Anna Heinrich's sister's Halloween party? Are all the Bachelor alum related or something?
2. EXCUSE US, but Alexander Skarsgård is now bald. BALD. Like... very bald.