For many of us, our go-to no-fuss hairstyle is some form of ponytail – but that's as far as the equestrian inspiration ends.
However, Sam Armytage steals another style hack from horses, revealing on Sunrise Friday morning that she uses their shampoo.
"I use horse shampoo…it's very good for you," Armytage told co-host David "Kochie" Koch.
Listen: Holly talks about how she took headlice on holiday with her despite treating her kids hair for weeks before they left.

And it's not just an interesting name. It's actual shampoo designed for and used by horse owners on their equine friends.
It's called Mane 'n Tail and it's available at stores like Urban Outfitters and Boots pharmacy in the US, where Armytage says he bought the product, or at the official Australian website.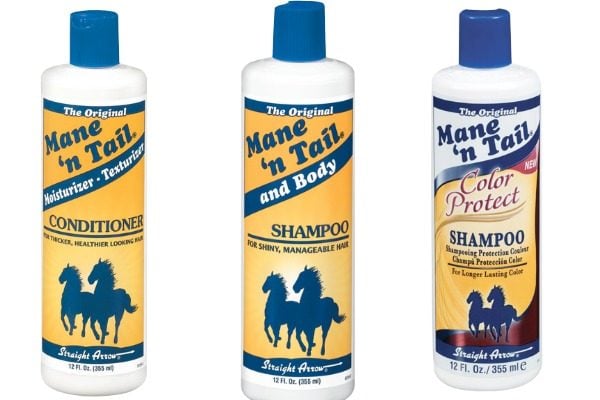 Demonstrating how her hair shines, the breakfast TV presenter said it's "very good for your hair".
She's not the only high-profile fan. Demi Moore's stylist says the actress uses it. Jennifer Aniston, Sarah Jessica Parker and even Kim Kardashian have reportedly tried the product.
Mane 'n Tail's manufacturers have caught onto the fact they have a very human fanbase. In addition to the original shampoo, there are also 'colour protect' and 'deep moisturising' varieties - with matching conditioners.
According to the website, the shampoo formula contains "high lathering and ultra-cleansing agents" fortified with moisturisers to leave hair "soft and ultra clean" without stripping natural oils.
"These micro-enriched protein formulas help to prevent hair breakage and repair split ends, achieving the goal of longer, stronger, fuller hair."
Retailing for between $14.95 and $16.95 for 355ml bottles - they're towards the upper end of the scale, but small change for celebrities who can afford the very best.
Have you tried horse shampoo?