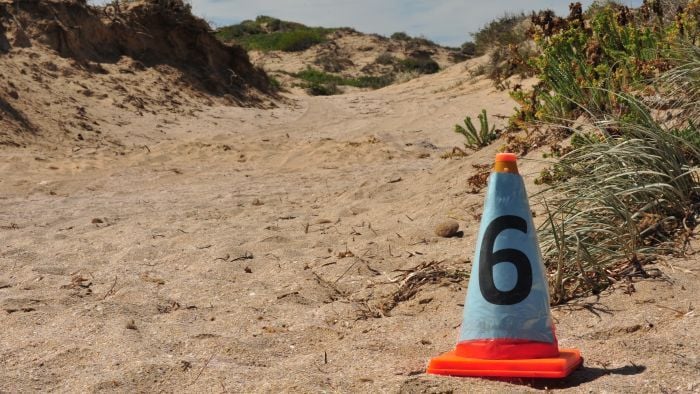 A German backpacker has told the South Australian Supreme Court she fought back, as she believed she was likely to die, when a man attacked her with a hammer at remote Salt Creek, south of Adelaide, in February last year.
The 60-year-old man, whose identity is suppressed, has pleaded not guilty to offences including attempted murder, aggravated kidnapping and indecent assault.
The 24-year-old German woman told the man's trial she woke to the sound of her friend, a Brazilian woman, screaming for help on the afternoon of February 9.
"I realised it was not a normal scream, it was very terrified like someone was really in danger," she said.
The German woman said she saw her friend lying naked in sand dunes and the man was standing over her as she screamed.
"My first thought was … 'we were all alone on the beach'," she said.
The woman said she yelled at the man to leave her friend alone.
"He said something strange … like 'I just wanted to try her'."
The woman told the court the man started approaching her and the other woman screamed that she should run away.
She said she ran to a car to grab her bag, which had her phone in it, then felt a "hard smash" to the back of her head.
"I was like 'OK, that's it, that's the end'," she told the trial.
"I saw myself already buried in the sand, I was thinking of my parents, that they would never see me again."
The German woman told the court "everything was wobbly" and blood from her head wound was dripping into her left eye.