True fact: I'm an unashamedly, loud and proud, flag-flying fan for the reality TV genre.
Whether it's a Survivor, a Voice, a Top Model, a Bachelor, a Real Housewife or a Project Runway it's an odds on bet you'll find me glued to my couch, transfixed by the goings-on of people you couldn't dream up if you tried.
I love them all for different reasons. For Survivor it's the intense strategic game play. For the Real Housewives it's the vicarious look into an OTT life that I'll never experience myself, for Top Model, Project Runway and The Voice it's the theme of everyday people striving for big dreams, baring their souls along the way.
Listen to podcast hosts Laura Brodnik and Tiffany Dunk plead their case in this special podcast snippet. Post continues after audio. 
But there's one show that ticks all of those boxes and more. And it's one that has not only gone under the radar with a lot of people but it's been written off as nothing more than a low-budget talent show (albeit with plenty of bling).
So today I'm hoping I can persuade you to jump on board the glittering train that is RuPaul's Drag Race.
The concept? Thirteen drag queens compete in a variety of challenges to become "America's Next Drag Superstar".
Hosted by legendary drag queen, model, singer and actor RuPaul and with a judging panel currently made up of long-time sidekick Michelle Visage, comic Ross Matthews and I'm a Celeb's Carson Kressley in addition to a weekly celebrity guest, each episode sees contestants compete challenges which test their talent, skill and nerve before hitting the runway for a fashion show and, ultimately lip-synching their way to victory or elimination.
Even as I type I'm aware how ridiculous this all sounds to non-viewers but bear with me, there's plenty of substance behind the sequins.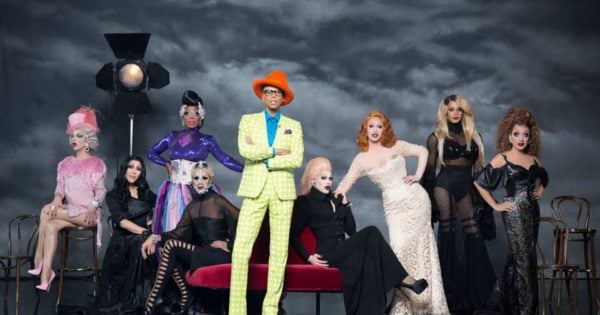 First up, who doesn't love a drag queen?
There's a reason Priscilla Queen of the Desert remains a staple Aussie film favourite. Being entertaining and larger than life form the very basis of their craft. The only thing bigger than the hair and the gowns are the amazing personalities.
Pandora Boxx, Jiggly Caliente, Laganja Estranja, Acid Betty, Coco Montrese and, of course, our very own Courtney Act in season seven, are just a few of the improbably named and utterly transfixing queens who have taken part in the show over the past eight seasons.
And it's fun.