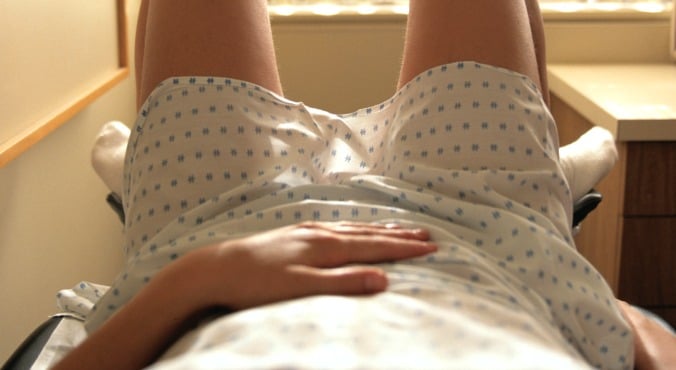 Image: iStock.
After years of visiting various impersonal medical centres, I thought I'd found The One. But no: the time had finally come to say goodbye to my doctor of two years and it was because she told me I had a smelly, disgusting vagina.
I'd experienced some itching, my discharge looked different, and I suspected that my vagina wasn't smelling particularly pleasant — but I couldn't be sure. There had been plenty of occasions when I'd guessed I had a yeast infection (also known as thrush and candida), only for the results to come back clear. I think many women are familiar with the 'do-I-don't-I-have-an-infection?' game that comes with being a vagina owner.
Sure, I could have just gone to the chemist to buy an over-the-counter thrush treatment, but I decided that the most responsible thing to do would be to see my regular GP, Dr Valle*, for a proper diagnosis. It seemed pointless to put medicine in my body if there was a possibility that I was infection-free.
Going to see Dr Valle always made me feel special. Her practice was in an old Californian bungalow with a rose garden out the front. She was always dressed in the latest fashions and her hair and makeup were flawless. The magazines in the waiting room were the latest issues, not 15 years old like at other medical centres.
Call me superficial, but all of these little touches made me feel like I was getting a higher quality of care. Dr Valle's practice felt so much more personal and established compared to the busy, sterile medical centres that I'd been frequenting.
Watch Dr Ginni and Shelly Horton discuss what makes a normal, healthy vagina. (Post continues after video.)
Once inside Dr Valle's office, I sat in front of her mahogany desk and she asked me, "So, Paulina, what can I help you with today?"
"I think I have thrush," I told her.
Dr Valle immediately wrinkled her nose in distaste, and then slowly typed some notes into her computer. Without looking up, she tried to offer me a quick solution: "You should go the chemist and buy a cream. You can get a three-day or six-day cream treatment for your vagina."
Then she stood up as a signal for me to leave. I was shocked at the abrupt way she had treated me; usually, if I even had the slightest symptom of a cold, Dr Valle would be looking into my ears and listening to my breathing before I could even cough "hello". But today it seemed she was keen to dismiss me – almost as though she was avoiding examining me properly.