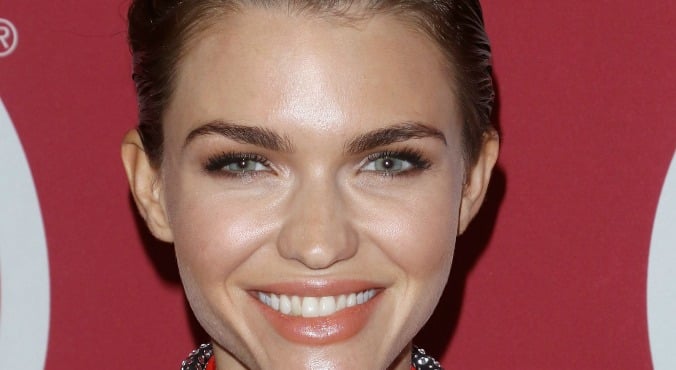 Image: Getty.
Ruby Rose is one celebrity who's not afraid to get experimental with haircuts. She's been peroxide blonde, lilac and last year even saw her sport a bowl cut. And yes, she somehow manages to pull it off.
That said, it seems like even Rose herself wasn't quite convinced about her latest colour choice, which involved some serious bleaching action. (WATCH: Mia Freedman goes for a daring chop. Post continues after video.)
"Took some photos of the process today… Photo two is that moment where you look in the mirror and question if your hairdresser has your best interest at heart hahaha love you Brant," she captioned the montage on Instagram.
Oh Ruby... we've all been there and we feel you. The final result, however? Ruby Rose perfection.
While green may seem like a somewhat unexpected choice, it's for a good reason - the Orange is The Black actress is preparing for her role in 2017's xXx: The Return of Xander Cage alongside Vin Diesel.
Fortunately despite her hesitations, it seemed like Brant delivered the goods leaving Rose happy with her new 'do... if the six snaps of her hair that followed are anything to go by.
The cut remains Rose's signature short and choppy style, but the new colour definitely has us seeing green with envy. (Sorry, we had to.)
Miranda Kerr
Yes, Miranda Kerr got very happy with a pair of scissors over the weekend.
The model shared a snap on Instagram with significantly shorter (albeit still very glossy), asking fans for their opinion on her new cut. A safe move, seeing as it looks delightful.
It was a resounding thumbs up from her followers. "Stop killing me with your short hair @mirandakerr You make me wanna have my hair cut," wrote uyenn.gd.
It's the shortest we've seen Kerr's hair before, but it looks like her go-to caramel bronde colour isn't going anywhere... yet.
The best celebrity hair transformations
What's your next hair change going to be?