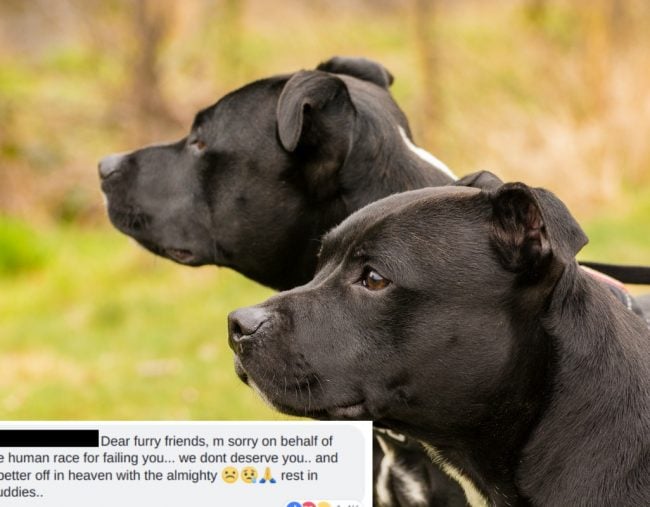 Content warning: This story discusses animal abuse and could be distressing to some readers.  
A 21-year-old Albury woman has been fined $144 after leaving her two dogs in a faeces smeared laundry, without food and water, for two weeks.
RSPCA NSW posted a photo of the dogs, Ruby and Benji, to their Facebook page, describing the heartbreaking scene.
See the image here. 
"The laundry was found with a strong pungent smell of dog faeces and urine, dog faeces all over the floor and an empty ice-cream container," RSPCA wrote.
"The Staffy Benji was found lying facing the 6-month-old Kelpie puppy Ruby, with his front leg over her body," they added.
The dogs were found by an RSPCA inspector following reports that the dogs were locked inside and possibly deceased.
The dogs were emaciated at the time of their deaths, and died of a combination of starvation and dehydration.
The 21-year-old woman was convicted with two counts of aggravated cruelty, and sentenced with 80 hours of community service, and was prohibited from owning any animals for 5 years.
"A recorded interview was conducted with Ms Atwell," the RSPCA wrote, where she admitted she had left the dogs for two weeks. "She had then found the dogs dead the day before (the Monday) and was intending to bury them but hadn't yet."
They have referred to the case as 'frustratingly avoidable', and added that their jobs, "never gets easier, seeing horrific stuff like this."
The heart-breaking pet neglect case comes in the lead up to Christmas, a time when pet purchasing is through the roof.
Last year the RSPCA in the United Kingdom shared a powerful advertising campaign "a dog is for life, not just for Christmas" to discourage the buying of pets who will later be neglected.
If you have any information about animal cruelty, please make a confidential report by calling 1300 CRUELTY (1300 278 3589) or online.