Roxy Jacenko has publicly called out a former intern for falsifying a reference signed in her name, uploading a screenshot of the reference in question to Instagram.
The letter, which endorsed the intern in question by praising her "marvellous performance" and "amazing prospects for the future", was brought to the PR mogul's attention through a run-of-the-mill reference check.
Talking to Mamamia about the fake reference and her subsequent decision to name and shame on social media, Jacenko said the person interned at Sweaty Betty PR casually for 24 hours over the course of one month and "never received a written reference letter from Sweaty Betty PR".
"I became aware that the letter was circulating during a reference check by another company that [the intern] was applying for a position with.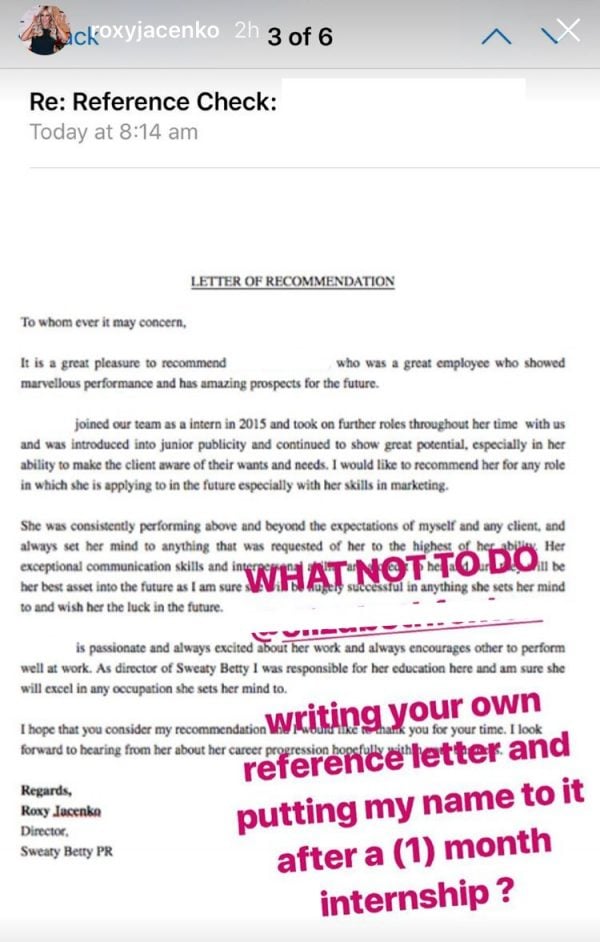 "As far as I am aware this has not happened with any other intern – falsifying documents is illegal, so I was shocked that even one person would implicate themselves by forging a document."
Jacenko added her reasoning for putting the reference on social media came from a simple a desire to clear her own name.