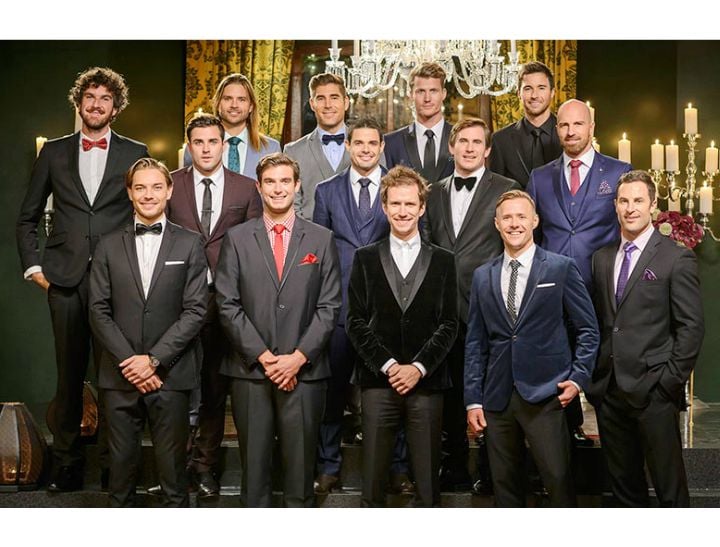 Missed last episode's recap? Get on that. Read it here.
And it looks like we've finally spent enough time explaining why it's okay for Bachie Queen to be dating so many Peen Owners at once; we don't open on her doing any heartbroken beach/horizon/turtleneck thinking. We get it: Broken Heart + National Humiliation = only socially acceptable situation in which a lady may date many men.
Her adequate level of heartbreak has been established, so tonight we open on Peen Palace, where the Peen owners are sitting around talking again about why they're different to the ladies and they're not going to be lady-bitches, they're going to be good Aussie mates because #Aussie #mateship #notsillyladies etc.
Oshie comes in wearing a sexy cardi, and after last week's stray hair disaster, Channel Ten Overlord Queen Sandra Sully is taking no damn chances. That shit is sprayed down TIGHT tonight:
Ah. We get our first inkling that this is going to be a boring-as-shit episode when the Peen Owners start endlessly pontificating about the date card. "Oh look. It's the date card. I wonder what could be in the date card. Let's talk about about what could be in the date card. And who will be going on the date? I'd like it to be me. I'd like it to be me too. But what name will be in there? Oh look! We've filled enough time now that the producers are saying we can stop talking and actually open the date card. Let's open the date card."
Oh glob. Somebody please bring back David The International Model before this episode bro-codes up its own arse and into the fucking mateship abyss of television I do not care about.
Sasha, the only Peen Owner who's managed to give Bachie Queen clit tingles so far, gets the single date. Looks like someone's looking for a handsome man to push her special button.
SINGLE DATE TIME!
Bachie Queen forces Sasha to learn how to tango with her, because that was the only g-rated way she could get their private areas into the same area. They learn the dance. She gets the giggles at Sasha's muscles/her clit explodes and love-heart glitter comes out:
Cut back to Peen Palace, and besides the group date card arriving, the only thing worth mentioning here is the fact that Dorky Little Brother Will is dressed like a sassy 1980's Laundromat owner:
Back to the single date. They're sitting at a tiny table with a jug of red cordial plonked in the middle of it, and now I'm worried that last week's helicopter/speedboat budget blowout was a one-time thing and we are looking down the barrel of another season filled with picnic rugs in backyards surrounded by those paper lanterns you get at Typo.
A really boring conversation about family/feelings/emotions etc etc blah blah blah. They realise they're soulmates because they both have stepdads. #TRUELOVE