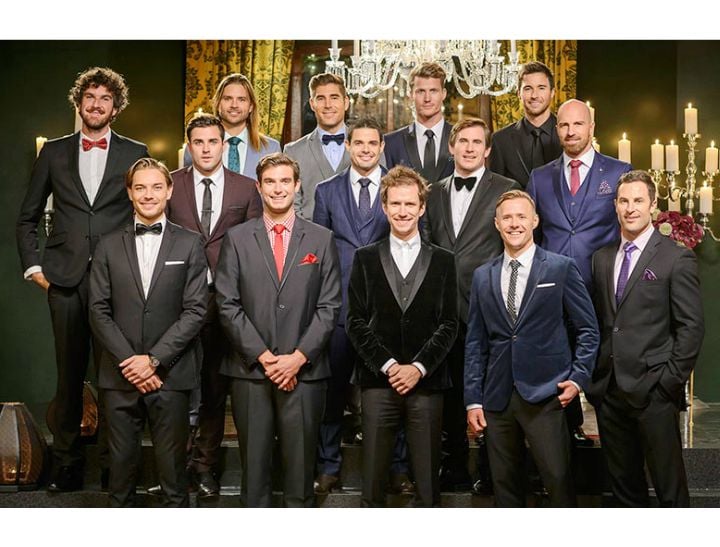 Missed last episode's recap? Get on that. Read it here.
Annnnd we open with some very grand sweeping ariel shots of the beach. And of waterfalls. And of majestic cliffs. CHANNEL TEN HAS SPENT MONEY ON THIS AND THEY WANT YOU TO FUCKING KNOW IT. QUEEN SULLY HAS RELEASED THE LAST OF THE FUNDS.
She's even let Oshie out of the Channel Ten dungeon and plonked him on the edge of a cliff so we can get some glorious ariel footage of his hair not blowing one inch in the salty New Zealand breeze.
Holy Daffodil, you guys! This is it. We're at the end. Tonight Bachie Queen will pick the Ultimate Peen Owner who will play with her special button for eternity.
But before the episode can really get started, we need to spend five solid minutes learning where the money to pay for it actually came from. Oh Sully, you sly girl you. I didn't think there was enough money in the couch cushions to pull off a last-minute trip to New Zealand. I knew the funds were depleted! But you weren't going to let a sister spend time with her final two Peens in some park in the outskirts of Sydney. No – this needed to be epic. Which means one final, glorious piece of product placement to pay for the whole damn trip. I can't be AIR NEW ZEALAND sure, but I'm fairly AIR NEW ZEALAND certain that AIR NEW ZEALAND possibly had AIR NEW ZEALAND something to do with AIR NEW ZEALAND the financing of this trip on an AIR NEW ZEALAND plane to New Zealand.
Because it's definitely extremely important for the show that we see lots of shots of how people travel to New Zealand. Via AIR NEW ZEALAND, in case you were wondering:
Well played, Channel Ten. This wouldn't have felt like a finale without some shameless placing of products. AIR NEW ZEALAND. (Can I have a jet now?)
So. Tonight, Bachie Queen will have one final date with each Peen Owner. They will also meet her family, who are all inexplicably in New Zealand. (Probably because they were flown there on a stylish and comfortable AIR NEW ZEALAND plane. Srsly – my jet pls.) And the final humiliating challenge has also been set: Bachie Queen expects each of the Peen Owners to tell her that they L.O.V.E love her tonight, obviously so that the humiliation for the one who gets booted will be at its maximum level.
Here we go.
Professional-Soccer-Player-Except-Not-Really (PSPENR) Michael's turn to get grilled by Bachie Queen's family in the hopes of putting some Manufactured Drama into this episode:
Bachie Queen's sister is an epic No Sass Wonder Woman who has zero time for bullshit. The whole meeting basically consists of her making faces like this every time PSPENR Michael talks: