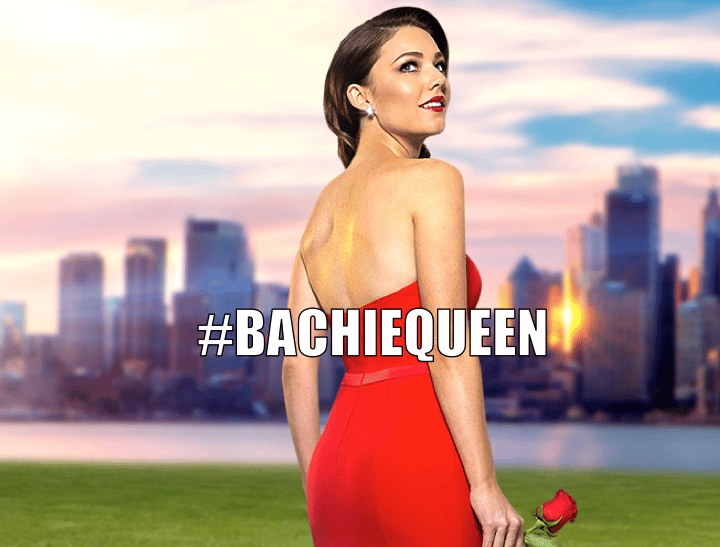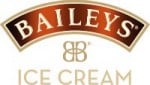 Want to catch up on The Bachelor recaps? Read them here.
THIS IS IT. A LUCKY LADY CALLED SAM FROST FINALLY GETS TO CONTROL THE PEEN.
But first we need to be reminded of a) her recent humiliation and b) that one time Channel Ten had enough money to go to South Africa #NeverForget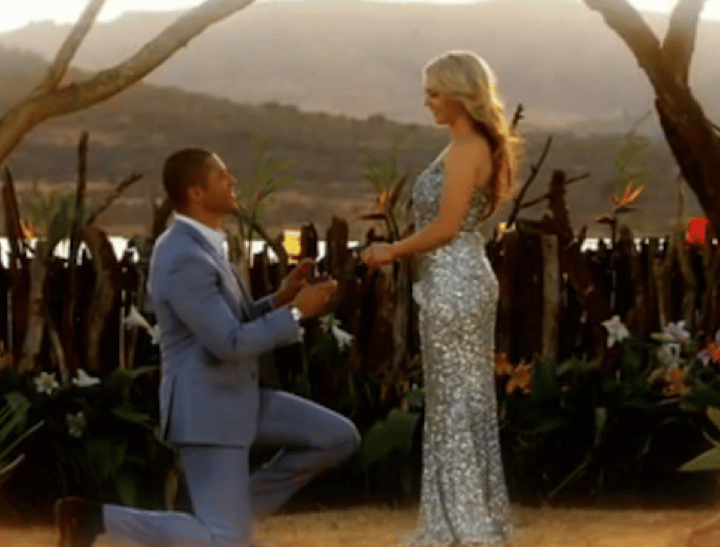 Cut to Sam getting dumped and a montage of news headlines about her embarrassment with the words MEDIA SCRUTINY and LOVE RAT said multiple times. Although, all they really have to do is show those lame ads that Bachie Blake went on to film and highlight the fact he's currently on that sad Celeb Apprentice show with that scary old dude who collects young American girls. BULLET DODGED, FROSTY.
We get lots of heartbroken beach thinking. Heartbroken horizon-looking thinking. Heartbroken turtleneck thinking. This girl was screwed over, and is clearly sad and embarrassed that her time on a reality dating show shockingly didn't work out.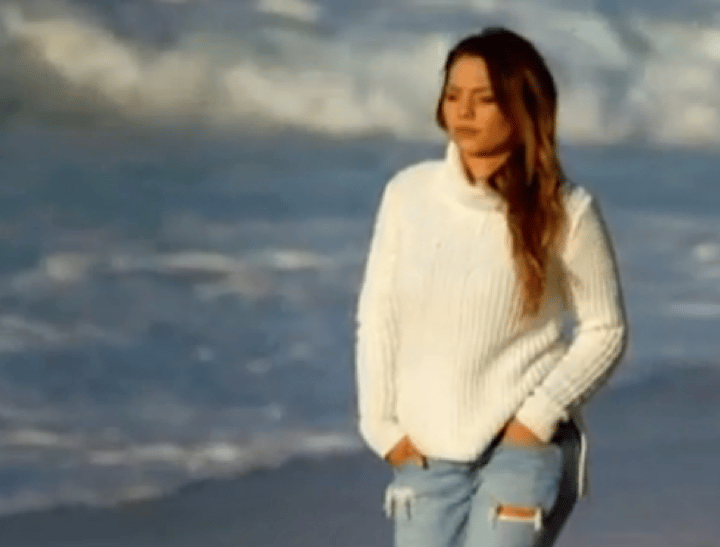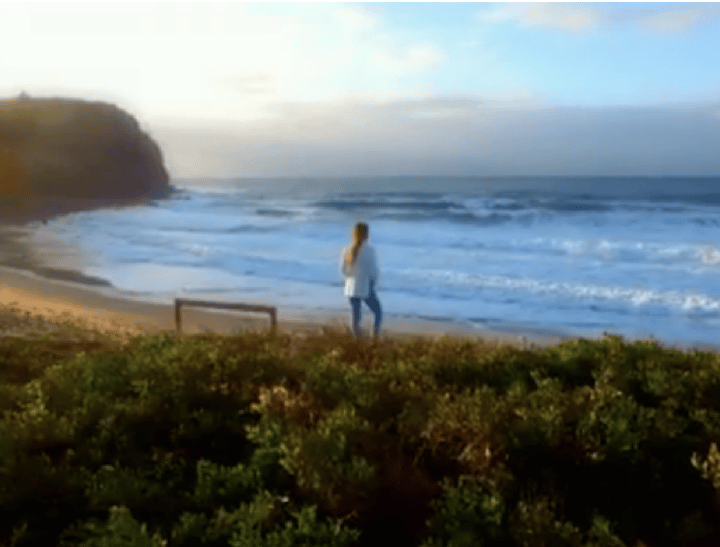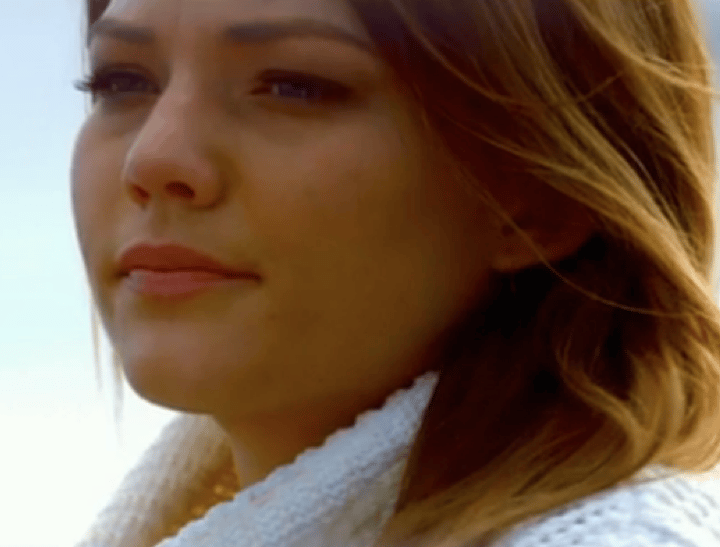 Then she basically sums up what every person feels when they put their heart on the line and she cries and it's just so sweet and she is officially the most loveable woman in the country: "When you show someone who you are and they don't want you… You don't feel good enough."
ARRGGHH GIRL I'VE BEEN THERE AND IT'S THE FUCKING WORST AND NOW I FEEL LIKE YOU'RE THE ONLY ONE WHO UNDERSTANDS ME AND YOU'RE MY BEST FRIEND AND I JUST WANT YOU TO GET ALL THE PEEN AND WOW DID CHANNEL TEN ACE THE CASTING BY PUTTING YOU ON THIS SHOW. #perfection
Okay. We get it. Heartbreak etc. Hangs out with her family blah blah blah. Talks about being sad etc.
But now…. The music changes! Hope! Love! She's over Blake! Girl is moving on! She puts on some make-up, does her hair, chucks on a red dress and emerges as…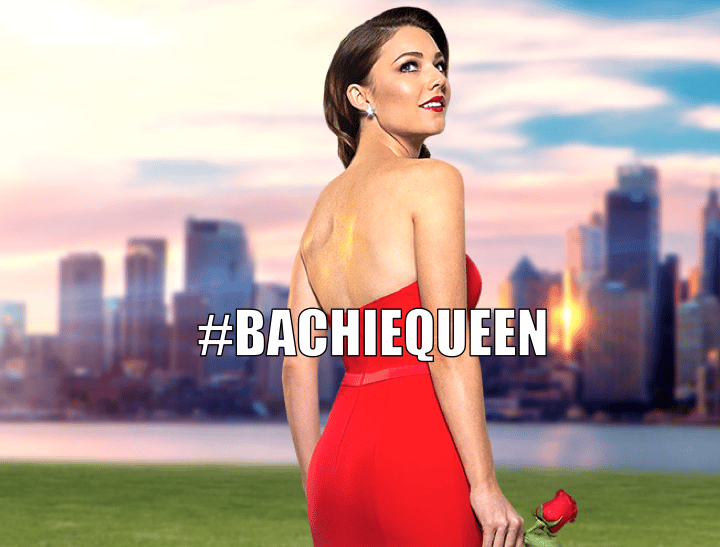 NOW LET'S MEET SOME BOYS!
Bachie Queen gets some very important words of advice from Oshie's Glorious Hair, then it's time to greet all the dudes before sending them to be locked in her Peen Palace.
Serious contenders (the ones who get the romantic music):
Dave the plumber. He is a plumber called Dave.
Richie. Can do more than one chin-up in a row at the beach: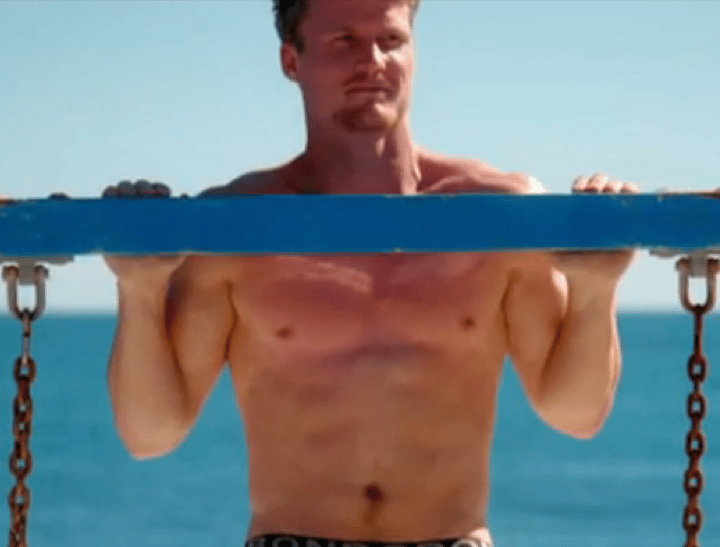 The charming English guy and OMG HE BRINGS HER SECRET FLATS SO SHE CAN TAKE HER HEELS OFF HE IS A DREAM MAN.
The Professional Football Player whose name I don't remember because I got distracted by his mildly erotic shower scene: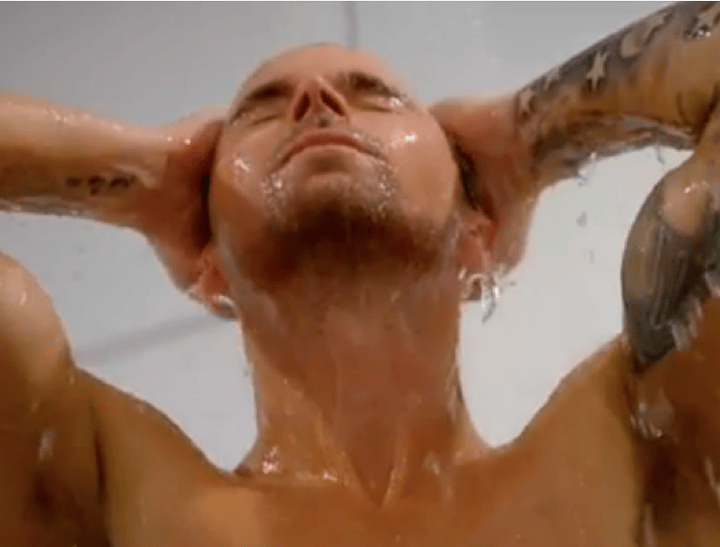 Sasha. Okay Sasha will probably win this whole damn thing. Bachie Queen loses her shit around him. She is definitely having tingly feelings in her special button. She wants to keep talking to him and he makes her laugh and OMG HER CLIT JUST EXPLODED AND HE HAS CLEARLY WON. HE IS THE WINNER: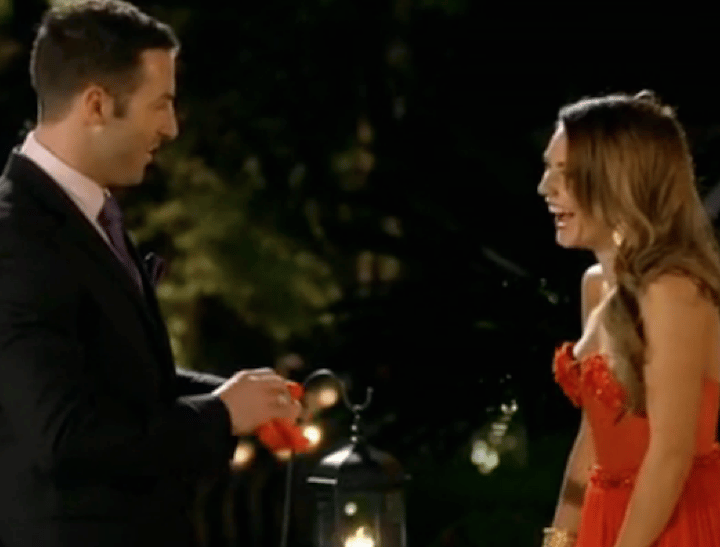 Obvious stunt casting (the ones who get the goofy music):
Davey. Not sure why he's on the 'Lol No' pile just yet, but he's the first one to get the music that sounds like Homer Simpson blowing into a bottle, so… One episode. Two, tops.
DAVID THE INTERNATIONAL MODEL. Oh my glob I hate him so much that I love him. He says he's not 'conflicutous' and they immediately start playing the goofy music and I actually cannot believe they found this gem. He clearly has no IDEA that he's been put in the 'Lol No' pile.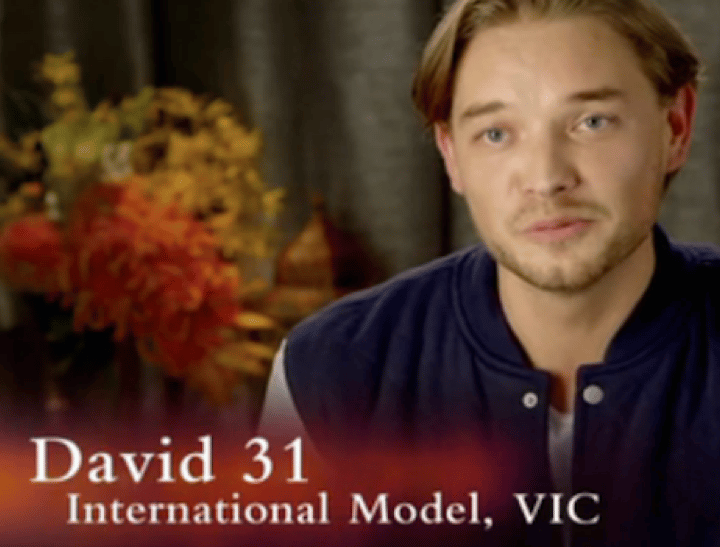 Long Hair McGee with THE FUCKING OWL. Which evil genius producer convinced him to do that without him realising that it would immediately put him on the 'Lol no' pile? Also, an OWL? Owls are possibly the most unromantic and petrifying of all the living things on this earth. Have you not SEEN Labyrinth?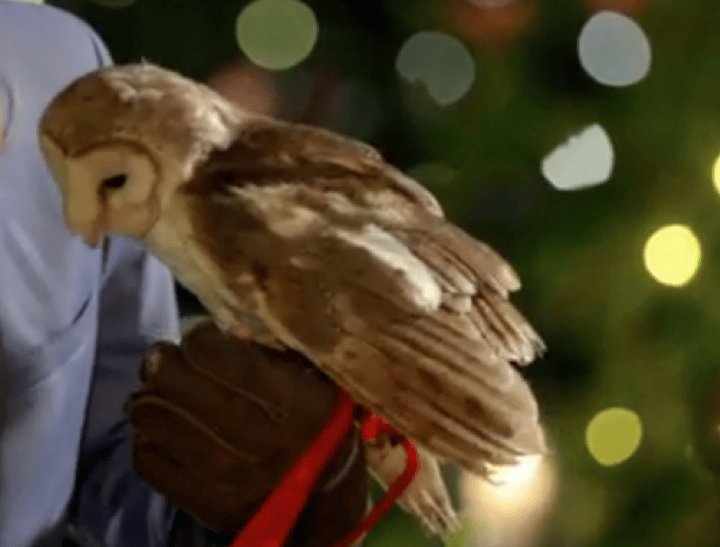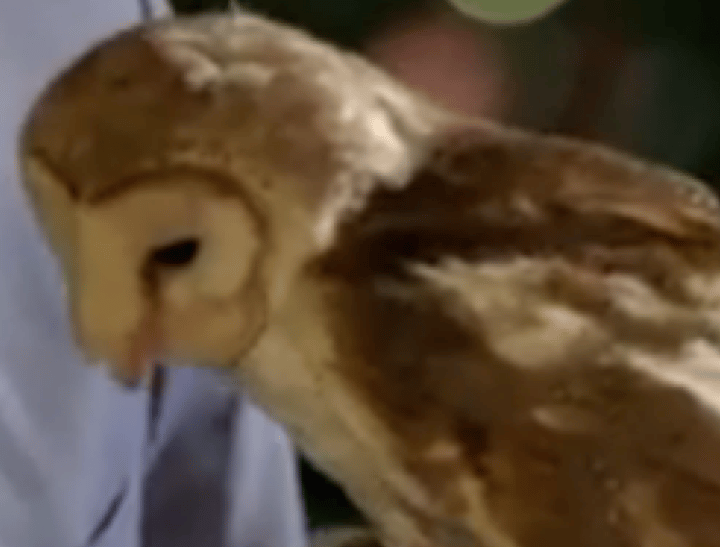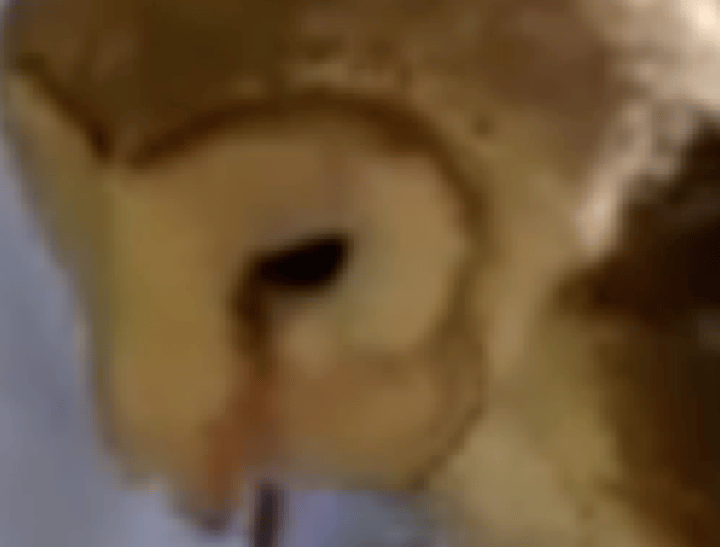 Some guy rolls in on a skateboard. Lol no.
Will – The 'musician/barista' so definitely just a barista, gets the goofiest music of them all: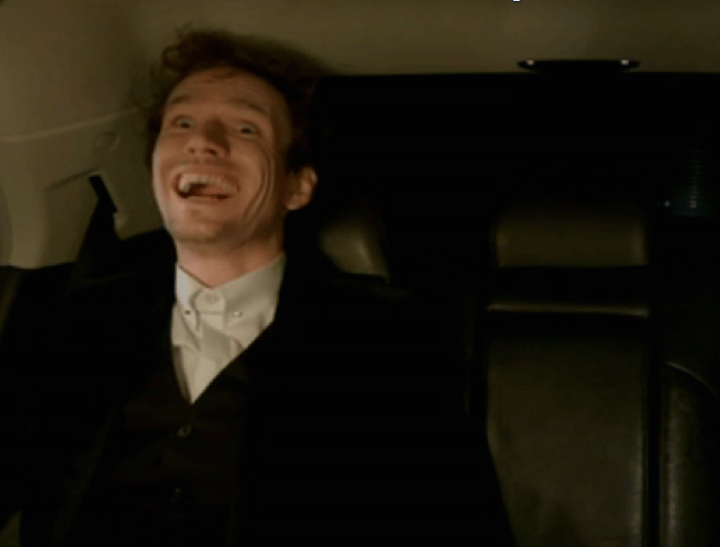 Bachie Queen says she 'loves him', but she says it the way girls say they love their friend's little brother who walks a bit funny and masturbates to anime.
A few more randoms that don't deserve much screen time and that's about it. It's time to go inside the Peen Palace for the cocktail party.
But… Before we do that, I feel like we all need to have a little chat about the very white elephant in the room. Something has clearly gone horribly wrong in the casting department here. I mean, Channel Ten are usually very diligent about casting at least one token slightly less-than-white individual. Sure, they rarely last more than a couple of episodes, but at least the thought was there, right? WHERE IS THE BACHELORETTE'S TOKEN BLACK GUY? OR ASIAN GUY? OR EVEN SLIGHTLY BROWNISH ETHNICALLY AMBIGUOUS GUY? Someone must have forgotten to read the 'please cast one token non-white person' memo, but I don't want anyone to get in trouble here, so I've come up with a solution that involves Token, the token black kid from South Park: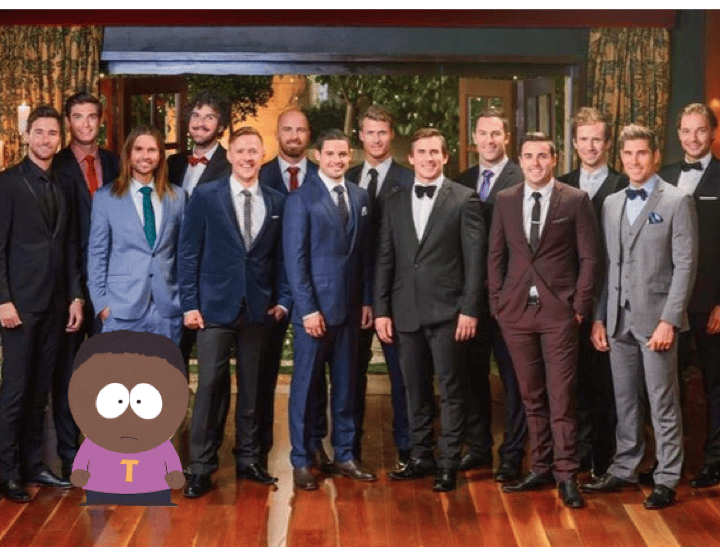 Look at that diversity! Well done Channel Ten!
COCKTAIL PARTY TIME.
Oshie's Hair comes in and explains to all the boys that they on a show called The Bachelorette and their peens should now be placed in the communal bowl by the front door for Bachie Queen to do with as she pleases.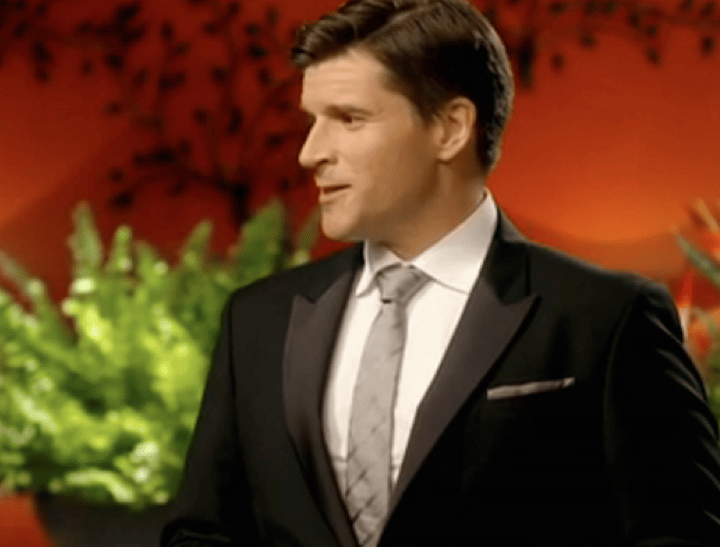 Bachie Queen Sam is lovely and perfect and genuine and cries when she realises that all the boys are there for her and even though it's really sweet I'd like her to go away now so I can just watch the boys bitch about each other.
WHICH THEY DO YAS.
A Bro-Code is invented by one of the Daves and agreed upon by all: No man shall butt in on another man's time with Bachie Queen.
Everybody agrees not to break the Bro-Code
David the International Model immediately breaks the Bro-Code.
And I'm so glad he did because it's GLORIOUS. He literally talks about being an International Model the entire time and how a woman would be lucky to end up with him and his lack of self-awareness is so heavenly I just never want this conversation to end. Bachie Queen cannot even deal. When he says that he 'didn't ask to be an International Model' she can barely hide the disdain from her face. I WANT TO TRAVEL THE WORLD WITH HIM AND WATCH WHILE HE MISPRONOUNCES WORDS AND DOESN'T REALISE.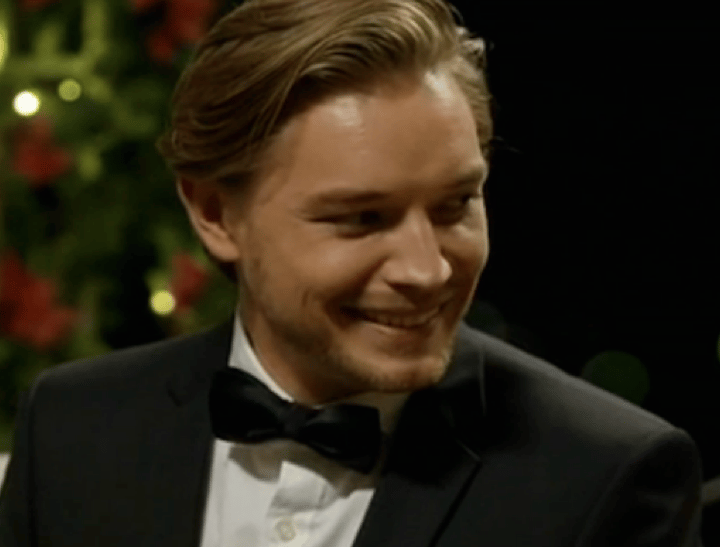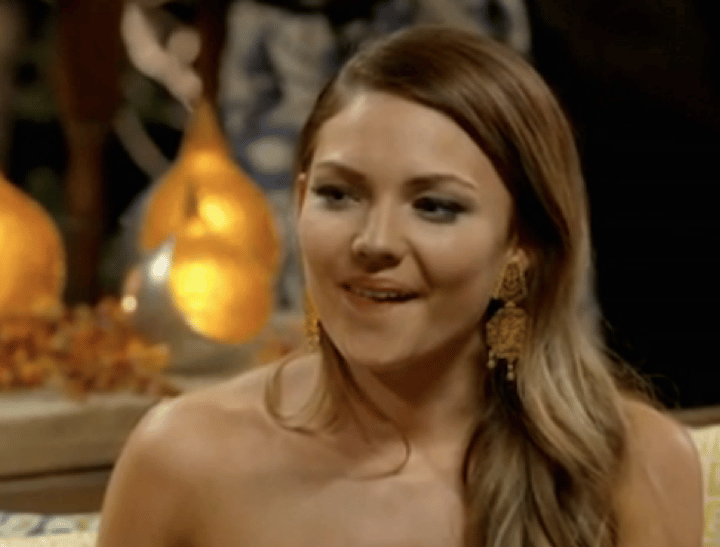 Other highlights:
Will, the one Bachie Queen loves like a dorky little brother, sings her a 'little ditty' and it's immediately obvious why he's a musician/barista and not just a musician.
One of the Daves is obsessed with her within 30 seconds and is pretty much the male version of that astronaut who drove for 10 hours and shat in a nappy just for love. Tells her about every one of his relationships and Bachie Queen is an epic goddess who doesn't even pretend to put up with his shit.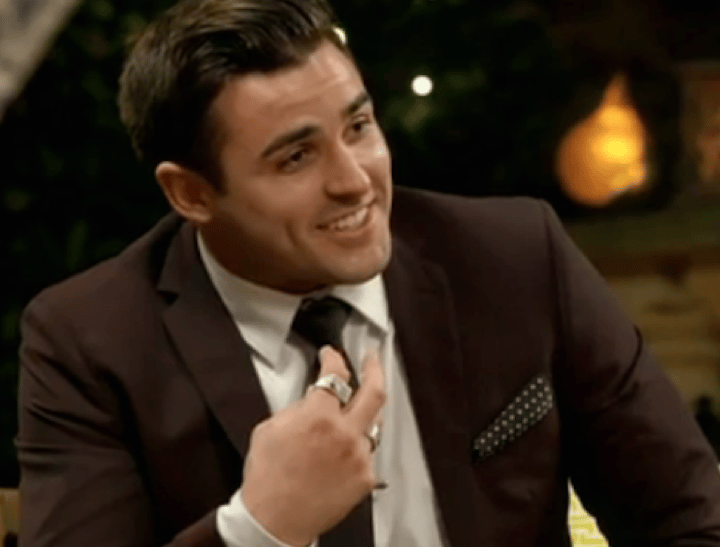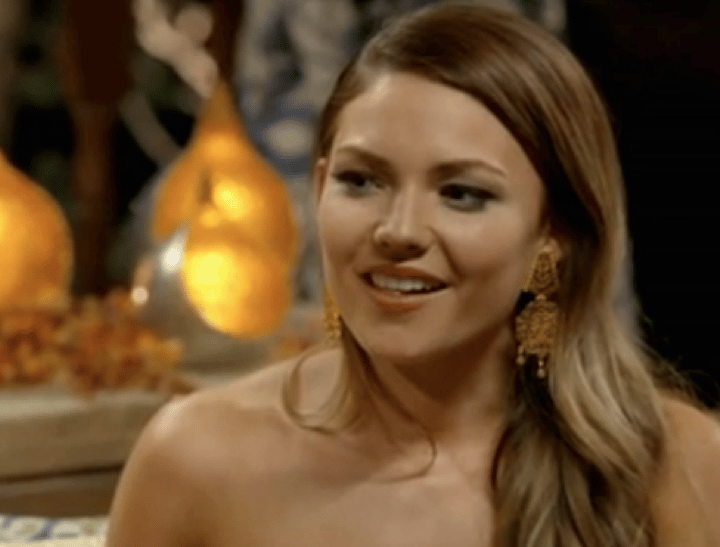 Some dude whose name I've already forgotten does a headstand. Falls over.
She gives Sasha a rose for making her clit tingle more than the others.
End of cocktail party.
ROSE CEREMONY TIME (post continues after video).
It's all very serious now. The Obsessive Dave looks like he's been through the trauma of a ten-year relationship ending and he literally only talked to her for five minutes.
The Owl Guy is crying.
OMG YAASSS DAVID THE INTERNATIONAL MODEL GETS THROUGH PRAISE OPRAH I'VE NEVER BEEN HAPPIER.
All the obvious ones get through. Obsessive Dave gets through. Dorky Little Brother Will gets through. I've decided that Token gets through and will definitely make some sneaky appearances throughout this series.
Two randoms whose names I don't remember are the ones who are booted: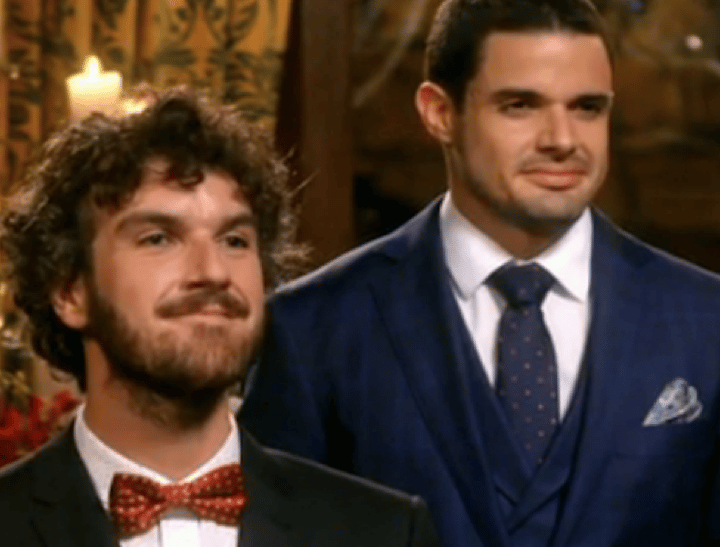 AND THAT'S A WRAP ON EPISODE ONE.
Tomorrow night: International Model David does something gloriously horrendous and Bachie Queen THROWS DOWN like the epic goddess she is.
This is going to be a great season at Peen Palace.
You should follow Rosie Waterland on Facebook right here. Also, she's written her first book (which she thinks is quite humorous) and it's OUT NOW. You can purchase it by clicking RIGHT HERE.

Missed a recap of The Bachelor? Catch up here: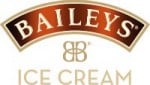 Take your night out, in, with the all-new Baileys Ice Cream, a decadent new way to enjoy the taste of Baileys Original Irish Cream liqueur.
Available in Original, Chocolate and Burnt Toffee, Baileys is transformed into a sumptuous range of ice cream – the perfect excuse for a night in.
Crafted for your enjoyment with fresh ingredients to create a luxurious and velvety texture, these new Baileys Ice Cream products offer indulgence with every spoonful. Eaten alone as a heavenly treat or used to create tantalising desserts, the new Baileys Ice Cream range is an after dinner show stopper.