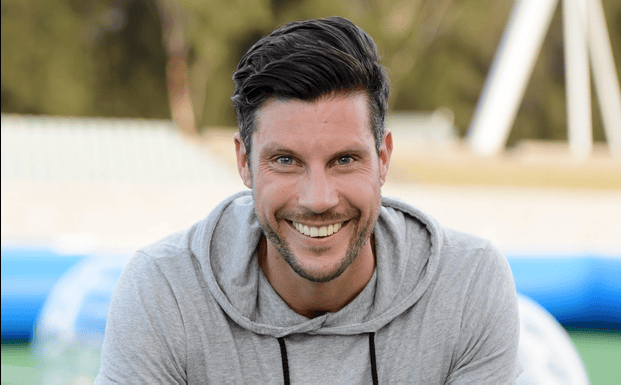 Missed last episode's recap? Get on that. Read it here.
And we open with Bachie Wood tonight… Patting a horse? He's taking it very seriously, so it must have something to do with showing his thoughtful, sensitive side. There is absolutely zero explanation as to why he is doing his thinking on a random farm with a horsey friend, although it probs has something to do with Oshie's hair budget getting out of control and this being some leftover footage from yesterday's farm date. I like it though. 'Serious Horse Thinking' is definitely a Bachie thinking that we haven't seen before.
Cut to the Girl Prison, where the girls are just casually hanging out in the kitchen being totally casual and talking about how sad they are that their boyfriend dumped one of his other girlfriends last night. It really takes the romance out of a relationship when one of your sister wives gets kicked to the curve, amiright? But never fear! Oshie's Hair arrives to lift their spirits with the group date card.
He leaves as gloriously as he came, then, because clearly not a lot is going to happen in this episode and the producers are panicking about filling time, we are forced to listen as each girl's name is read out, then we hear what each of those girls think about their name being read out, as well as what they think about the other names that have been read out. Then we hear the date clue, and we hear what each girl thinks about the clue, then we hear what each girl thinks about what each other girl thinks about the clue. Jesus. Tonight's going to be painful, isn't it? Excuse while I get some wine… … …
Ok, I'm back.
The clue on the card is: 'The race in on'. Which clearly means this is going to be another humiliating segment in which the girls bring pride on their families by competing for some alone time with a man in a gimmicky, often violent, sporting activity. Can't wait!
GROUP DATE TIME.
Wow. Okay. Y'all know what I'm going to say. Say it with me:
NISSAN.
They are NISSAN driving to NISSAN this date in a NISSAN. And oh my gosh it's parking on its own the future is now so much technology and while still being stylish etc NISSAN etc! NISSAN NISSAN NISSAN NISSAN. (Can I have a Nissan now?)
The date is Go-Karting, which means dodgem car-style crashes are absolutely being prayed for by the producers. And can I just say, Oshie's Helmet Hair is ON FLEEK this evening. Bachie Wood looks totes jelly:
Ugh. Okay, so the producers are really, really pushing this whole 'contest between Nina and Emily' thing. Apparently we're meant to get very excited about the fact that there is tension between them, thus building suspense for us at home. Waaaah okay fine. I'll do my part. Deep breath…