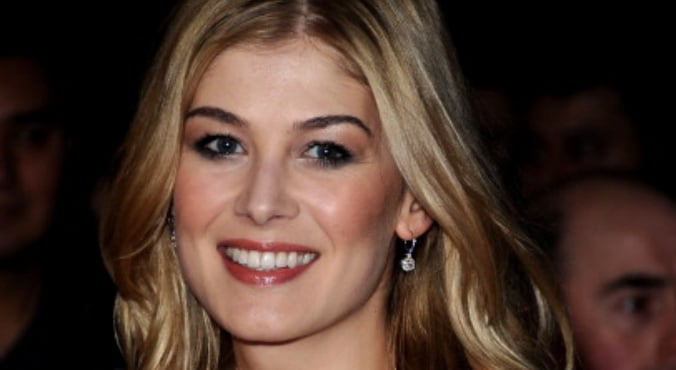 Image Via Getty
The office is a-buzz about the 'non-date-night' flick, Gone Girl.
Is it as good as the book? Isn't it?
Everyone who has seen the cinematic adaption Gillian Flynn's novel has different opinions on this.
But one thing that everyone agrees on is that Rosamund Pike was a great choice for the role of 'Amazing Amy'.
For those of you that haven't read the book or seen the movie, don't read on – there are spoilers!
But for those of you that have – let's indulge in a little bit of behind-the-scenes-goss about the book we couldn't put down.
So, as you would know, Amy is craaaaaaaazy. Part of Rosamund's characterisation was to slip in and out of different personas – cool girl, perfect wife, diary Amy – and like in the book, Rosamund had to put on a lot of weight for when Amy was in the Ozarks.
Rosamund revealed yesterday that she needed to lose and gain this weight 3 times over.
"I had to be slimmer in L.A. and heavier in the Ozarks, and then heavier and slimmer in the studio, so I had to do it three times over. They scheduled around it, so I had two weeks each time for each fluctuation. It was quite intense. It was like turning your body into a chemistry lab."
"I couldn't escape it, the weight-loss period. I took time out to get a pedicure, and Extreme Weight Loss! was on the TV. I was like, "I can't get away from it!" [Laughs.]
Whoa. That cannot be good for your body – sounds like a week of 'Celebrity Slim' just in time for a big event, then a week of KFC right after. Over and over again.