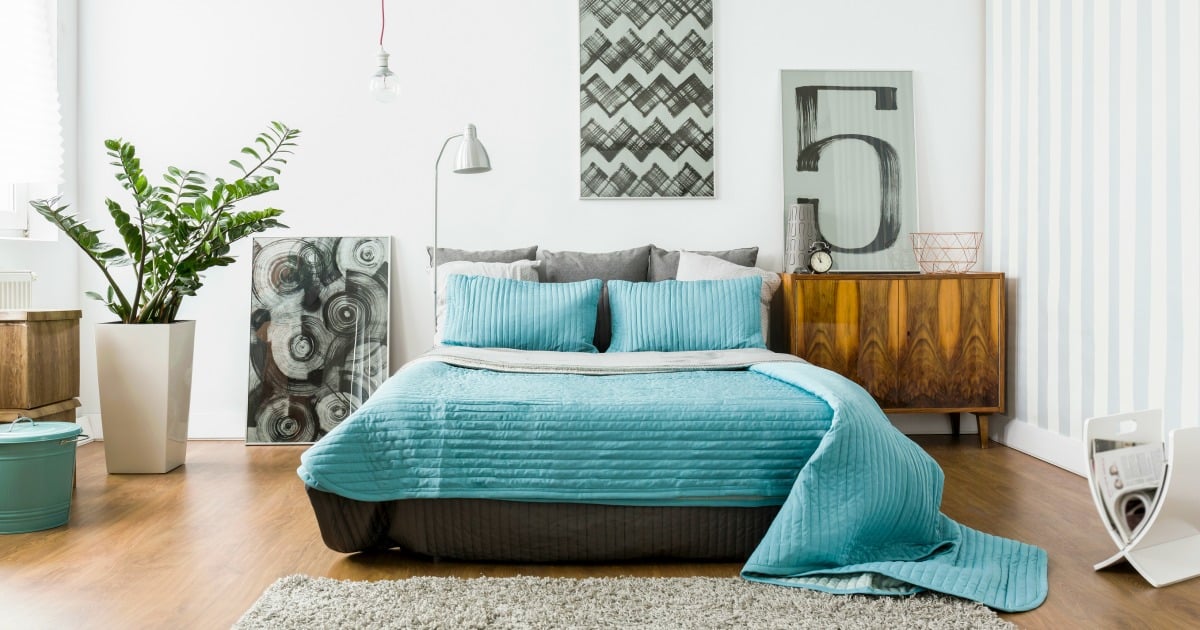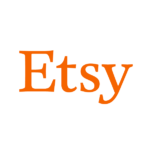 Thanks to our brand partner,
Etsy
Turning a space into something that speaks directly to you can be challenging. Forget cookie cutter homewares and hours in stores looking at all too familiar décor pieces. From furniture, to luxe bedding and everything in between Etsy is a treasure trove of items that feel like they were made especially for you.
We asked three Mamamia writers to change their space into a happy place, using furniture and décor items sourced from Etsy.
Here's what they found.
Mary.
My bedroom is a fairly accurate representation of my mind: a little too cluttered and lacking in creative direction. I am in dire need of some handy storage systems that actually look nice (no more cardboard boxes) and something nice to look at on the walls wouldn't go astray. Etsy has come to the rescue to help me create the perfect balance of comfort and visual appeal in the room in which I spend most of my non-working life.
Grey stonewashed luxurious linen duvet cover.
There's nothing that says 'comfortable place to spend all night and possibly all day' quite like a duvet cover that looks lived-in. This light grey stonewashed finish has the perfect combination of a relaxed, go-with-anything look and the added benefit of being made from high quality, genuine European linen. It's perfect for all seasons and comes in a range of sizes.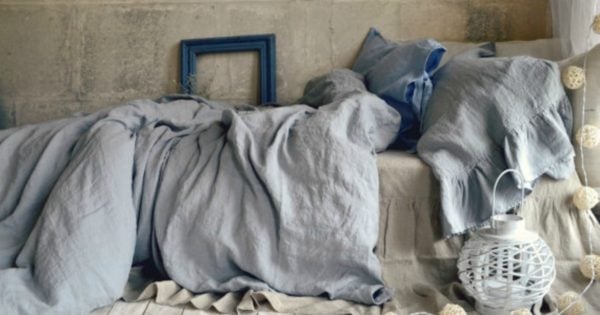 "It's perfect for all seasons." Image: Etsy.
If you're anything like me, a bedside table is more than just a surface to support a lamp and a book. Having a place to store the tower of books and any other junk that never quite makes it to its rightful home would be a game-changer in my bedroom, particularly if it comes in a beautiful handmade Birch plywood finish with soft closing drawers. Bonus: the second drawer is perfect for keeping often-used items like wallets, keys and small accessories that need a home in between handbag changes. (There's nothing worse than rushing out the door only to discover that you've left your wallet in your other bag for the second time in a week.)
I don't know about you, but when it comes to removing my earrings at night, my habits are atrocious. I can see an organiser like this placed on my bedside table being handy for storing bits and bobs when I can't be bothered to put them away. Having a cute photo of my dog my friends next to my bed wouldn't hurt either. It even has a little place to store sticky notes or a small notepad, so I can easily jot down any last-minute thoughts as I'm drifting off to sleep.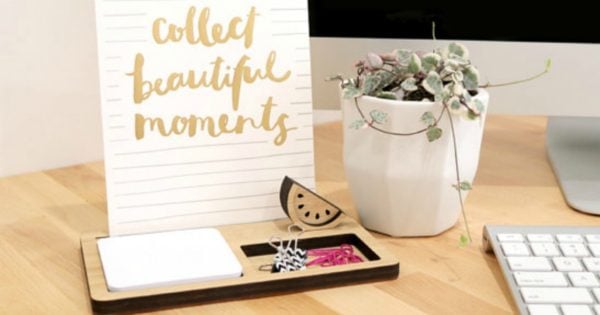 Pop in a picture of your loved ones for a personal touch. Image: Etsy.
In contrast to the clutter of the floor and all other horizontal surfaces of my bedroom, the theme of my walls is quite spartan. I'm not one to stick to any particular style of artwork, so something that allows me to change things up whenever I please is ideal. Enter wall art for the indecisive human. This minimalist, reclaimed wood hanging frame is the perfect way to add something unique to my walls.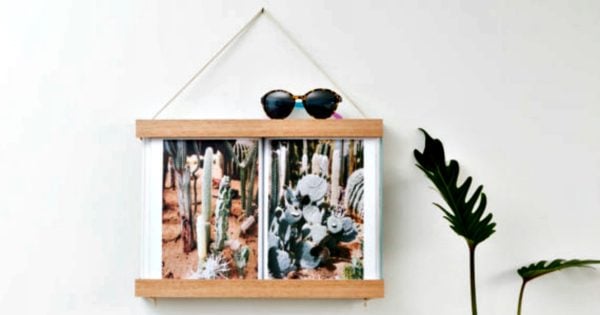 "Wall art for the indecisive human." Image: Etsy.
Andi.
My workspace at home often feels a bit unexciting and monotonous, which are certainly not words that you want associated with productivity. I turned to Etsy to help me breathe some life into workspace, and help turn it into my happy place.
As a self-proclaimed lover of candles, I believe that they are a welcome addition to any space. A candle feels instantly luxurious and indulgent with ease, as well as being calming and radiating scent. This Maison Blanche candle blends soothing lavender with eucalyptus and lemon myrtle, which has me relaxed just thinking about it. Made from high quality soy, this candle not only looks elegant but gives you 40 hours of fragrance. Yes, please.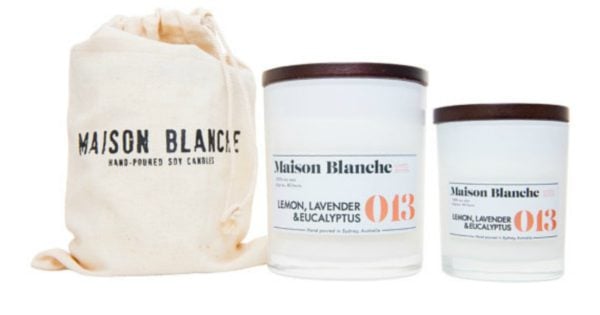 A touch of luxury. Image: Etsy.
Confession time; I am a messy person by nature. Things just tend to accumulate on surfaces, in corners and under desks and I have no recollection of how or when. Keeping my work surface clear and organised is crucial to keeping my space happy.  This leather tray from The Leather Collective helps me keep all of my random assortment of things in one place. It also doesn't hurt that it makes it look pretty too.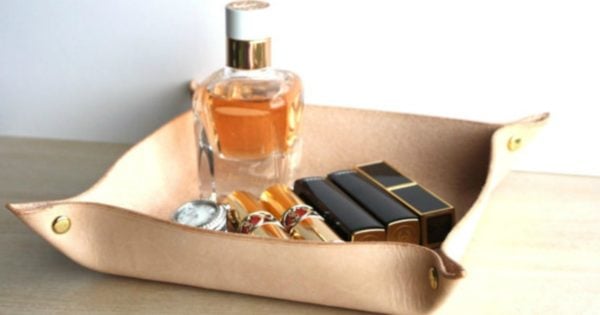 A stylish way to keep your work surface organised. Image: Etsy.
Having a workspace that features an all-white colour palette can often feel a bit dull and lacklustre. I decided to break down the repetitive whites with pops of colour, and this abstract print by Minot and Co does the job perfectly. Having a printable design means that I can change out the frame to my liking, and it couldn't be easier.
Seriously lacking inspiration? Don't worry these pencils from Miss Poppy Design have you covered with the perfect mantras to kick-start your Monday (or any day for that matter). My favourite one simply states "drink coffee", and that's not something I'm going to argue with. Not only do they offer an appropriately small serve of inspiration, but they manage to tick all of the boxes when it comes to aesthetics and practicality. These are some seriously hard working pencils.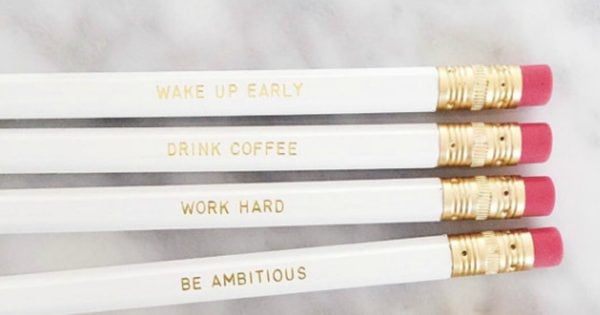 "The perfect mantras to kick-start your Monday." Image: Etsy.
Ruby.
Having recently moved back to Australia after ten years living overseas I found myself having to buy absolutely everything for my apartment all over again, once I had the basics in like a sofa and coffee table I realised that what my lounge room was lacking was personality, it didn't feel like a home. I knew I wanted something unique that really represented me, so I decided try Etsy.
Small Deco Plant Stand Copper.
It was love at first sight when it came to this copper plant stand, it's really on trend and meant I was able to have more greenery in less space, living in a studio apartment that's really important to me. I love how it's both elegant and practical and can be used indoors and out.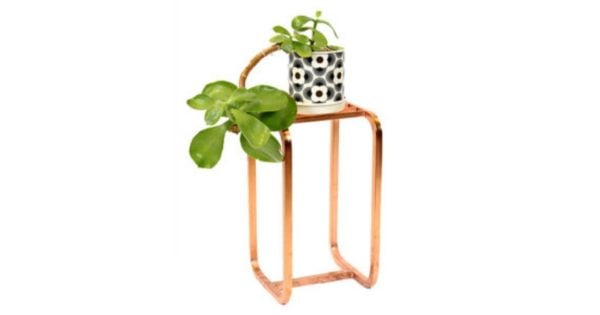 A beautiful way to add some greenery into your apartment. Image: Etsy.
I found this fabulous abstract print from Sarina Diakos, most of my furniture is white or grey so this print injected the colour I needed while still having enough grey and white to tie the room together. I was able to pick the print in the perfect size to fill the blank space above my television, the pops of colour just work so well and it felt great to be supporting an Australian artist.
I buy fresh flowers for my home every week so I'm always on the hunt for great vases, when I saw these posey vases from PF Ceramics I knew they would be perfect for my home. They're dishwasher safe and available in a variety of colours. I really liked that each vase was unique and handmade by Patricia Fernandez who comes from a long line of makers in Western Australia. These vases look so chic and work perfectly in my lounge room.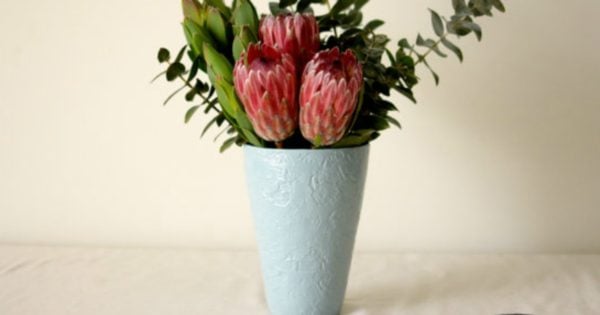 The perfect addition to my lounge room. Image: Etsy.
Tropical Monstera Leaf Cushions.
When I first bought my sofa I thought I'd made a terrible mistake, while I'd loved it in the store once I got it home it just didn't seem to work in my apartment. These Monstera leaf cushions from Tiare Designs totally changed the way my sofa looked and the green tied in perfectly with the look I was trying to create in my lounge room.
What unique items do you have in your space?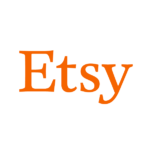 Difference Makes Us
Celebrate all that unique-ness. Find what makes you 'you'. Shop Etsy.com this Christmas.
Etsy is an online global marketplace, where people connect both online and offline, to make, sell and buy unique goods.