It's been 20 years since Romy and Michele's High School Reunion first hit cinemas.
It was one of the funniest and most popular movies of the 90s. It garnered a huge cult following and made high school students everywhere daydream about their own reunion and how they would definitely be thinner, richer, and totally famous by then.
Plus it gave us so many great quotes and a penchant for dramatic dance offs to Cyndi Lauper's Time After Time when we'd had one too many Raspberry Cruisers.
The movie follows underachievers Romy (Mira Sorvino) and Michele (Lisa Kudrow), who visit their hometown of Tuscon for their 10-year high school reunion, in the hope of making their old high school bullies jealous of their post-school success.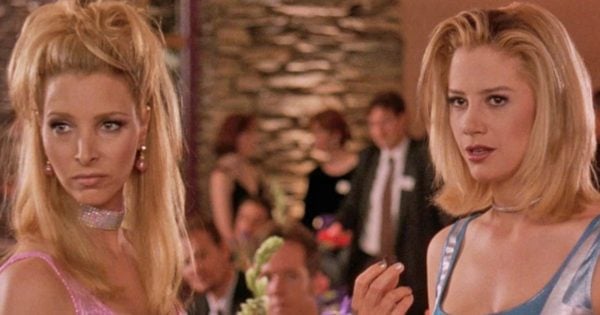 Of course, this does not go to plan, and Romy and Michele learn a lot about themselves and each other along the way.
Here's a few things you may have missed about the classic film over the years:
1. Justin Theroux played the mysterious cowboy Clarence. 
Long before Justin Theroux was married to Jennifer Aniston, he made a cameo appearance in Romy and Michele as the mysterious cowboy Clarence who torments but ultimately woos Janeane Garofalo's character Heather Mooney. It was only his second movie role.