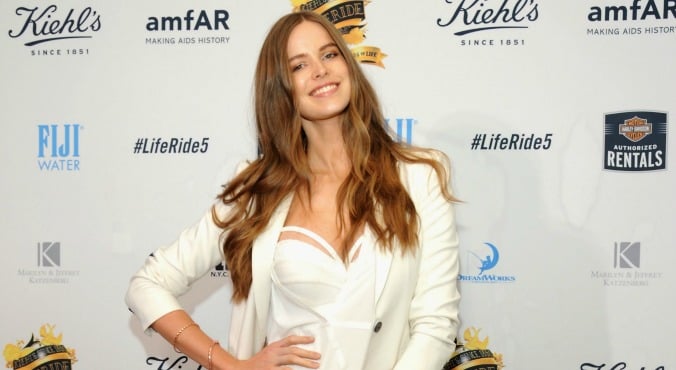 Image: Getty. 
Robyn Lawley is currently conquering the world. She's a model, foodie (her cookbook Robyn Lawley Eats is incredible), Fruit Juice Australia ambassador, food blogger and mother of baby girl, Ripley.
The Glow caught up with the 26 year old to talk gender neutral parenting and the world's obsession with 'post baby' bodies.
You've said you want to raise Ripley gender neutrally, have you had any negative responses?
"It's been used for a lot of articles that somehow I don't think are appropriate, like some couples are deciding not to announce the gender of their child and they've used my photo to sell it. That's not really fair. But I was surprised by that because she wears pink, she wears blue, she wears black, she wears white. It's a colour spectrum, she can wear whatever. She's grown so much too that I've got limited clothing so I'm grabbing for anything. I'm shocked by it to be honest I think it's such a stupid old fashioned ridiculous thing. Boys used to wear pink anyway."
Hillary Duff was recently trolled about her 'post-baby' body. It's ridiculous.
"It's terrible, I mean where did we all come from? Our mothers. It shocks me. It's hard for me too because I have to get back into lingerie and my body isn't the same as it was before. And the thing is, Ripley is the most healthy amazing baby and I'm just so appreciative that I have a child that can see. You know, people are blind out there and we're so worried about our looks. Just imagine not having the ability to walk. We all need to be grateful for what we have."
You've said in the past that you like to take Ripley to work with you.
"She's not here on this trip which sucks arse, I just want to get in and get out so I can see her. It's hard. At the moment my partner is a stay at home dad so she always has a constant. She came on set luckily a lot of the times when I was here last. But it's intense, I miss her every day and we Skype and we talk and she's like 'why is mummy in the computer? Why?'
"I'm there when she gets hurt, I'm the one that kisses her when she's sick. The mummy guilt, it's there, but I just have to tell myself she'll be OK, she won't even remember this. There's so much now, you need to work, you need to look after the house and it's crazy stuff - don't feel guilty, mothers." (Post continues after gallery.)
Robyn Lawley on Instagram
What's the most important lesson you want to teach Ripley?
"Music, I'd love to teach her music. She's got a really good ear, she's already in time with some clapping. Music is a big love of my life, it's my biggest passion apart from cooking and I think she's going to be musical - she can be anything she wants - but music is such a good way to heal and dance to and to cry to, it's therapeutic and I love it."
Can she dance to the music yet?
"She's little but she does the clapping - she's discovered it makes a sound. If she's my kind of girl, she'll be a crazy little dancer."
What's the most important lesson your mother has taught you?