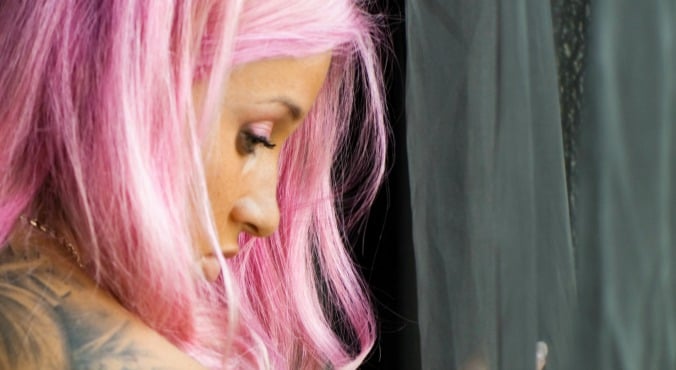 Image: iStock
We all know the long bob is the high-demand hairstyle among the rich and famous right now, but rainbow hair has to come in at a close second. Still.
Nicole Ritchie, Anna Paquin, Lena Dunham, Katy Perry and Lily Allen have all gone there – not to mention our new editor Jenny – but the latest fairy floss dye job is sitting on a famous face we didn't expect.
RELATED: Why does everyone want rainbow hair right now?
Say hello to Robbie Williams, singer, father and stealer of hearts around the world…
and his brand new pale pink quiff.
Pic from Instagram
Very pretty, Robbie. That's a hue any My Little Pony would be proud of.
The usually raven-haired 41-year-old shared the photo on Instagram and was at great pains to point out that his colourful new look was both temporary and accidental.
RELATED: Is this the next big trend in celebrity haircuts?
"A disclaimer: my hair is pink... It isn't meant to be, it's a dye job gone wrong. In 24 hours it will be different ... If I get papped please note I didn't intend to have a pink head... RW x," he wrote.
Nice try, buddy. Protest all you like, but deep down we know you just wanted to get on board with the trend. Who could blame you?
RELATED: This is is how much rainbow hair will cost you
There are a few questions we have about this photo: What kind of dyeing mishap results in such a lovely colour? Was Robbie's hairdresser pranking him (and if so, well played indeed)? What would his Take That bandmates think?
But the greatest question of all is this: Does Robbie wear the pink quiff better than, um, Pink? We'll let you decide:
While you deliberate on that, why not check out which other celebrities have let Rainbow Brite guide their hair colour choices in recent months:
Celebrities with rainbow hair