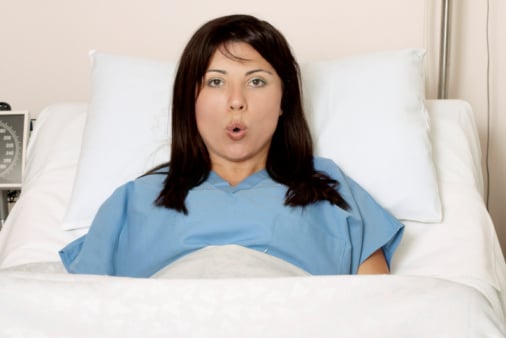 By MELISSA HUGZILLA
What's a man to do when the woman in his life is delivering a baby?
Live-Tweeting the whole thing might work for the incomparable Robbie Williams, but comes with a high degree of difficulty for the average man.
In the interests of saving relationships other than Robbie's, here are seven things he should just definitely NOT do. Really.
1. Don't compare your discomfort with hers.
Don't complain about being tired. Or hungry. Or bored. If you think that your day sucks I can guarantee you it's got nothing on hers. Don't whine that you're missing the grand final, or that you have a headache or that your tennis elbow is flaring up because you don't have any Nurofen. Don't tell her that this is harder for you than it is for her. In fact, don't complain about anything short of a severed limb or a failed personal attempt to save the head-of-state from assassination. If you are tempted to complain that your hand hurts from massaging her back, try to imagine what it would feel like to be kicked in the gonads every three minutes for 24 hours, and that while all of this is happening you will also be expected to squeeze a mini-watermelon out of your butt. That hand of yours? Doesn't seem so bad right now, does it?
"Holding in there" https://t.co/M6PiVrThGY

— Robbie Williams (@robbiewilliams) October 27, 2014