If you live in Victoria, the good news is today is Hump Day and you are just two working days away from the long weekend.
If you don't… sorry? Maybe move to a state that allocates a day off to celebrate a football game. Before it's even, well, happened. (Victorians really are another breed of human.)
ANYWAY here's your daily dose of all things celebrity. Enjoy.
1. Sophie Monk wears low-cut dress on TV. Australia explodes because we've clearly never seen a pair of boobs before.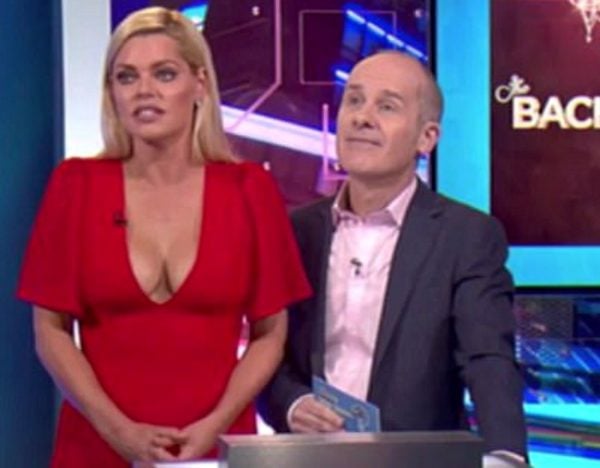 We don't mean to startle anyone here, but Sophie Monk has boobs. BOOBS. Two of them in fact.
And, as has been pointed out by the Daily Mail today, you could see them in a dress she wore while making a guest appearance (as is Bachie tradition) on Channel 1o's Have You Been Paying Attention? on Monday night.
Comedian Sam Pang had his own clever ways of making sure viewers could tell Sophie was wearing a low-cut top during the episode, saying she'd provided the show's most "Edelsten moment ever".
"A lot of pressure. Almost as much as Tom is under to maintain eye contact with you," he also said.
Ha ha ha. Geddit?
2. Rihanna's rumoured next business move is one we can all toast to... if it were actually happening, that is.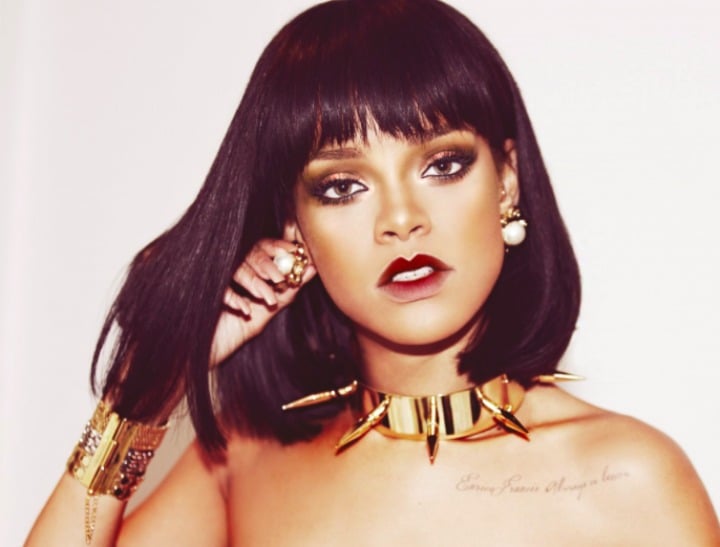 Fresh off the success of launching her makeup company Fenty Beauty's first-ever collection, it wouldn't surprise us if Rihanna was already looking at bigger and better things.
Rumours she's launching a skincare line next were fuelled by a screenshot from a trademark site shared on Twitter, which shows an application for the name 'House of Fenty' to be trademarked for a list of products that included "creams, lotions, gels, toners" and cleansers.
However, it's the next rumoured product line Rihanna might be launching that has us most excited - however slim the chance may be.
Fans have shared screenshots of an application wishing to register 'Fenty Estates Wine and Spirits Company' for spirits and wine.
Given that Rihanna's love of wine has been evidenced by the number of times she has been photographed holding a wine glass, this move could make sense for the R'n'B star.
However, sites like The Fashion Law have pointed out it's a Delaware-based company who have lodged the application, not Rihanna's team. So maybe don't get too excited for Rihanna-designed wine just yet.
3. Mummy blogger and ex-AFL WAG Abby Gilmore speaks about finding sweet, sweet love again.

Mummy blogger and ex-AFL WAG Abby Gilmore has a new boyfriend. Oh, and new boobs. (This Celeb in 5 coverage is very... breasty... today.)
"Now that I have had the surgery, I feel a little more confident in sharing with you that my nipples where [sic] at my elbows. Not a great look when you're 24, freshly single, thrown into the deep end of life and forced to swim!" Gilmore wrote in a piece for KidSpot.
"Lucky for me, I found a man who loves me for all my flaws! Leigh appreciated what my body had gone through and in no way contributed to me wanting my boobs done. This was something I was doing for ME."
We're happy for you, Abby!
4. One of the stars from Frozen just got married and the pictures are whimsical.

Love is an open door!
Frozen star Idina Menzel has celebrated her wedding day in true Disney princess style in a stunning off-the-shoulder lace wedding gown.
The 46-year-old star of Frozen and Wicked married Aaron Lohr, who she first starred with in the 2005 film adaptation of Rent.
Idina was walked down the aisle by her father and her eight-year-old son Walker, who she has from a previous marriage.
5. Gisele Bundchen would like the fashion industry to start saving the planet, please.
Supermodel Gisele Bündchen is calling for the fashion industry to go green.
Gisele won the Vogue Eco Laureate at the first-ever Green Fashion Awards this weekend, in recognition of her work to promote environmental care and sustainable fashion.
Gisele shared a photo of herself at the awards on Instagram in an emerald Stella McCartney dress, writing: "The fashion industry has the power to lead this movement bringing focus to environmental, social, and ethical challenges on a global scale.
"When we take care of the earth, we take care of ourselves."
Hear, hear.
Listen: Holly Wainwright and Mia Freedman discuss the rise of mummy bloggers.