Tomorrow Aaron Hester will buckle his helmet under his chin, grip the handlebars, and push forward into the first of the 1000km he and 12 others will cover on their six-day mountain bike mission from William Creek, SA, to Uluru.
They are riding in aide of research into childhood cancers. Cancers like the rare liver tumour that claimed the life of Aaron's eight-year-old daughter, Lily, in 2014.
"She was the type of kid who was really energetic and outgoing but also very caring, and she loved her brothers to bits. She never had bad word to say about anyone," the Melbourne man told Mamamia. "She was a really lovely little girl."
Ride for Lily 2018 is the third endurance ride the 44-year-old has staged since Lily's death, each journey more gruelling than the last.
"Right from the start I wanted to make it as much about physical discomfort and pushing through that psychological barrier as possible," he said. "Because I've seen the kids going through chemotherapy, and when they can't sleep and they've been in bed for so long and their veins are really sore, they've just got no choice about whether they can stop – they've just got to move forward… We wanted to feel a little bit of that.
"And I like that side of it, because every time I get to a hill I think about Lily and what she went through, and it spurs me on to go up that hill even harder."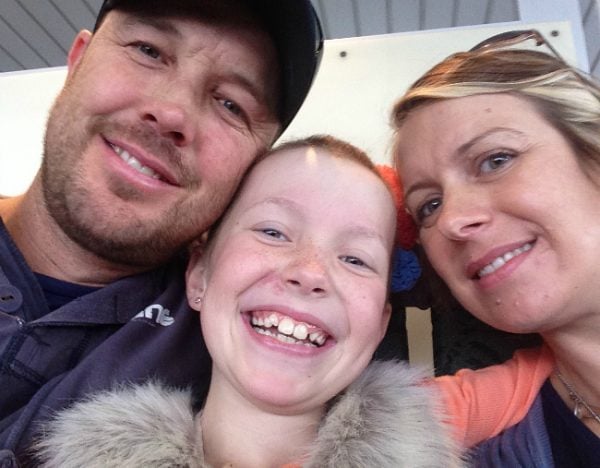 After her diagnosis in July 2013, Lily's little body endured six months of chemotherapy, six operations and radiation before remission followed the next January, bringing a period of reprieve and hope.
Sadly it was short-lived. That March, Aaron and his wife Sianne were told their daughter's disease had taken hold aggressively - it was terminal.
"We didn't see any point in telling [Lily] at that moment. We didn't want to ruin what quality of life she had. But when she got sicker and sicker, there was one particular day when she started banging on her legs and she said, 'Why are my legs always sore?' And I broached it with her then. I said we weren't winning the battle, that the cancer was getting bigger and there was nothing more we could do about it. And from that moment onwards she never spoke about the cancer, never asked about it, never cried," Aaron said.