Tomorrow Aaron Hester will buckle his helmet under his chin, grip the handlebars, and push forward into the first of the 1000km he and 12 others will cover on their six-day mountain bike mission from William Creek, SA, to Uluru.
They are riding in aide of research into childhood cancers. Cancers like the rare liver tumour that claimed the life of Aaron's eight-year-old daughter, Lily, in 2014.
"She was the type of kid who was really energetic and outgoing but also very caring, and she loved her brothers to bits. She never had bad word to say about anyone," the Melbourne man told Mamamia. "She was a really lovely little girl."
Ride for Lily 2018 is the third endurance ride the 44-year-old has staged since Lily's death, each journey more gruelling than the last.
"Right from the start I wanted to make it as much about physical discomfort and pushing through that psychological barrier as possible," he said. "Because I've seen the kids going through chemotherapy, and when they can't sleep and they've been in bed for so long and their veins are really sore, they've just got no choice about whether they can stop – they've just got to move forward… We wanted to feel a little bit of that.
"And I like that side of it, because every time I get to a hill I think about Lily and what she went through, and it spurs me on to go up that hill even harder."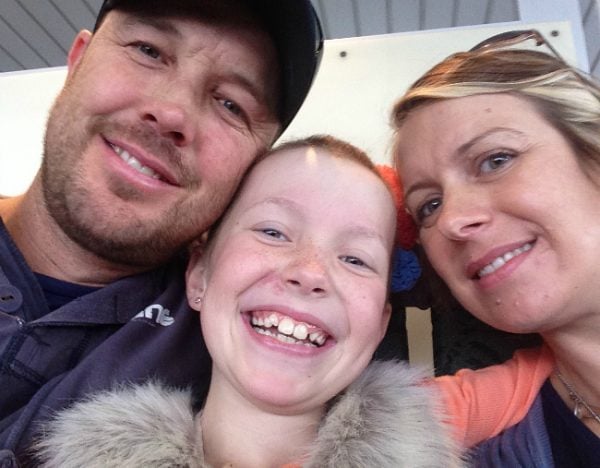 After her diagnosis in July 2013, Lily's little body endured six months of chemotherapy, six operations and radiation before remission followed the next January, bringing a period of reprieve and hope.
Sadly it was short-lived. That March, Aaron and his wife Sianne were told their daughter's disease had taken hold aggressively - it was terminal.
"We didn't see any point in telling [Lily] at that moment. We didn't want to ruin what quality of life she had. But when she got sicker and sicker, there was one particular day when she started banging on her legs and she said, 'Why are my legs always sore?' And I broached it with her then. I said we weren't winning the battle, that the cancer was getting bigger and there was nothing more we could do about it. And from that moment onwards she never spoke about the cancer, never asked about it, never cried," Aaron said.
"I'd often ask her, 'Is there anything you want to talk about, Lil?' But she'd just shake her head. She changed from that moment on. She was just a lot more stoic, and instantaneously grew up and lost the innocence of being a little girl.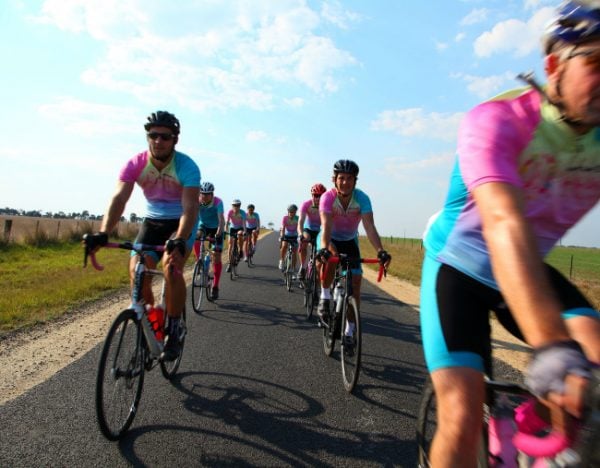 "I've often thought back on that now and thought I ought to have gone about that differently, and allowed more time when she was healthier to talk and maybe do more planning... I don't know. I just would have liked to talk about it when she wasn't in pain. Because from when I told her [it was terminal] she only lasted another two or three weeks after that. It was really, really quick. I would have loved to reassure her, to tell her that we're never going to forget her."
Lily died on Monday 11 August, 2014. But it's not that day that Aaron thinks about. It's a moment, just a handful of minutes, from the Saturday before.
"I coached her brothers at basketball that morning, and when I came back to the hospital I looked at her and I could see her deterioration there and then. She was very heavily sedated, and she wasn't really saying much. Normally she responded to me coming into the room, but this time nothing," Aaron said tearfully. "It was a really big eye-opener and I started to cry. The sound kind of woke her up, and she said, 'Don't cry, Daddy. Come and get into bed with me.' And she made space alongside her and she gave me a cuddle."
It's the kindness, the selflessness - what Aaron calls Lily's 'core values' - that he remembers most about her. For him and his two sons, now aged eight and 11, some of the smaller details are starting to blur.
"I sometimes ask Archie as we're driving along in the car to tell me what he remembers about his sister and he brings up just a couple of stories - always the same ones. I press him for others, but he can't remember. He just says she was beautiful and kind. Oliver is a little bit older so he has a few more memories, but they do just fade over time."
Memories are all the trio have of Sianne now, too. The wife and mother died of breast cancer in May 2016, less than two years after her daughter passed. Despite her disease, Sianne was there for the first Ride for Lily in early 2016, following by car, having chemotherapy along the way. Her legacy now lies with her boys, and with Live for Lily, the not-for-profit organisation she co-founded with Aaron in memory of their daughter.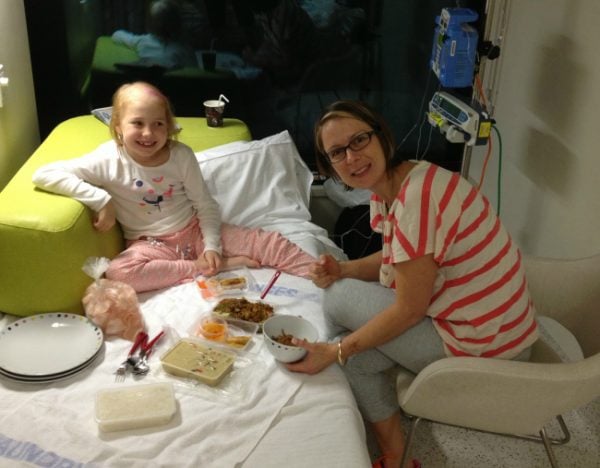 The pair are buried together at the same Melbourne cemetery.
"We go there and see them regularly. Every birthday we go in there and release balloons, and we talk about them," Aaron said. "Nothing is off the table from a discussion point of view [with the boys], from everything that came with Lily's illness and Sianne's illness."
During that time Aaron relied on his young sons to cope, to understand. He recalls climbing into their beds between hospital visits, just so he could "lose" himself in their love. He still leans on that love today, and the boys lean back
"They're very aware of the harshness of life. They've been struck with a two-edged sword; they know as great as life can be, it can also be difficult at times," Aaron said. "But they've grown up with a deeper appreciation of people they care about and those who care about them and, to an extent, they don't take anything for granted."
As difficult as it may be, they often look back together. And that's what helps Aaron look forward.
"Not long ago there was five of us. But one of the things that really drives us now is the devastation that you go through - we don't want that to happen to anyone else. I don't other kids to have to go through it, I don't want other parents to go through it," Aaron said. "I can't do anything about my situation now, but I want to make sure there's the best possible research going in to this disease so we can reduce the chance of it happening to anyone else."
To support the Ride for Lily 2018, visit the Live for Lily website and select a rider to support. You can also  donate directly to the organisation. All donations help fund research into childhood cancers.