It's been a tough few months for Richie Strahan. After the former Bachelor's breakup with Alex Nation was confirmed in August, he watched on as she found new (highly publicised) love with footy teammate, Maegan Luxa.
But speaking to New Idea, the 32-year-old resources industry technician said it was the period before their split that caused the most pain.
"The months leading up to it were the most difficult, crazy and confusing times I've been put through," he told the tabloid. "Having something wonderful dissolve the way it did was heartbreaking, but at the same time, there was a lot of relief that the emotional roller-coaster was finally over."
Strahan had declared his love for the Melbourne-based single mother during the finale of the matchmaking show in 2016, beginning a high-profile relationship that ultimately unravelled mid year.
Did the paparazzi out Alex Nation? The Mamamia Out Loud ladies discuss. (Post continues below.)

The Perth man said he made "a lot of sacrifices" in an effort to salvage it, but soon realised it was "destined to fail".
"I guess the brightest spark can fizzle fast. We made some bad choices back in June and our relationship really struggled to recover for months after," he said. "It didn't matter how much effort I put into it."
While the men's mental health advocate conceded his own suffering throughout the process, he told New Idea he is now "doing well" and wishes nothing but happiness for Nation.
And the feeling is mutual…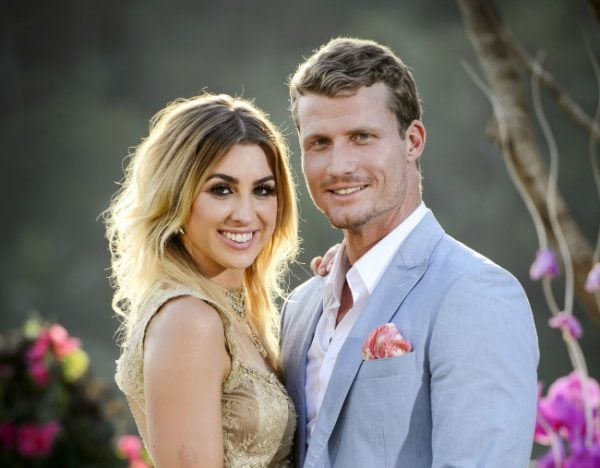 Nation wrote on Instagram in November that she is certain Strahan will still get the happily-ever-after ending he sought on The Bachelor.
"Richie is a great guy," she wrote. "Sometimes things in life simply don't work out for us. You cherish the nice memories and you move forward."
Nation is believed to be engaged to Luxa, whom she met in August while playing for local AFL team, the Frankston Bombers.
Meanwhile, Strahan said he has some exciting news of his own - he's written a short film (yes, really). He's just not sure if he's ready to step back in front of the camera yet.
Fair enough.