It's a strange reality of modern dating that social media posts are seen as proof of a couple's happiness, of their 'togetherness'.
So naturally, when The Bachelor 2016 success story Richie Strahan and Alex Nation's loved-up couple shots suddenly made way for solo selfies, the rumour mill went into overdrive.
And it's taken one simple photo to slow its spinning.
After seven weeks of social media separation, 32-year-old Strahan on Tuesday shared a picture to Instagram of himself embracing Nation, 25, in front of – let's be honest – a rather romantic-looking bonfire.
He accompanied it with the caption, "I hope everyone got to spend time with their loved ones over the Easter weekend!"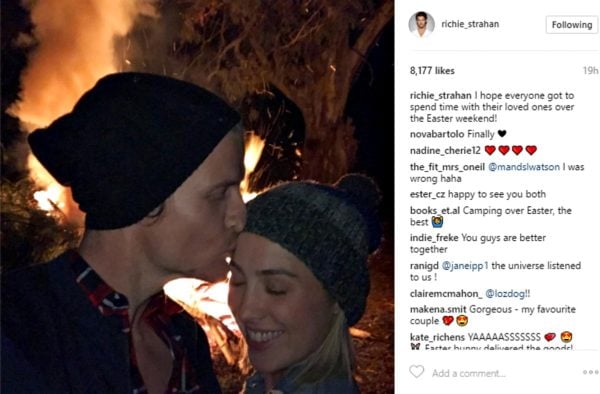 It was instant relief for fans of the couple. The comments were stuffed with "YAAAAASSSSSSS"s and "Finally"s and "I knew it"s.
One commenter even thanked the Easter Bunny for delivering "the goods".
Another rightly pointed out that it makes sense they rarely appear in the same photograph, you know, given they live in different states and all.
All the things we would wish Matty J would say on the 2017 season of The Bachelor. Post continues...

Nation, who was recently announced as a host of Southern FM's drive show, and her six-year-old son, Elijah, hail from Victoria's Mornington Peninsula, while Rope Access Technician/model Strahan is a Perth boy.
They have been doing the whole long-distance thing ever since Richie declared her to be the "woman I want to spend the rest of my life with" on the finale of the Channel 10 matchmaking program back in September.