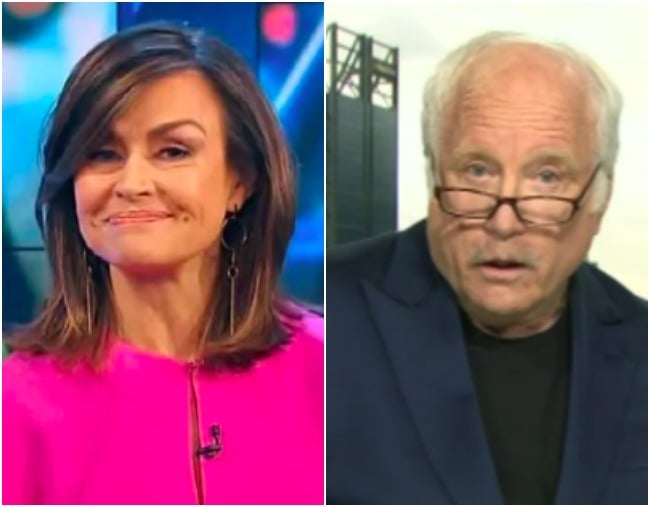 Don't expect to see Richard Dreyfuss back on The Project anytime soon.
The 70-year-old Hollywood actor was scathing of the Network Ten program during an appearance on Channel Nine's Today Extra show.
As reported by News.com.au, Dreyfuss claimed he was "mugged" when he appeared on Sunday night's episode of The Project.
Appearing on the show alongside Kathleen Turner, 64 – who he is also appearing at the Supanova conference with – things quickly took a turn when one of the show's hosts, Lisa Wilkinson, started asking him about the #MeToo movement that has overtaken Hollywood in recent months, as well as his involvement in it.
In November, an LA-based writer named Jessica Teich accused Dreyfuss of sexual misconduct, after he tweeted his support for his son, Harry Dreyfuss, who had accused Kevin Spacey of groping him when he was a teen.
"When I read about his support for his son, which I would never question, I remember thinking, 'But wait a minute, this guy harassed me for months'," Teich told Vulture at the time.
"He was in a position of so much power over me, and I didn't feel I could tell anyone about it. It just seemed so hypocritical."
Speaking to Vulture, Teich said the harassment had occurred over a two or three-year period during the mid-'80s, while she was working as a researcher and junior writer on a TV project affiliated with Dreyfuss.
She claimed the actor even exposed himself to her.
But speaking to Today Extra, Dreyfuss dismissed her claims as nothing more than a misunderstanding.
"I was asked to remember something that had happened 30 years previously," he said, reading out a written statement on the program, as reported by News.com.au.
"It was apparently a flirtation that I was involved in and did not know was not consensual."

Dreyfuss told Today Extra that Wilkinson and co-host Hamish Macdonald, 37, were supposed to engage him in a "light and friendly chat" during his appearance on The Project, but they soon shifted the conversation to the allegations that had been made against him.
"[Wilkinson's] question to me was, 'Richard, did you express your shame because you had worked at realising you had done something shameful or because you had been accused and caught out?'" he told Today Extra.
Watch Dreyfuss appear on TODAY Extra below. Post continues.
Dreyfuss continued, saying he would have been happy to discuss the allegations made against him with The Project, had they not misled him into thinking it was just a "light and friendly" discussion.
"Instead they chose to commit a breach of ethical behaviour, meant to be malignant and sly and known as wrong by every journalist in the world, unless you're talking to someone who you're trying to entrap because you think that he's a murderer or a rapist," he told Today Extra, as reported by News.com.au.
Understandably, Wilkinson, 58, took offence to Dreyfuss' comments, and hit back at the Oscar-winning actor on Twitter:
We wrote to Mr Dreyfuss' publicist 3days prior to our Sunday @theprojecttv i/v informing we would ask about #metoo allegations against him & his statement. If he didn't want to discuss it, we were happy to have Kathleen Turner alone. We were assured in writing he was OK with it. https://t.co/59fqHhwKF4

— Lisa Wilkinson (@Lisa_Wilkinson) June 21, 2018
Network Ten also refuted Dreyfuss' claims, issuing a statement of their own to News.com.au.
"The Project rejects claims that Mr Dreyfuss was misled. In written correspondence with the Supanova publicist, an interview brief was provided three days prior which included the line of questioning The Project panel would put to both Richard Dreyfuss and Kathleen Turner," a spokesperson for the network told News.com.au.
"This included a discussion about their appearances at Supanova but also that the panel would address the #MeToo campaign and Mr Dreyfuss' behaviour towards women in decades past.
"Given the public allegations made about Mr Dreyfuss, The Project would not have him on the program without addressing these issues and Mr Dreyfuss' publicist was made aware of this.
"At no stage did the program attempt to catch-out or entrap Mr Dreyfuss and it was never the intention of The Project panel to offend him."
Dreyfuss is yet to respond.