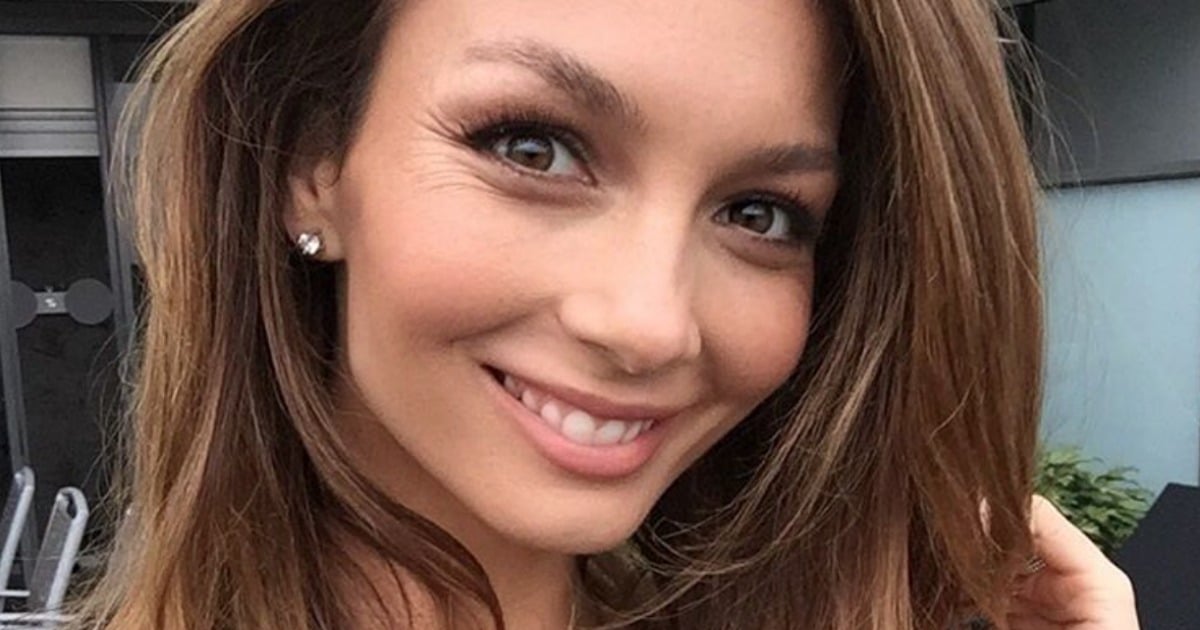 Ricki-Lee Coulter burst into our living rooms as an incredible singer on Australian Idol 12 years ago. Since then, she's become our poster girl for body confidence and an embrace-every-moment attitude. Oh, and for contoured cheekbones, obviously (seriously – how does she do that?).
We sat down with the new Pantene spokesperson for the Strong From The Core campaign to talk about her beauty routine from the second she wakes, to the moment her head hits the pillow at night.
Wake up time.
"The first thing I do when I wake up is have a coffee with my husband in bed and watch an episode of Sex And The City, that's our daily ritual! No matter where we are in the world or how early the alarm goes off, that's what we do. Then I go for a run or to the gym, and I will drink a litre of water – and by then I am feeling on top of the world!"
Morning routine.
"My morning beauty routine always starts with a hot shower after I workout, and I'll wash my face with a hot face towel – it's super relaxing. I exfoliate my whole body and lather up with some Alpha Keri Replenishing Shower Cream ($19.99). Then I use Crème De La Mer Moisturizing Cream ($440) all over my face and neck…I can't live without it.
"All over my body I moisturise with Alpha Keri Body Oil ($19.99) and over the top of that I use the Cetaphil Intensive Moisturising Cream ($9.99). I have really dry skin and was having problems for a long time so I went to see a dermatologist and this was what she recommended. My skin has never been better, so I never skip this routine."
Makeup time.
"If I'm not working, I never wear makeup. I love to let my skin breathe. I generally prefer a more natural face when I'm not on stage or doing a shoot. So if I'm going to the studio, as a base I will just wear the Tinted & Illuminating Moisturiser by Laura Mercier ($65.00), it gives you an amazing glow all day. If I am going out for date night or to an event I wear a heavier foundation like Ellis Faas Skin Veil Foundation ($104) or Becca Aqua Luminous Perfecting Foundation ($72).
"If I am going on stage I use a foundation with thick coverage like Becca Ultimate Coverage Foundation ($70). I love the Shu Uemura Point Concealer ($42), it's super creamy and stays put. I use the Tom Ford Shade And Illuminate to contour ($120).
"I love Tom Ford ($128) and Charlotte Tilbury ($78) eyeshadow quads. I can't live without my Shu Uemura eye lash curler ($22) and Diorshow Waterproof Mascara ($55). I use NARS blush in Orgasm on the cheeks ($44). I like to use a nude lipliner – my fave is Bobbi Brown Pale Pink ($40), with some Burt's Beeswax Peppermint Lip Balm ($6.95) over the top.
"I always use light sheer powder to get rid of shine – I love the Laura Mercier Loose Translucent Powder ($62). Then I always finish off with a highlighter on the cheekbones – my fave at the moment is the Becca Glow on the Go in Opal ($35), the liquid gives such an amazing glow."
Hair care.
"I wash my hair every couple of days in order to keep it strong and healthy. If I am working every day and it is being styled with products I will wash it every day. In my line of work, my hair is constantly being styled and I am always changing the colour, so for me it is important to do everything I can to keep it looking strong and shiny. Just like my skin and my health, my hair needs to be in top condition for shoots and appearances so I can feel confident.