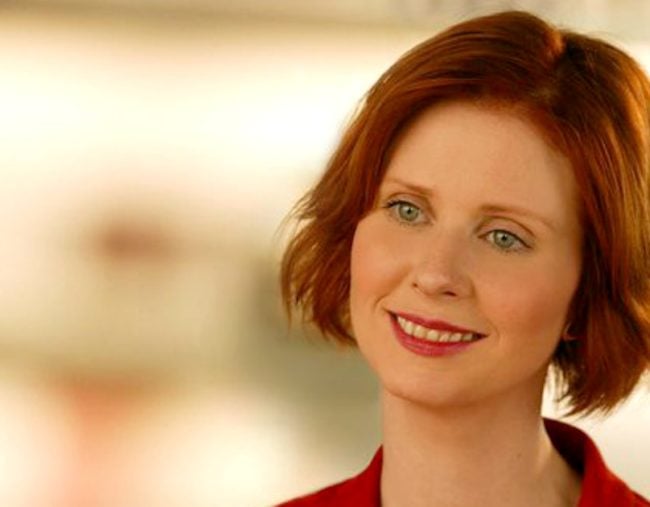 Sign up to Mamamia's newsletter and have great articles delivered to your inbox.
"You're such a Miranda."
The comment was flung my way with a sneaky lashing of side eye and a smile.
The topic was the 20-year anniversary of Sex and the City, the cult television series and book revered by a wide reaching cross section of women from Xennials to Millennials.
We were deep into discussing whether the series that launched Sarah Jessica Parker's career and suddenly cemented the words 'Manolo Blahnik' into the TV-viewing public's vocabulary would still be as shocking today as it was when it debuted in 1998.
That's when my colleague and regular Mamamia Out Loud co-host Jessie Stephens wielded the knife.
"You're such a Miranda."
You see, my firm view is that Miranda Hobbs is the unappreciated, unsung hero of the entire show.
But, as indicated in this comment, this is not a view that's held by others.
Listen to the Mamamia Out Loud team discuss why Sex and the City is such an enduring success.
Miranda is bloody awesome.
Her opinions cut through Carrie's flouncy non-committal commentary like a razor thin stiletto. Her unapologetic short hair cut and clashing red lips take your preconceptions about femininity and show them to the door.
Her tell-it-like-it-is rebuttals, fearless, structured, power gender-neutral suits and her china white skin are a kind of sexy that transcends boobs and butts and long locks.
Miranda drinks coffee, buys pies and enjoys battery operated devices. Miranda knows how to please a man: you give away most of your power.
Miranda wants to enjoy her success, not apologise for it. Miranda's never gonna be a girly girl, she never will. Miranda is stubborn, likes the remote and she can't cook. Miranda is going to find her inner goddess if it kills her.
Miranda tells you when you are addicted to bad men, she will apologise when she hurts your feelings and she won't settle for being treated poorly in relationships.
All while Carrie 'can't help but wonder'.
Why wouldn't you want to be a Miranda?