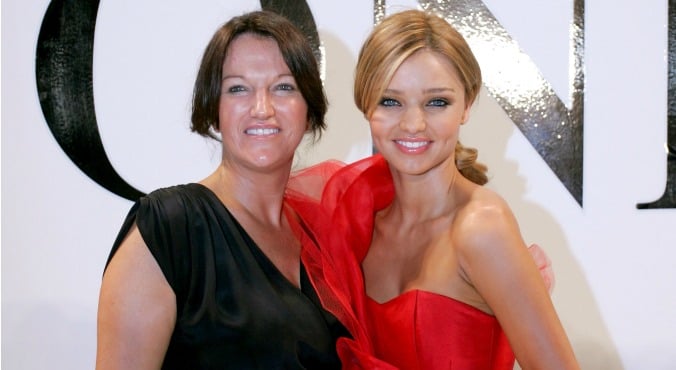 Image: Therese Kerr and her daughter Miranda (Getty).
Sunday Life's 'My Day on a Plate' section can be an enlightening read for anyone who doesn't pay close attention to health and nutrition trends.
Last year, for instance, many Australians encountered the words 'activated almonds' and 'cultured vegetables' for the first time when chef Pete Evans detailed his daily eating habits (to much derision). Now, Therese Kerr — yep, that's Miranda's mum — has introduced the nation to an equally out-there dietary item.
RELATED: Yes, your water bottle has an expiry date, but not for the reason you think.
The 50-year-old, who has her own skincare line called Divine, explained that she begins her day with a glass of warm lemon water, followed by a second glass of H20 at 7.20am. But this one is no ordinary, tap-variety water; Kerr opts for "a glass of reverse osmosis (alkalised, mineralised) water with magnesium powder, vitamin C powder, zinc and selenium liquid."
Who knew you could do so many different things to a humble glass of water?
Unsurprisingly, Kerr's admission didn't go unnoticed by readers, many of whom shared their amusement on social media. Aside from the expected 'it's activated almonds all over again!' commentary, a lot of people were left with questions. Namely: what on earth is reverse osmosis water, and what's wrong with drinking the stuff from the tap...?
RELATED: The amount of water you should actually consume every day? It's not 8 glasses.
In short, reverse osmosis is a filtration process, whereby water is passed through a semi-permeable membrane in order to 'purify' it and remove salts, minerals and contaminants.
Although this process is claimed to improve the taste and appearance of water, Choice explains it uses a lot of energy and can effectively waste up to 85 per cent of the water involved. There's also the question of whether it has any nutritional benefit. (Post continues after gallery.)
Trying to drink more water? Try this.
Michele Chevalley Hedge, qualified nutritionist and founder of My Family Wellness, says reverse osmosis water is most likely going to be unnecessary, not to mention expensive, for the average person.
"You have to ask — is there a specific health condition the person has? If so, will the cost of implementing a reverse osmosis machine and adding minerals benefit the person? And it may," she explains.
Kerr's water is also 'alkalised and mineralised'. The former involves the use of additives, like pH drops, to achieve a water pH reading between seven and nine; while mineralised water has magnesium bicarbonate added.
RELATED: What is alkalising - and do I need to do it?
While these preparation techniques seem to have a dedicated following, nutritionists — including Dr Joanna McMillan, who reviewed Kerr's diet in Sunday Life — warn there's no proven health benefits beyond what you find in a glass of tap water.
"There is certainly no evidence whatsoever that alkalised, mineralised water can do any of the things the marketers say it does, including weight loss, relieving aches pains and arthritis and boosting longevity," says Accredited Practising Dietitian Nicole Senior.