The Victorian government is helping children rethink fairy tales – in an effort to combat gender stereotypes
A teaching aid in the Respectful Relationship program encourages early childhood educators and teachers discuss gender roles within the classic stories.
Six and seven-year-old students can play "fairy tale detectives" to find out "what kinds of things girls and boys and men and women get do in fairy tales".
Kids are encouraged to swap the gender roles of characters in stories such as Cinderella, Snow White and Rapunzel.
"The types of behaviours considered acceptable, appropriate or desirable for girls and boys ('gender norms') are created by societies," the program states.
It says central characters are more likely to be male and female characters "are more often in nurturing roles, and occupations are gender stereotyped".
This leads "to a sense of entitlement in boys and lower self-esteem in girls", according to the authors.
Podcast: Sallyanne Atkinson thinks a woman's place is in the boardroom. (Post continues after podcast).

After reports of fairy tales being "at risk" in schools, Minister for Families and Children, Jenny Mikakos, said the government was not banning fairy tales.
"I read fairy tales to the kids in my family, I'll continue to do that and I urge parents and early childhood educators to do the same," Ms Mikakos told Mamamia.
"Kids should be allowed to grow up to be whatever they want – not made to feel like they have to fit into a gender stereotype," she added.
The idea that girls might get the message early on that they don't need to be princesses and boys are encouraged to have caring roles in society can only be a good thing.
So what if we grew up with a re-imagining of the classics – what would it look like? The Mamamia team had a go at it.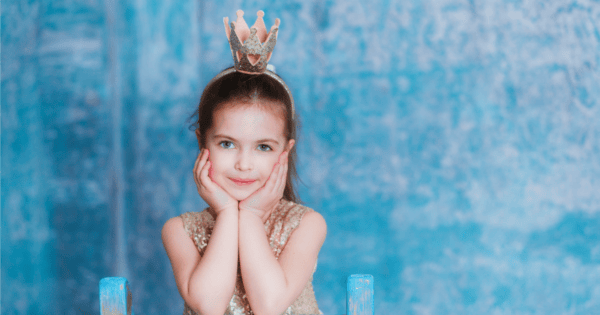 Rapunzel
Perhaps Rapunzel wasn't really stuck in that tower. She was actually starting her property portfolio with a penthouse.