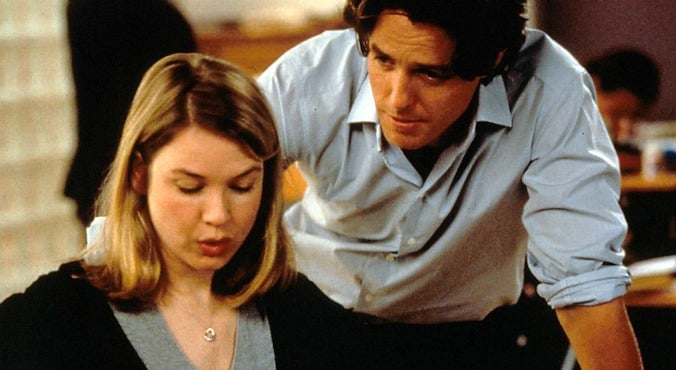 Image: Bridget Jones' Diary.
It'd be nice to think that in 2015, workplace sexual harassment would be a relic of the past we could look back on with disdain or witness only in episodes of Mad Men.
Unfortunately, it remains an all too real issue for women today.
An anonymous writer on XoJane has reflected on her own experience of workplace harassment, and the regret she feels over her decision to not speak up.
At the time, the woman was working in a administration position at a "prestigious corporation that everyone has heard of". Despite her initial reservations about the job, her colleagues were genuinely friendly and she found a mentor in her boss.
It soon became clear that one of her indirect superiors, 'Bob', perhaps didn't grasp those concepts quite as well.
She'd been working with Bob to create a database, and one day he left her to brainstorm details while he attended a meeting. When he returned, things became uncomfortable quickly, as she recalls:
"I was just thinking about you –" I began, excited.
Now, the entirety of the sentence would have been, "I was just thinking about you and our database problem." But he quickly jumped in before I could complete the sentence, deepening the timber of his voice to what I assumed was his version of a "sexy voice."
Watch TV host David Koch discussing the status of women in the media industry with Mia Freedman. (Post continues after video.)
"Oh, what were you thinking about?" he asked suggestively.
"I was just thinking that we could –" I continued.
"Because I don't charge," he interjected, still in that suggestive tone. He then proceeded to guffaw at his "joke."
It took me a few dumbfounded seconds to get the… joke.