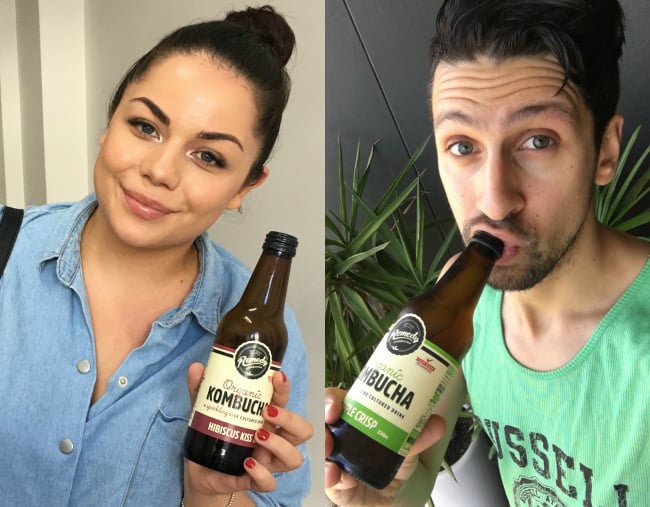 Over recent years, there's one K word that's crept into our daily lives as much as the word Kardashian…and that's KOMBUCHA.
I know what you're thinking. Kombucha drinkers are hipster millennials who munch too much kale (another popular K word of today), spend up on mortgage-busting avo toasts, and tend to microherb gardens on the micro-balcony of their inner-city shoebox apartments.
But this is a furphy. Kombucha is no longer the domain of a few who have learnt how to ferment this live cultured drink at home. It's now everywhere. Supermarkets. Cafés. My fridge. Maybe your fridge too.
You can thank Remedy Kombucha for that. Since 2012, husband and wife team Emmet and Sarah Condon took their Melbourne kitchen bench kombucha recipe and turned it into a bottled drink that's healthy, organic, and tastes just like soft drink. Just without the sugar or bad stuff.
Now living in the Mornington Peninsula, the Condons still brew their kombucha with the same recipe – but in a Melbourne fermentary. It's brewed for 30 days with organic tea and raw kombucha culture (also known as SCOBY, or Symbiotic Community of Bacteria and Yeast). That means each bottle has good bacteria for your gut, organic acids that support your immune system and metabolism, and antioxidants.
Today, Remedy has seven flavours: Apple Crisp, Cherry Plum, Raspberry Lemonade, Ginger Lemon, Hibiscus Kiss, Original, and the newly released Lemon, Lime & Mint. If you haven't tried them all yet, the Mamamia team has done that for you to help you decide which one is the remedy for you: