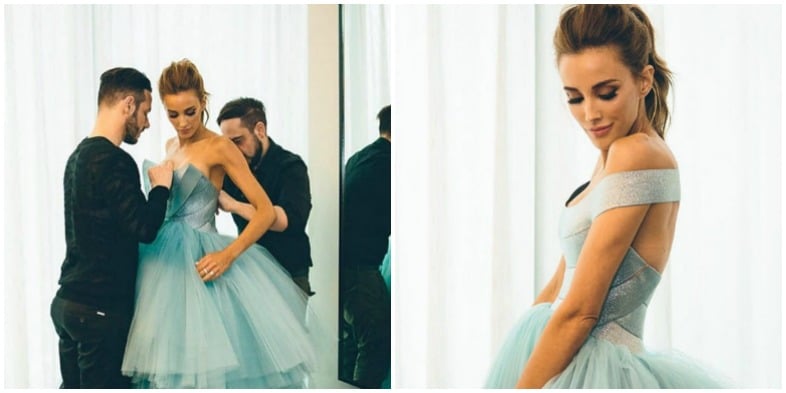 It's been an eventful few days since the Logies aired on Sunday night.
Jesinta Campbell has been caught up in a 'generation war' over her choice of dress. Peter Helliar revealed Carrie Bickmore's epic dance moves on The Project. And the country fell in love with Waleed Aly and his wife, Susan Carland all over again.
However, none of this compares to the sight Bec Judd faced post-Logies. Her kids having the time of their lives playing dress-ups in her beautiful gown. Yep, Bec Judd's glorious blue-tulle Cinderella J'Aton Couture dress became a play-thing for her kids.
Posting to her Instagram account on Monday night, Judd showed her 467,000 followers she's a pretty relaxed mum, filming as her kids, Oscar, 4, and Billie, 2, and their family cat,  used the dress for some play-time.
The video, captioned 'the aftermath', shows Judd's kids jumping among the tulle layers, which masterfully covered the 33-year-old's four-month baby bump.
Followers of Judd were quick to comment, with one user, @karlageadah saying, "Kids in my Jaton and cat is scratching at it… No biggy *cue heart attack*"
J'Aton Couture gowns can retail for around $35,000aud. So yeah, we'd be having a heart attack too, yet Judd shows supreme calm.
Many followers loved her down to earth style, with one, @fatty_smiles saying, "Love that you're still a regular mum and your kids rule the world."
"I have two kids the same age as Oscar and Billie and my two would totally do this! Gosh I remember as a kid I loved playing with my mums evening dresses," @lucandike added.
You can watch our very own Monz interview Judd on the Logies red carpet below. Post continues after video…
Another hoped the beautiful gown could be salvaged and auctioned for charity.
"It's your dress do what you want with it but hopefully these items get auctioned at charity's or something at the end of the day." said @kylietravelmum.
Well, you know how the story goes. Cinderella couldn't wear her dress forever, so why not have some fun with it.
You can check out all the fashion from the Logies below.