It was six months after Rebecca* had her baby that she started to notice incontinence.
"When it's just you and the baby, you don't laugh much," she said.
"When I came back to work, I started laughing again and noticed it. When I laughed and sneeze mainly. A very small amount of urine, about a five-cent-piece or less, comes out though mostly I can hold it," she added.
Although her condition was "very mild" she is one of the many women opting to get help.
The 34-year-old had a so-called "designer vagina" treatment but it wasn't for cosmetic reasons.
"The treatment itself was fine, I didn't feel any pain," she said.
"Immediately afterwards, my vulva was swollen. I found it difficult to sit, especially when trying to sit straight…I did it around lunchtime on a Friday, so for about 12 hours I felt I was swollen and I couldn't sit straight – it was uncomfortable."
But Rebecca says she noticed improvements only days afterwards following some discharge and insane itching.
According to vaginal rejuvenation specialist, Dr Sandy Fieldhouse, more women are opting for treatments to help with "debilitating symptoms" that include looseness of the vagina, urinary incontinence and dryness.
"Up to 55% of premenopausal women and up to 80% of post menopausal women present some degree of urinary incontinence, and up to 40% of postmenopausal women suffer from vaginal dryness," says Dr Fieldhouse.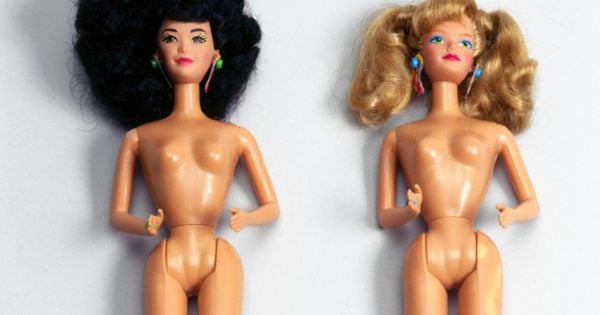 Barbie Dolls don't come with vaginas. Image via Getty.
Mother of two Paula*,  55, admits she was "scared" to have treatment for vaginal laxity (or looseness), but has found it has helped her sex-life.
"It was tight the first time we had sex – it was very tight and it did hurt a little bit," she said.
"We waited a week. It was like being a virgin. I was scared, maybe that I hadn't healed enough, maybe I should have waited a bit longer, not really sure why it hurt but it was at the vaginal entrance, and once he was in, it was fine – it wasn't sore again after that."
Paula says the treatment made her vagina up to "60 per cent tighter" and she's considering another treatment because she's "addicted".
The 55 -year-old likened the treatment to laser hair-removal.
"It's not painful, and it feels like a tapping noise inside of you," she said.
Age, pregnancy, childbirth, some illnesses, skin conditions and medication can take a "heavy toll" on the vagina and urinary canals, according to Dr Fieldhouse.
The specialist uses the "ENRICH Intimate Program" which she says is designed to tighten these areas and improve urinary continence, vaginal laxity and moisten the lining of the vagina.
"The procedures are quick, take approximately 30-45 minutes, and allow normal activities to be resumed immediately after," says Dr Fieldhouse.
The specialist says the so-called designer vagina treatment is a way to treat common symptoms that some women may have been too embarrassed to admit they were suffering.
"Women and their partners often report improved sexual satisfaction after undergoing our program, due to a combined effect of tightening and enhanced lubrication," says Dr Fieldhouse.
"Some women also describe stronger, prolonged orgasms. Women also report more confidence and less pain, further enhancing the sexual experience."
*Names have been changed.