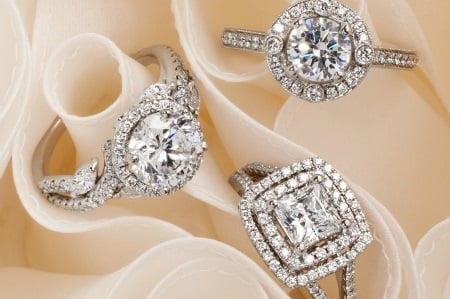 Need some inspiration for an engagement ring? This one is for you.
From oval cuts made popular by celebs like Blake Lively to a sprinkling of coloured stones, we found 3 stand-out engagement ring trends that will withstand the test of time.
While the classic round solitaire will never go out of style, brides (and their fiancés) today have a whole world of shapes, settings and colours to choose from.
So, which engagement ring styles are most in-demand?
Oval cuts
Blame it on Blake Lively, whose stunning pink diamond engagement ring has converted many brides to the elegance of ovals. "Oval-shaped diamonds and gems are hands-down the hottest shape in engagement rings right now," reveals Jennifer Gandia, owner of New York's chic Greenwich Jewelers. "While they're traditionally set vertically, we have seen a number of couples choose rings with a horizontal-set oval for a contemporary look."
Coloured stones
"We're seeing many couples who want more colour in their engagement rings," says Gandia. "Some are selecting uncommon coloured gems, such as morganite or tourmaline, while others use mixed metals or rough or coloured diamonds." Either way, there's a rainbow of beautiful options from which to choose.
Eternity bands
"Increasingly we are seeing couples picking bold diamond bands as an engagement ring and wedding band in one," says Gandia. "This is a major shift away from the classic look and is the perfect choice for someone who wants to create a stack of bands over time."
CLICK THROUGH for some beautiful trending engagement rings. If you are on your mobile, the description of the ring is beneath the image.
Which one's your favourite?
Want more? Try this:
The 7 most amazing royal engagement rings. Ever.
Ring too small? No flash mob? Why one in five women hated their proposals.