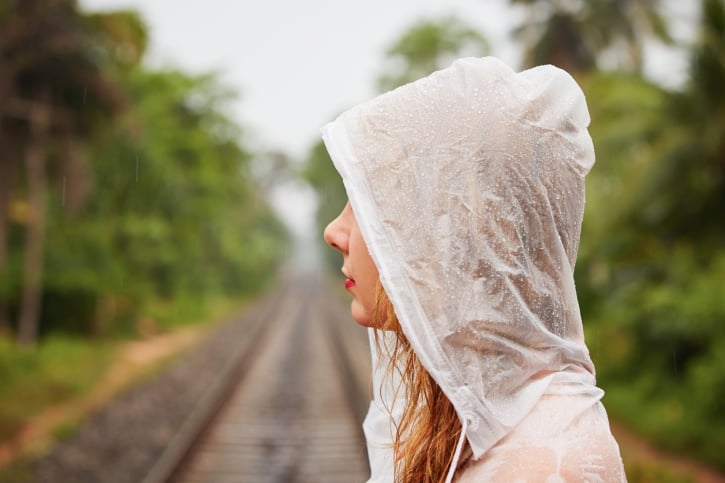 Image: Thinkstock.
It's been one of the driest winters in Eastern Australia this year, but the next four days will change all that. The deluge or 'Rainmageddon' has hit the east coast thanks to a low pressure system, which is causing gale force winds and rain, SO MUCH RAIN.
I'll stop pretending I'm a meteorologist now and stick to what I do know; makeup. If like me, you do not wish to turn up to work with soaking wet hair plastered to your face again, then read on for the best makeup and hair swaps to make during the deluge. This also counts as an everyday makeup look if you live in Melbourne or Hobart. (Sorry, not sorry.)
Face
1. Skip powder foundation for matte tinted moisturiser.
Put down the compact. It may prevent your oily skin from shining but in the wet you're better off with a long-wearing tinted moisturiser or stick foundation – depending on the coverage you want.
Try: Maybelline Fit Me Shine-Free Foundation Stick, $15.95. (FYI: it's now 1/2 price at Priceline.)
I use this on the days my skin is misbehaving and I need a bit more coverage. It's easy to apply: draw it on your t-zone and blend outwards, and it'll stay in place all day. It also provides the best base for cream blush (see below).
Try: Mecca Cosmetica In A Good Light Tinted Moisturiser SPF30, $50.
I tried this new addition to the Mecca Cosmetica brand range late last week, and I'm already in love with it. The light shade is perfect for pale girls (they've also released medium and dark shades), as it provides sheer, glowy coverage with a matte finish. It has a Sun Protection Factor of 30, yet it doesn't whiten your skin like some tinted moisturisers that contain zinc.
2. Skip bronzer, sub in cream blush.
Today is not the day for contouring, so skip the shadows and bronzers and instead add a pop of colour to your face with a cream blush.