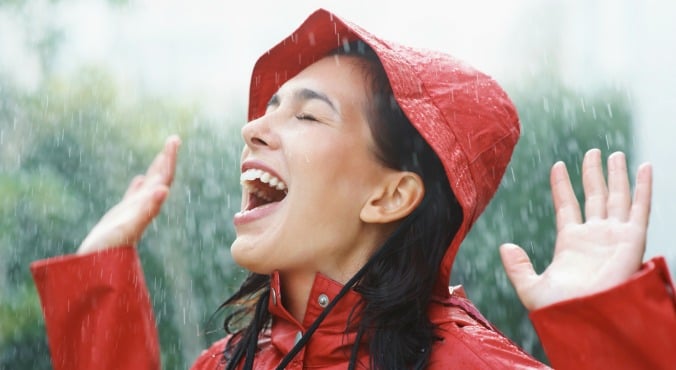 Image via iStock.
Of course it's the day that you woke up early to straighten your hair that it decides to rain. And not just a trickle, or even a light shower but a huge, heavy downpour.
While you might feel despondent, push those drenched strands of hair out of your eyes, pat yourself down and take a seat.
The good news is that a bad weather day doesn't have to rain on your (hair) parade. Yes, it's possible to have good hair even on crazy weather days.
RELATED: This new hair colour trend is inspired by your Instagram filters
To make sure you're not left high and (the opposite of) dry next time, we've found the five hair styles that won't get ruined by the rain. And the likelihood is you can already do most of them. See, today is already looking up!
1. Low Bun
For a rain-proof style you can rely on every time, Edwards and Co stylist Byron Turnbull suggests something pulled back and secured away.
"I'd suggest a low bun at the nape of the head," he says.
"Don't forget to add some dry shampoo to your front hairline which will help keep your volume if your hair gets wet."
RELATED: The half-bun is the easiest hairstyle to master this autumn (Post continues after gallery.)
Celebrities wearing half-buns
For a slick look, secure with bobby pins and hairspray, or plait your ponytail before turning it into a bun for a more interesting style.
2. Slicked back hair
If it's going to get wet anyway, why not make it a focal point?
The slicked back hair look was a '90s favourite and has enjoyed a resurgence thanks to the likes of Kim Kardashian and Taylor Swift. It's a strong but minimalist look and (our favourite part) is super easy to do.
Using the Lady Jayne Detangler Comb to comb the top layer of hair down to your ears back off your face. Use a pea-sized amount of styling gel, warm with your hands and apply by running your fingers through your backcombed hair. Comb a few more times to neaten.
RELATED: Your favourite 90s beauty product is baaaack
3. Fishtail braid
Yes, it's a little more complicated than your standard plait, but once mastered you'll wonder how you ever lived without it. As well as looking impressive, the tighter braid will also protect your hair from the elements.
If you know you're going to have to brave the harsh outdoors, consider starting from the top of your head like a french braid, or opt for a messy side fishtail braid.
Not sure how to start? Check out our easy tutorial.
4. Messy pony
The best thing about this style? The messier it is, the better it looks! Let the wind and rain come at you with this style - it'll only improve your hair game.
While it may seem counterproductive, Turnbull suggests that some blowdrying is beneficial.