If Rafael Nadal wins his way through two more matches here at Melbourne Park, he stands to win a cool $3.6 million in prize money.
It's enough to buy a couple of houses, it's prize money alone that he could conceivably retire on, or, naturally, he could buy approximately three watches.
Sound unrealistic? Well, that's because you haven't eyed the wrist-candy Nadal draped himself in last night in his Australian Open quarter final.
Last night, as Nadal took to Rod Laver Arena, all eyes were on his big hitting, his crafty shots – oh and his $1.2 million dollar watch.
With everyone ball he threw his body at, with every jump, sprint and lunge, Nadal had more money sitting on his wrist than most mortgages.
The watch in question was a Richard Mille timepiece, the RM 27-02, which was specially designed for the tennis superstar.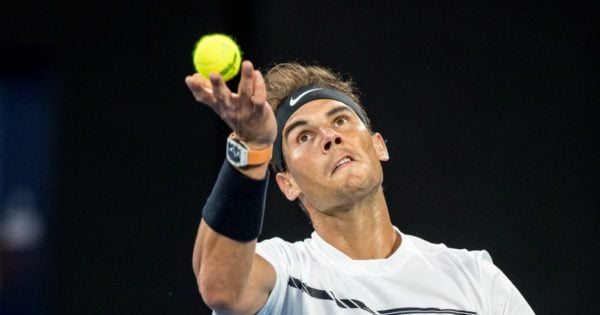 It's certainly not the first time Nadal has boasted extravagant jewellery on his wrist, having a long association with the Swiss watch designer who he has been sponsored by since 2010. In that seven year partnership, it appears Nadal may have become the slightest bit complacent, having had two of the watches stolen and almost lost another before it was found by a fellow player.
He has worn this very watch in question in tournaments before, notably in the 2015 French Open.
So what makes a watch as expensive as a sizeable, well-situated family home? Well, it weighs a tiny 20 grams and only 50 of this kind are made. Naturally, I'm sure there's more to it, but for $1.2 million I'd hope it gave me food on demand, the occasional lift somewhere and have more knowledge that Siri.
But that's just me.
Nadal faces 15th seed Grigor Dimitrov from Bulgaria on Friday in the semi-final. Keep your eyes on his wrist.