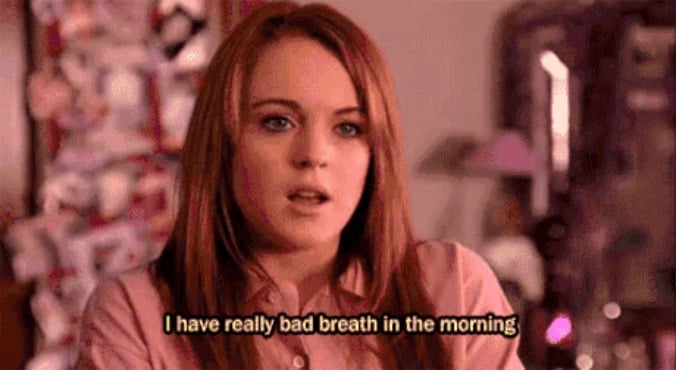 Image: iStock.
Brushed your teeth, avoided the garlic but still find your breath, ahem, stinks? Turns out bad breath isn't just limited to those with poor oral hygiene.
"Bad breath (halitosis) is caused by a build-up of bacteria in the mouth, usually under the gums or in cavities," explains leading Australian dentist and Oral-B spokesperson Dr Christopher Ho.
Alongside the obvious gum disease and cavities, the foods you eat can play a large part – onions and garlic are known to contain smelly sulphur compounds, while even having milk in your coffee can act as a food source for bacteria.
It's a similar case for meat; proteins and fibres can easily get suck between teeth which then encourages bacteria. Wham –  suddenly your mouth smells like something crawled in and died there.
If you're someone who often finds you have a dry, pasty mouth, you can probably expect your breath to get a bit whiffy.
"The lack of saliva, which can be caused by certain medications, stress, some medical conditions, and aging, allows bacteria to proliferate  in the mouth, often causing and acidic mouth, which has a bad odour," explains Shore Dental principal dental hygienist Leanne Amber.
So what can you do about it?
1. Drink Water
"This will help you stay hydrated and wash any bacteria away," says Dr Ho. Try and keep a bottle with you at all times to ensure you're drinking regularly. (Post continues after gallery.)
Bad breath emergency kit.