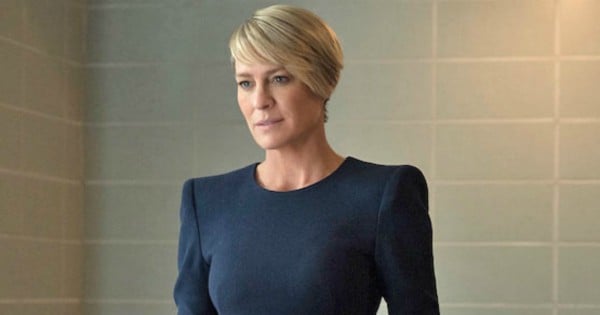 Had you looked through my lounge room window last night there is a chance you would have called the men in white coats to come and get me. Quick.
There I was in a chocolate and red wine stained pair of PJs re-enacting the cheerleading finale of Bring It On. Accompanying said ecstatic spectacle was hooting and hollering, clapping and cheering. Hell, if I had one of those annoying vuvuzelas I would have been blowing a bosa bova.
No, I wasn't celebrating a Lotto win but it was a victory of sorts. Because, while riveted to the television I heard a woman say something I have ached to utter most of my adult life. And hell it felt liberating.
Feel like reenacting the iconic Bring It On scene yourself? You can watch it below. Post continues after video.
For the past week I have been a virtual shut-in, transfixed on the latest series of House of Cards (if you don't have Netflix – GET IT! NOW!) While I can't say the fictional US First Lady Claire Underwood, so coolly played by Robyn Wright, is a hero of mine, she damn well was for one precious line of dialogue, uttered with characteristic lethal detachment.
Let me set it up for you. Claire is seated in the White House attending to her guest, Hannah Conway (Dominique McElligott), her rival for the role as the President's right hand. Despite their obvious differences, the women are bonding when Hannah relaxes and takes things too far.
After Claire comments that Hannah's young son running around madly is "cute", Hannah asks her if she regrets not having children. Claire doesn't miss a beat or move a muscle and simply replies, "do you regret having them?"
For me, a childfree woman, it was a halle-bloody-lujah moment. Because I am sure every woman like me who has not bred has been on the receiving end of such a rude, impertinent and insensitive question but hasn't had the guts to reply as they may have liked to.