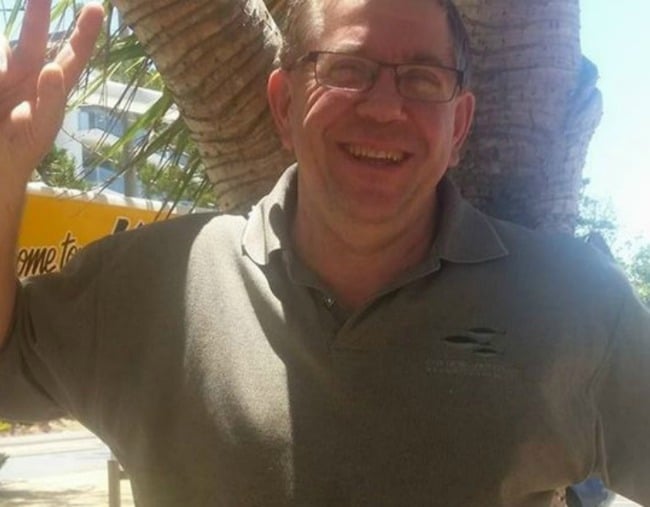 Two men and a woman plotted and then carried out a horrific murder on a bushy Queensland property, with the victim put through an industrial woodchipper, police say.
Police charged all three with murder and attempting to pervert the course of justice after arresting the trio in separate operations on Tuesday morning.
Officers were initially told butcher Bruce Saunders, 54, accidentally fell into the chipper while clearing a friend's rural property at Goomboorian, near Gympie, on the night of November 12 last year.
But in the days that followed, police received information suggesting foul play and by February, homicide detectives were on the case.
On Tuesday, police swooped and allege the three worked together to hatch and execute the gruesome plot.
The two men – Greg Roser, 58, of Deception Bay, and Peter Koenig, 61, of Gympie – briefly faced the Maroochydore Magistrates Court on Tuesday.
A 57-year-old Gympie woman, who was arrested at Coolangatta on the Gold Coast, is facing the same charges.
Police have arrested two men over the alleged murder of a man whose remains were found in a woodchipper near Gympie last year @9NewsSunCoast @9NewsQueensland #9News pic.twitter.com/UQD03ZAErV

— Jordan Koster (@JordanKoster9) May 28, 2018
The woman was stooped and wearing dark glasses as she was led handcuffed into a police station ahead of her court appearance later in the day.
Earlier, police told reporters they became suspicious about what had actually happened to Mr Saunders just days after he died, with information trickling in from the community.
"We will be alleging that it wasn't an accident and that they did conspire together to commit this offence," Detective Inspector Gary Pettiford told reporters outside the Maroochydore police station.
Detectives won't say if Mr Saunders was still alive when he was put into the machine.
"I can't comment on that but the injuries he sustained were horrific as you could imagine being consumed by a woodchipper," he said, adding that he would not discuss the motive for the crime.
Soon after Mr Saunders died, his former girlfriend Sharon Graham posted a tribute message beneath his online funeral notice.
"He treated me like gold," Ms Graham wrote.
"His love to me was bigger than anything in this world … I'm so lost without you Bruce. No words can say what I'm feeling. Will always have you in my thoughts and heart. Rest in peace Bruce. Xx"