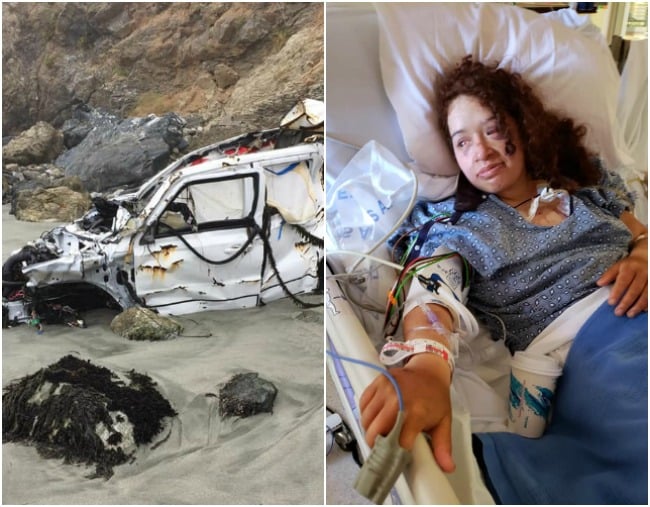 With AAP.
1. Woman survives on radiator water for a week after crashing into the ocean over a 60-metre cliff.
A US woman who mysteriously disappeared a week ago has been rescued from the bottom of a California coastal cliff where she survived by drinking water from the radiator of her wrecked SUV.
Angela Hernandez, 23, from Portland Oregon was found by a pair of hikers on Friday evening after they saw her wrecked Jeep Patriot SUV partially submerged at the bottom of a 60 metre cliff in the Big Sur area, Monterey County Sheriff's Office spokesman John Thornburg said.
Her disappearance captured widespread attention after she and her vehicle were last seen on a surveillance camera video at a petrol station on July 6, about 80km north of the stretch of Highway 1 where she was found.
In a subsequent Facebook post, Hernandez described waking up after the crash: "I was still in my car and I could feel water rising over my knees. My head hurt and when I touched it, I found blood on my hands. My car's power was off by now and every window was closed.
"I took off my seatbelt and found a multi-tool I kept near my front seat. I started hitting the driver-side window with it. Every bone in my body hurt. The only thing racing through my mind was my sister, Isabel. So I started screaming her name. Eventually, I was able to break out of my car and jump into the ocean."
Every night, she had to climb to higher ground so she wouldn't get swept away by the tide as she slept.
The hikers discovered Hernandez conscious, breathing and with a shoulder injury seven days later, Thornburg said.
Rescuers managed to get her up the cliff and to a helicopter which flew her to a nearby hospital. She was in fair and stable condition but appeared to have suffered a concussion, the California Highway Patrol said in a statement on Saturday.
Hernandez told investigators she swerved to avoid hitting an animal on Highway 1 on July 6 and plunged over the cliff north of Nacimiento Fergusson Road.
She stayed alive "by drinking water from the radiator of her vehicle," according to the Highway Patrol.
"It's usually the fall that gets them, or the ocean that gets them, and she was lucky to survive both," said Thornburg.
Hernandez was on a road trip from her home in Portland to visit her sister Isabel in Lancaster, Los Angeles County, when she crashed.
2. Female paramedic "centimetres from death" after being stabbed by male patient in Victoria.
An off-duty Victorian paramedic attacked with knife while putting kids in the carhttps://t.co/88Tfa97kwB pic.twitter.com/yOw9f65tQ5

— ABC Melbourne (@abcmelbourne) July 16, 2018
A paramedic was "centimetres from death" when she was slashed in the chest by a former patient in front of her two children in Melbourne.
The woman had finished work at Rosebud and was wearing her uniform and strapping her two children, aged under 10, into the back seat of her car when a man grabbed her from behind.
"He went for my neck but I managed to get his arm down which is why it hit me in the chest (causing a) 15cm laceration," the woman told 3AW on Monday.
"I feel scared, I feel shocked, I feel disappointed, I have a lot of emotions running at the moment."
A 47-year-old man, of no fixed address, has been arrested and is under police guard in hospital.
Police are also speaking to him about a car theft and property damage.
Ambulance Victoria chief executive Tony Walker said the woman's wound was "a few centimetres away from being life-ending", adding she was now "OK" after spending the night in hospital.
He described the attack as "abhorrent" and "disgusting".
"She's been assaulted by someone who we think we may have treated as a patient in the past, who's reached in behind her in the car and basically slashed her chest with a knife," Associate Professor Walker told 3AW.
"I feel deeply shocked and very concerned that this incident happened in front of two very small children and in a very public location."
The incident follows community anger after the jail sentences of two women found guilty of assaulting paramedics in 2016 were quashed on appeal.
The incident also comes after the state government introduced mandatory jail time for offenders who assault emergency service workers.
"This incident is gut-wrenching and disturbing and sends shock waves through the entire ambulance family," Ambulance Employees Victoria general secretary Danny Hill said in a statement.
"Here was a paramedic with her children, picking up dinner after work like so many workers do and she's ended up spending the night in hospital, leaving her children traumatised.
"Incidents like this highlight the need for strong laws to protect paramedics and the need for a strong message of deterrence against assaults on emergency workers," Mr Hill said.
3. Trump labelled "thoughtless, dangerous and weak" for failing to stand up to Putin at summit.
US lawmakers from both parties have criticised President Donald Trump for failing to issue a stern warning to Russian President Vladimir Putin about meddling in American elections, calling Trump's message to Putin weak and a missed opportunity.
Reaction on Capitol Hill was highly critical of Trump's performance in a joint news conference in Helsinki with Putin after the two leaders' first summit.
Republican Senator Lindsey Graham said it was a "missed opportunity by President Trump to firmly hold Russia accountable for 2016 meddling and deliver a strong warning regarding future elections".
Graham, a member of the Senate Armed Services Committee, said, "This answer by President Trump will be seen by Russia as a sign of weakness and create far more problems than it solves."
On Friday, a US special counsel announced indictments of 12 Russian spies on charges of hacking Democratic Party computer networks as part of the interference in the election campaign.
Republican Trump, standing alongside Putin in front of reporters on Monday, said he saw no reason to believe Russia had hacked the election to help him win and that Putin "was extremely strong and powerful in his denial today".
House of Representatives Speaker Paul Ryan said in a statement that Russia undoubtedly interfered in the 2016 election. "The president must appreciate that Russia is not our ally. There is no moral equivalence between the United States and Russia, which remains hostile to our most basic values and ideals," Ryan said.
Another Republican, Senator John McCain, described Trump's summit with Putin as "a tragic mistake".
Top House of Representatives Democrat Nancy Pelosi wrote on Twitter, "Every single day, I find myself asking: what do the Russians have on (at)realDonaldTrump personally, financially, & politically? The answer to that question is that only thing that explains his behaviour & his refusal to stand up to Putin."
Trump said he holds both the US and Russia responsible for years of strained relations.
The US president had touted the summit as an opportunity to reduce tensions, inflamed by Russia's annexation of the Crimea peninsula from Ukraine in 2014, its military backing of Syrian President Bashar al-Assad, which turned the tide of the Syrian civil war in 2015, and accusations of Russian meddling in the 2016 US election.
Senate Democratic leader Charles Schumer said Trump's approach in Helsinki was unprecedented.
"For the president of the United States to side with President Putin against American law enforcement, American defence officials, and American intelligence agencies is thoughtless, dangerous, and weak," Schumer said.
Republican Senator Jeff Flake called Trump's words "shameful".
"I never thought I would see the day when our American President would stand on the stage with the Russian President and place blame on the United States for Russian aggression. This is shameful," Flake said on Twitter.
Representative Adam Schiff, senior Democrat on the House of Representatives intelligence panel, predicted Putin will take Trump's remarks "as a green light to interfere" in 2018 congressional elections. Schiff called Trump "cowardly".
At the Helsinki summit, Putin gave Trump a soccer ball from the World Cup hosted by Russia during the past month and as an acknowledgement the US will co-host the 2026 tournament.
Senator Graham afterward tweeted, "Finally, if it were me, I'd check the soccer ball for listening devices and never allow it in the White House."
4. Inquest to begin into Victorian woman's bench press death.
The family of Snezana Stojanovska leaving the Coroners Court after the announcement of an inquest into her 2010 death at home @theage pic.twitter.com/bmZ84w0YsG

— Anna Prytz (@annaprytz) April 19, 2018
An inquest will begin to examine the death of a young pregnant Melbourne woman whose husband claimed to have found her dead on a makeshift bench press.
Snezana Stojanovska, 26, was found dead lying on an ironing board propped up on books in the garage of her Preston home in November 2010.
Detectives suspect Ms Stojanovska's death may have been a homicide staged to look like a tragic weightlifting accident.
The mother-to-be was found in her pyjamas and a dressing gown, not gym clothes.
A barbell was resting against a nearby chair with a 5kg weight on each end, totalling 30kg.
Her husband Dragi Stojanovski told police he found his wife with the barbell across her neck.
But investigators found Ms Stojanovska had bruising on her neck that simply didn't fit with a weightlifting accident.
State Coroner Judge Sara Hinchey will hold a four-day inquest into her death, starting on Tuesday.
Judge Hinchey is expected to hear from family members, a doctor and detectives.
Mr Stojanovski was excused from giving evidence after telling an earlier hearing that his answers may tend to incriminate him.
5. Abortion to be decriminalised and safe zones introduced in Queensland.
Labor will introduce a bill to fully decriminalise abortion in Queensland #qldpol https://t.co/fbMRmcuqg5

— Felicity Caldwell (@fel_caldwell) July 16, 2018
Abortion will be decriminalised in Queensland and safe zones enforced under new laws to be introduced to state parliament.
Premier Annastacia Palaszczuk released the Queensland Law Reform Commission's (QLRC) review of the state's abortion laws on Monday and announced cabinet had accepted all of its recommendations.
"For too long this archaic law has sat on our statute books," Ms Palaszczuk said.
"This is about bringing Queensland into the 21st century."
Under the new laws women would be able to ask to terminate pregnancies up to 22 weeks and "safe zones" of 150 metres would be in place around clinics to stop women, their loved ones and staff from being harassed.
The QLRC found abortions should be treated as a health issue and not a criminal matter, but it suggested making it an offence to perform or assist in abortions without qualifications.
The bill is expected to be debated and passed before the end of the year.
Doctors and medical professionals can refuse to perform abortions but must refer patients to someone who will.
The Australian Medical Association's Queensland branch, the Queensland Nurses Union and the Human Rights Law Centre have welcomed the announcement.
"The values of 1899 should not limit a woman's right to access the healthcare they need in 2018," the law centre's senior lawyer Adrianne Walters said.
Queensland opposition leader Deb Frecklington has conditionally agreed to allowing her MPs a conscience vote but first wanted to view the bill.
Right-to-life organisation Cherish Life hit out at the proposed changes including allowing terminations after 22 weeks, provided it was approved by two doctors.
"This radical bill is a con job to try to trick the Queensland public into thinking there will be an effective restriction on late-term abortions, when in fact it will legalise the killing of healthy viable unborn babies for social or financial reasons," executive director Teeshan Johnson said.
Former independent MP Rob Pyne introduced two private member's bills to alter the termination laws in 2017 but withdrew them at the last minute when it became clear neither would pass.
Abortions are legal in Western Australia, Victoria, Tasmania, the Northern Territory and the ACT, and legal for some medical reasons in South Australia while they are a criminal offence in NSW unless, for example, a woman's life or mental health is at risk.
6. Australian team's women cyclists shine on massive stage.
PHOTOS: A huge 10days for the women's team taking the first Grand Tour victory and six stage wins along the way. It will certainly be a tour to remember. #GiroRosa18
Album: https://t.co/usLzdpA2z2 - @GettyImages pic.twitter.com/vaOVGk2bsW

— Mitchelton-SCOTT (@MitcheltonSCOTT) July 15, 2018
Annamiek van Vleuten and her Mitchelton-Scott teammates have gone one-up on their male colleagues at the Giro Rosa.
The Dutch cycling star has achieved a major goal for the Australian team by securing the overall title.
It is the first time since Mitchelton-Scott formed in 2012 that they have won a grand tour.
The men have their big three-week races - Tour de France, Giro d'Italia and Vuelta a Espana - while the 10-day Giro Rosa is the biggest stage race on the women's calendar.
The Mitchelton-Scott women changed their focus last year to become more of a general classification team.
Mitchelton-Scott dominated the Giro Rosa, claiming six of the 10 stages, and Australian Amanda Spratt was third overall.
Van Vleuten, the reigning world time trial champion, capped her overall win by also taking out the final stage.
She took the overall lead with a storming ride to take out stage seven, an uphill time trial, and also won the crucial ninth stage that finished with the brutal Monte Zoncolan climb.
Spratt also won stage six, while Belgian teammate Jolien D'hoore prevailed in sprint finishes to win stages three and four.
Van Vleuten beat South African Ashleigh Moolman-Pasio (Cervelo-Bigla) by four minutes 12 seconds overall, while Spratt was third at 6:30.
Spratt also won the mountain classification and van Vleuten took out the points category.
"This is a dream come true, not only for me, but for the whole team," van Vleuten said.
The best the Mitchelton-Scott men have done in one of their grand tours has been Eseban Chaves' second overall at the 2016 Giro.