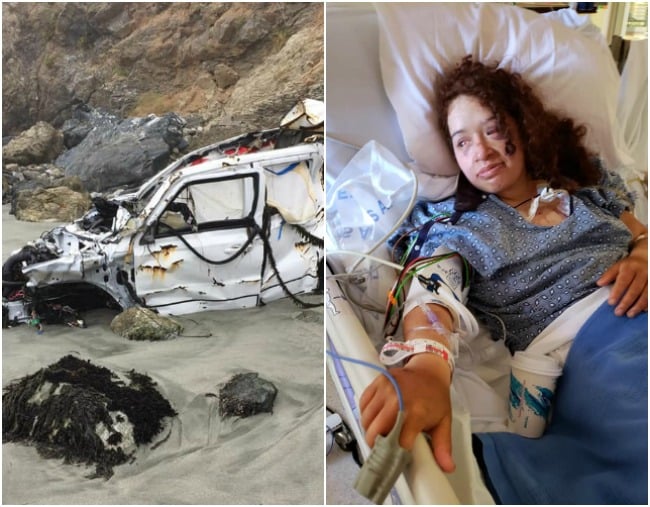 With AAP.
1. Woman survives on radiator water for a week after crashing into the ocean over a 60-metre cliff.
A US woman who mysteriously disappeared a week ago has been rescued from the bottom of a California coastal cliff where she survived by drinking water from the radiator of her wrecked SUV.
Angela Hernandez, 23, from Portland Oregon was found by a pair of hikers on Friday evening after they saw her wrecked Jeep Patriot SUV partially submerged at the bottom of a 60 metre cliff in the Big Sur area, Monterey County Sheriff's Office spokesman John Thornburg said.
Her disappearance captured widespread attention after she and her vehicle were last seen on a surveillance camera video at a petrol station on July 6, about 80km north of the stretch of Highway 1 where she was found.
In a subsequent Facebook post, Hernandez described waking up after the crash: "I was still in my car and I could feel water rising over my knees. My head hurt and when I touched it, I found blood on my hands. My car's power was off by now and every window was closed.
"I took off my seatbelt and found a multi-tool I kept near my front seat. I started hitting the driver-side window with it. Every bone in my body hurt. The only thing racing through my mind was my sister, Isabel. So I started screaming her name. Eventually, I was able to break out of my car and jump into the ocean."
Every night, she had to climb to higher ground so she wouldn't get swept away by the tide as she slept.
The hikers discovered Hernandez conscious, breathing and with a shoulder injury seven days later, Thornburg said.
Rescuers managed to get her up the cliff and to a helicopter which flew her to a nearby hospital. She was in fair and stable condition but appeared to have suffered a concussion, the California Highway Patrol said in a statement on Saturday.
Hernandez told investigators she swerved to avoid hitting an animal on Highway 1 on July 6 and plunged over the cliff north of Nacimiento Fergusson Road.
She stayed alive "by drinking water from the radiator of her vehicle," according to the Highway Patrol.
"It's usually the fall that gets them, or the ocean that gets them, and she was lucky to survive both," said Thornburg.
Hernandez was on a road trip from her home in Portland to visit her sister Isabel in Lancaster, Los Angeles County, when she crashed.
2. Female paramedic "centimetres from death" after being stabbed by male patient in Victoria.
An off-duty Victorian paramedic attacked with knife while putting kids in the carhttps://t.co/88Tfa97kwB pic.twitter.com/yOw9f65tQ5

— ABC Melbourne (@abcmelbourne) July 16, 2018