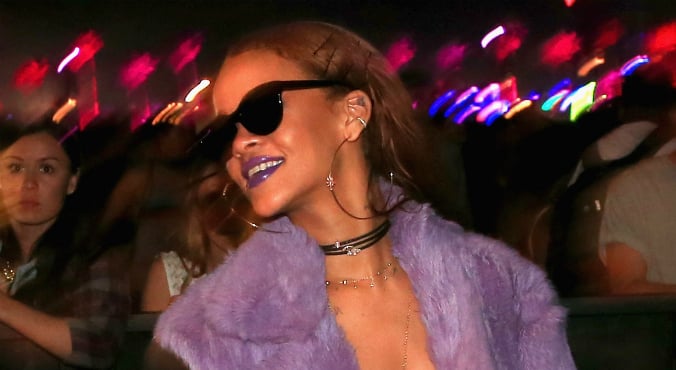 Image via Getty.
Every girl needs a statement colour in her makeup kit, and this season, purple is the on-trend colour to wear.  Just ask Rihanna!
Don't be afraid of the purple people-eater, and forget the shimmering amethysts of your primary school dance concert days. The new breed of purple makeup is surprisingly sophisticated. and versatile.
It can look sweet and flirty when worn as a soft, light wash of colour, but once you pump it up into a deeper, darker violet, you've got a sultry and smoky effect. (Post continues after gallery…)
Purple makeup & celebrities
Related: The half-bun is the easiest hairstyle to master this autumn. 
And, if you need further convincing, just remember that the best things in life are purple. Think about it. Purple is the colour of royalty and bravery . It's also the colour of fragrant lavendar, my favourite Aldi coffee pods and Grimace from McDonald's. See what I mean? Purple is awesome.
It's the perfect colour for brunettes, too, which is why you will see it modelled by three brunettes of extraordinary beauty (*cough*) that is, Kahla, Edwina and myself from The Glow team! (Self-esteem issues? NOT HERE.)
Purple lipstick
Related: How to ease yourself back into exercise when you've seriously dropped the ball.  
Our lovely writer Kahla Preston decided to try a purple lip. Look at how the purple lipstick creates the perfect contrast with her green eyes, making her emerald peepers pop. Whoops, I'm getting all Dr Seuss in my enthusiasm for Kahla's purple lips, so I'll let her say it in her own words:
"To create this look, I applied the lipstick from the tube, blending with my finger. I needed several coats as the coverage was quite uneven - perhaps using a primer or a BB cream base on my lips would have helped.
"Wearing a lip colour as dull and, well, PURPLE as this one was strange - I usually favour rich reds and berries. It took me a while to get used to this look, but on the whole I enjoyed the dramatic Lorde vibe; I felt rather mysterious and quasi-gothic and received lots of compliments. I can't imagine wearing this look in summer, though - it's too dark and dramatic."