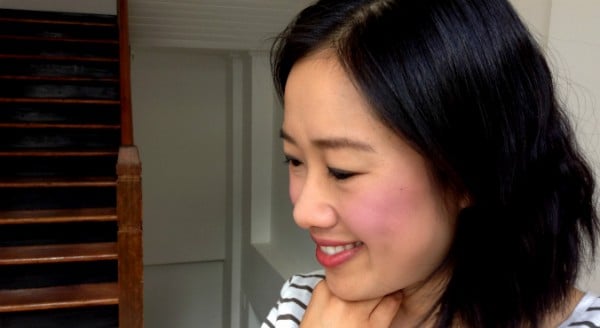 Carla GS and the Urban Decay Afterglow 8-Hour Powder Blush in Bittersweet. Source: Supplied.
We're totally bold when it comes to brightly-hued nails, lips and even hair, but blush? It seems that we've completely chickened out on blush in unusual colours.
Blush is the final frontier of coloured cosmetics. Think about it. Would you wear a bright purple blush?
Related: Can you still be "real" while wearing makeup? Tyra Banks has the perfect answer.  
Don't be fooled: that wasn't a rhetorical question. Purple blush is a trend that's been rumbling along quietly, and now that 2015 is well and truly here, it's made a loud and defiant arrival.
Urban Decay, that cult makeup brand that's only just hit our shores at Mecca Maxima, will be releasing their Urban Decay Afterglow 8-Hour Powder Blush in July, and within this range is the orchid-purple "Bittersweet" shade, which I'm holding in the photo above. (Post continues after gallery.)
Purple makeup & celebrities
We all know that beauty nerds (ahem, me) go crazy over anything by Urban Decay (Naked eyeshadow palette, anyone?). So, does this mean that the fashion and beauty set will be seen with purple cheeks come July? Perhaps.
If the trend for purple eye and lip makeup is anything to go by, then it is highly possible. And you thought strobing was weird!
I checked out the Urban Decay Bittersweet blush myself, and was surprised at the results, because the colour was actually… wearable. Here are four ways to wear it. Who would have thought there'd be so many uses for a fluoro purple blush compact?
1. As a blush.