This morning actor Kevin Spacey, aged 58, announced via Twitter that he is gay.
This decision, to reveal publicly what his closest friends had known about him privately, is one that should be applauded. Each person with a high profile that lives openly and authentically helps to normalise same-sex relationships, undermine misconceptions and ease feelings of isolation and shame for LGBTQI people.
Yet here comes the 'but'…
The New Jersey born Oscar winner bundled the revelation in with an entirely seperate issue: accusations of sexual misconduct made against him by fellow actor, Star Trek: Discovery star, Anthony Rapp.
The now 46-year-old alleged via an interview with BuzzFeed that Spacey had scooped him up, placed him on a bed and laid on top of him at a party at the American Beauty star's apartment in 1986. He was 14.
"He [Spacey] picked me up, like a groom picks up the bride over the threshold. But I don't, like, squirm away initially, because I'm like, 'What's going on?' And then he lays down on top of me," Rapp told the outlet.
"The older I get, and the more I know, I feel very fortunate that something worse didn't happen. And at the same time, the older I get, the more I can't believe it.
"I could never imagine [that] anyone else I know would do something like that to a 14-year-old boy."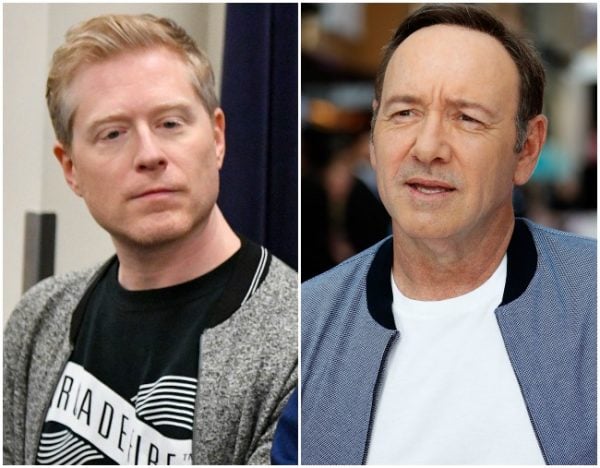 In the Tweet addressing Rapp's allegations, Spacey was notably apologetic and "beyond mortified".
"I honestly do not remember the encounter, it would have been over 30 years ago," he wrote. "But if I did behave then as he describes, I owe him the sincerest apology for what would have been deeply inappropriate drunken behaviour, and I am sorry for the feelings he describes having carried with him all these years."
The accusations, Spacey wrote, had "encouraged" him to "address other things about my life", to openly acknowledge his sexuality.
Of course, it's this part that has earned the most attention.
Not the story of a man who has been left 'deeply confused' for three decades, his stomach churning as he watched the actor's star rise.
The women of Mamamia Out Loud talk about what is happening in Hollywood:

In coming forward, Rapp was seizing on the unprecedented attention being paid to sexual harassment and assault in Hollywood in the wake of the Harvey Weinstein scandal. Like those who have accused the powerful producer of misconduct, Rapp hoped his story would "shine another light" on the industry's toxic culture.
"I'm feeling really awake to the moment that we're living in, and I'm hopeful that this can make a difference," he told BuzzFeed.
Yet, instead, his story is being told in the context of a famous man's coming out. Instead, something vile, detestable is being couched in something celebrated, applauded.
That's fair neither to him nor to the LGBTQI community.
There are those who are suggesting that, in linking the two topics, Spacey views being closeted as some kind of excuse for his behaviour. We can only hope that, too, is unfair.
But there's little doubt it was deliberate. Its effect? A diversion, a distraction, a way to take control of the narrative, to flip the script.
In the process, Rapp has been robbed of his agency, his power and his voice. Allegedly, not for the first time.